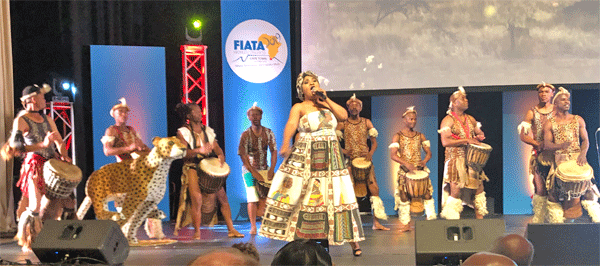 So, there we all were in October 2019 in South Africa, that extraordinarily beautiful part of the world.
The FIATA World Congress was being conducted with a huge crowd as Cape Town welcomed delegates to the Annual FIATA World Congress at the downtown convention center.
In case you missed it, the new FIATA President elected by FIATA to serve a two-year term was Basil L.S. Pietersen, the former Chair and longtime director of the South African Association of Freight Forwarders.
Very exciting time as a globally respected logistics leader, who happens to be black, assumed command as FIATA President, capping a great meeting.
As we celebrate Black History Month here in America and elsewhere around the world, it's important to share that Mr. Pietersen as a matter of fact is one of the very few African born top executives to serve at any global transportation association in the world.
Little could any of the thousand or so people that attended the Cape Town event have guessed what would happen less than 90 days later when COVID-19 shut down the world as we know it.
There used to be a saying that if it were not for bad luck, in some cases you might have no luck at all.
Considering all the pain and suffering the terrible pandemic has delivered everywhere, including what amounts to at least in a social sense a Presidency that never was, here we turn to the distinguished and amiable Mr. Pietersen, who like many others has seen some hopes and dreams, turn into a prolonged holding action with every social event cancelled until at least 2022.
But down is not out as we learn in Basil's bright and engaged conversation with Marco.
Turns out utilizing IT and other 21st century tools of the trade for communication, FIATA has stayed on top of things and has been there for its membership as it always is during the 95 years since the organization was founded in Vienna.
Sometime after the second shot of vaccine given to enough dear hearts and gentle people to create the sought for "herd immunity" FIATA will once again hit the road running bringing back its calendar of events.
Meantime straight from the shoulder, right from the heart here is the latest from Basil.
The FIATA rules do not allow this, but I dream of a second term for him at the helm of FIATA.
Geoffrey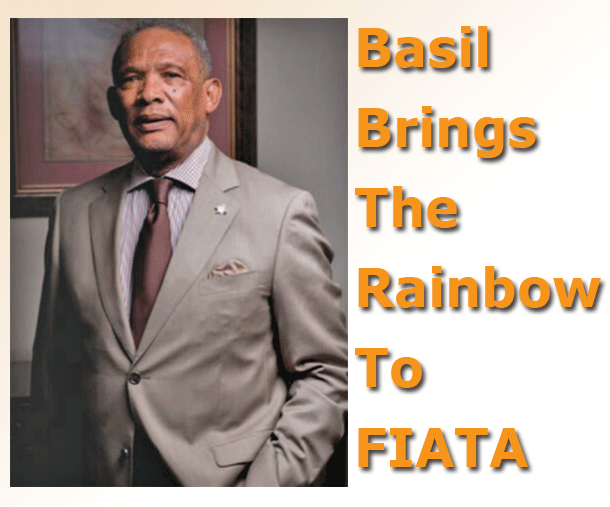 Basil Pietersen became the 31st FIATA President at the Cape Town FIATA World Congress in October 2019. Basil is the first President from South Africa and the third from the continent to achieve this position since FIATA's foundation in 1926. One and a half years later, we can say that his tenure so far has been one of the most challenging in decades. All face-to-face meetings had to be cancelled due to the Coronavirus pandemic, so the new Secretariat in Geneva organized the essential institutional meetings via Zoom, but the connection with members has clearly not been the same. The online General Meeting I recently participated in was decorously run, but could get nowhere near the passion we were accustomed to in the previous conventions.
Many in the industry have questions on whether large meetings and trade shows may at all have a future. Yes, we must adapt, but . . . A couple of days ago I was talking to Francesco Parisi, one of Basil's predecessors on FIATA's highest chair and he said he missed his travel routine, in particular to Far East Asia. If you socialize in logistics and transportation as actively as we have been doing in the past, you know quite well what intensive travel means: we used to collect air miles as though we should buy a stairway to heaven . . . Now our boundaries have suddenly shrunk to an unanticipated, confined distance.
Basil and I spoke in early spring last year, but I thought we should update the record, considering the supervening events of the year 2020. I can only imagine what a challenge this is for Basil, who sits at the centre of the very complex agenda congealed by the "Reset" programme, launched by FIATA in a period that has not been conducive to comfort, quite the opposite.
President Pietersen is a person who went through extraordinary experiences in life. His acquired chromosomes surely contribute to making his journey in FIATA safer than others. So what is the recipe? I asked Basil to start from scratch. I was eager to know more about his journey through life, which directed him from apartheid's South Africa to the helm of FIATA, now in Geneva.

Basil Pietersen: As you know we call our land the "Rainbow Country". Whilst our homeland could do with more rain in recent times, it is undeniable that there is a colourful element in South Africa that came to the fore during the FIATA World Congress in Cape Town.
I suppose I have to start somewhere to respond to your interest. Perhaps we take a look back at a time we can hardly recognize today. Growing up in Coronationville is as good as any other starting point. In terms of the Government's Group Areas Act, it was a place in Johannesburg, allocated for so-called Coloured people, where at the time a very strong values' system (unwritten) was fostered. In context, one has to remember that instead of referring to us as Black or Mixed, the Government for whatever the reason thought it best to call us Coloured.
In a society and community such as this, the daily teaching was that you had to "see education as the way out of oppression". With this came strong moral, cultural and political values: never to forget where we came from and who we really were. One cannot truly appreciate the then South Africa without understanding the political nuances prevalent at the time. The education system was not the best, but it did include many dedicated women and men who instilled in us, as students, pride and passion for who we were and taught us what we could achieve.

FT: Basil, starting from those circumstances must have been quite a climb to get to the top, right?
BP: Well, I come from a family where the cup was always half full, as such I am the eternal optimist, never letting anyone or anything get me down. I must admit I was not the best student, but worked hard because I was surrounded by a bunch of intelligent young people. Sometimes I think it was more my athletic ability rather than my academic achievements that got me selected as head boy in my final year at high school. In completing my formal schooling, I wanted nothing else but going to University and becoming a priest.

FT: Well, if you were dreaming of becoming a priest, it did not come to fruition, did it? Was this a way to short-circuit the system?
BP: All applications for University were filtered by the State, clearly with a view to discouraging us from following our dreams. One had to enroll at a University dedicated to People of Colour. This was situated a long way from Johannesburg – in this instance in Belville, in the Western Cape. Secondly it was not called a University, but rather a University College. Sending you away from home meant additional cost, which most could not afford. So you instead found a job and never pursued your dream. The mere fact that my application for priesthood was not even questioned bothered me – only to realise that it was thought important that black people be taught about Christianity – teaching them how to accept Christ and to leave what was thought to be their "savage" ways.
Again someone was telling me what to do . . . and this made me change my mind. I applied to study accountancy: unsurprisingly my application was delayed for one year.

FT: What happened then? Did you decide to remain and look for a job, as you had earlier suggested?
BP: Not really, with a bit of patience the time came. Finally, I found myself on the Belville Campus where again I encountered dedication amongst lecturers; many of the teaching staff there were whites and this revelation brought different thinking and understanding to the fore.

FT: So you are also a qualified accountant, amongst your many other illustrious qualities?
BP: Unfortunately, I did not finish my studies. Let us just say the final year was problematic.
I was soon back home, where I worked in the family business. My parents owned a Fish and Chips Café and also a Dry Cleaning Business. I believe that the two years spend managing these entities and dealing with the state bureaucracy gave me the knowhow to deal with the government of the day. This was no paper certificate, but it was a pretty useful experience in my future business.

FT: But why did you decide to leave your family business to get into freight forwarding then?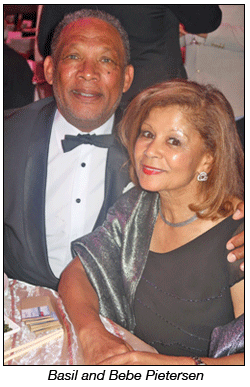 BP: Not too long after, I decided to get married. Before I knew what happened, Bebe and I had two sons and life became totally different. It was family first and everything else had to take a backseat. With this came the awareness of having to support a family: how to do this without an established career was going to be difficult. The next step was finding something I liked doing. Needless to state it was extremely difficult to find the company that was prepared to grant a person of colour an opportunity to follow his dream. So, after changing a few jobs I decided to place an advert in the daily business newspaper headed Job Seekers. Cutting a long story short I had three firm offers within days. I chose the one offering the least pay, but the offer came from someone who was busy setting up his Company: the first ever Consulting Company in the Customs Clearing and Freight Forwarding Business. That looked like a challenge, but the deal would get me an extra six months' pay should the business fail. With scant understanding of the industry, I had one asset to show: my business studies, which included a model on Maritime Studies and Law. On recollection I actually did well on these, because I was always interested in trade across borders and the legal side of things. Fate?

FT: So your calling was actually not to priesthood in the end, but rather international trade. Did you do it all alone, or was somebody particularly meaningful for you in the beginning. How was doing business in South Africa in those days?
BP: My journey within the industry commenced with me having to learn fast. Charles Goulden, my boss, was a real English gentleman, who saw no colour: it was all about delivering value to our customers. He established the very first Consultancy Business in the industry in South Africa . . . and called it Shipping Systems (Pty) Ltd.
Every day was different and every day brought new challenges and opportunities to explore. Dealing with Customs, Port Authorities, Postal Services (in those years much was shipped by what was referred to as parcel post), and Railways no longer seemed such a challenge, instead I was getting involved in designing systems for Shipping Departments, learning about Foreign Currencies and Marine Insurance (general average/ marine claims procedures) etc.
The business grew faster than anticipated and before long we grew to a staff of ten. We were now managing Importers' and Exporters' Shipping Departments. As expected, this development revealed a knowledge gap. I had then to find a way of getting the necessary education that would support me in building a career. Studies included International Transportation Diploma, and probably a dozen industry related qualifications including Project Management. We managed well throughout the difficult times in SA – the '70's was troublesome to say the least.

FT: You are describing a difficult, but rapidly growing business, where one could see some money in the end. Am I right?
BP: The '80's was actually no better: it was the time when Charles Goulden decided to retire back to the UK and sold 2/3 of his shares to the then MIC Kaplan (Pty) Ltd. I had a new boss, a corporation and new chores. In South Africa the Customs Clearing and Freight Forwarding business was growing exponentially and there was a serious shortage of skilled practitioners.
Remember that within the industry people were trained to do a specific job only. For instance, you either handled imports or exports, but not both. You framed Customs entries, but had nothing to do with Port Clearance, you did invoicing according to a standard tariff with very little thinking being applied. All these jobs were, and to a great extent still are separated. It is the introduction of technology that greatly changed things and continues doing so. Having worked as a consultant to the industry for twelve years previously had equipped me with an almost complete skillset, covering all aspects of the business.

FT: So you had the idea to integrate all these activities into a single product, a completely novel concept for South Africa?
BP: Soon came the idea, but a bit later came the time. I learned and realized the importance of understanding contracts and other legal matters: this prompted me to enroll at the University of South Africa, where I studied law for another two and a half years. Again the pressures of my career and that of a growing family resulted in me not completing my degree. Finding myself in a corporation where innovation and talents were recognized I soon found myself in a senior position, something unheard of in the South African Freight Forwarding and Customs Clearing industry of the time. The then owners of the business were however prepared to challenge the existing norms. There was no end to my progress on condition that I continued to add value to the Group's business, which included several companies. In addition, I took care of training both staff and clients in Incoterms, Marine Insurance and so forth. I was made a Director on many Company Boards, headed up a few of the logistics businesses within the Group and took care of New Business Development and Sales, my responsibilities stretching nationally.
Then came the political changes, the new dispensation within the Country and suddenly South Africa could trade with the Continent. This led to SA companies taking the lead in establishing themselves across the Continent. Their biggest challenge was the lack of infrastructure across the borders and they needed assistance in this area.

FT: So here comes your biggest challenge as well as opportunity, am I right, Basil?
BP: Yes, Marco, you are right. This is where I changed direction and established a Projects division within the Group. For the following fifteen years this was possibly the best performing business within the Group. Mining operations is what we specialized in, assisting Mining Companies with the initial exploration exercise and then with the actual construction phase and finally with the on-going mine supply. Abnormal loads, the chartering of vessels engaging with authorities throughout the Continent with the view of finding sustainable solutions in the movement of cargo. As far as projects are concerned our experience covered the entire continent including the Indian Ocean Islands. Beverage Companies were next to find opportunities across our borders and here as well we managed the movement and supply of equipment of all sizes and dimensions, not forgetting the introduction of Shopping Malls to our neighbours.
There are very few countries on the Continent that I have not had the privilege of working in. The offering to clients was a world without borders. Not only did the experience cover the logistics aspects, but more so the interface with authorities in foreign countries, where all the stakeholders found their appropriate place.

FT: Basil, your career seems to be an endless climb to the top. Did you ever experience any setbacks or even doubts about the next step? I cannot believe that you never experienced failure…
BP: I would not call it failure, but, yes, there have been questions. Like with all things in life there was a beginning and an end to that priceless experience. After a wonderful career with MIC Kaplan, which in time had become MICOR, then DNA, to be eventually bought by Super Group, I had to say farewell after spending almost forty years with the Group. The next two years were spent developing a Projects' division for another established South African Company. Being fed-up with Corporate bureaucracy, it was clearly time for me to start a business where decisions did not take days or months – and where the final say on matters was not dependent on persons with no idea of the conditions on the ground.
This idea is the foundation of Multimodal Logistics Solutions (Pty) Ltd and Afrilog Groupage Services (Pty) Ltd. So I was born again, as though this was just set up to utilize the years of successful operations on the Continent as the catalyst to attract new business. Even though my partners originate from different countries, all have the same value system and this I believe has been the cornerstone of our success to date. The success attained in the project logistics resulted in discussions between the client and ourselves for us to undertake responsibility for their sourcing and procurement needs. Again, not walking away from the challenge, we established a Procurement Company under which the new responsibility would be managed. Ten years later we tend to think that this is the best thing that could have happened to the companies. We created a complete Supply Chain business – from sourcing to final delivery encompassing International Procurement, Export Clearance, Warehousing, Logistics, Sea Air Road and Rail Transport – with our own offices in twelve African countries and three in Europe.
My responsibility is that of managing the Southern African Region, but as we all know business is not that simple: one gets involved in the entire Group's business. I love doing what I do and always remark that I feel sad thinking about those people who go to work just because they have to, whereas I go to work because I love doing what I do. This is far from just being work: it is a career that came to me rather than me looking for it, and I do it with passion and integrity.

FT: It is precisely as you say, Basil, as everyone can see. So we come to the present day and the successful businessman in a suit that has entered the top floor of FIATA. You stepped into FIATA years ago; we have worked together for some time, when I was your DG until 2017, but your challenge in 2020 has expanded to unimaginable dimensions, right?
BP: In these challenging times I have even greater motivation to push through and I am sure my passion will help me lead FIATA out of these troubled waters. When we started the "Reset" programme and devised the move to Geneva we certainly were not anticipating the COVID-19 pandemic. All forces conjured up to the perfect storm for trouble in the beginning of 2020, my predecessor and then Treasurer Huxiang Zhao had to resign due to his health and even the Secretary General had to absorb a setback, so our challenges started precisely in the Presidency, where the programmes for the changes had been made. Then we had to make do with the cancellation of the Headquarter's meeting, followed by the postponement of the World Congress in Korea and the rescheduling of many of our programmed meetings. Through all of this, we still managed to move back to Geneva after nearly fifty years and dealt with the issues of discontinuing our presence in Zurich, which had lasted so long.
In this complicated picture, we are surrounded by our members, who are facing the greatest challenge of our times in order to merely stay in business. They are all flabbergasted by the events and obliged to resort to the last bit of their energy to survive. Yet, as always, our sector is showing the greatest resilience and some even managed to regard 2020 a year of opportunities.
Unfortunately, most of these relationships have been reduced to a phone conversation or virtual meetings, but we are learning to preserve our friendship in new, unsuspected ways . . . and managed to see some savings on the travel budget, an uncalled-for relief. We have been slower, alas, and surely not as exciting as we recall, but we keep moving on: in this day and age, this is kind of an achievement. I must thank all my colleagues and collaborators to allow for such an alas limited, but extraordinary result.
Marco Sorgetti