We received news that at the United Nations Commission on International Trade Law (UNCITRAL) 54th Session, FIATA welcomed and supported the note produced by the UNCITRAL Secretariat on the preparatory work towards the development of a new international instrument on negotiable multimodal transport documents, and its crucial findings.

Accelerating Recovery

FIATA has been closely following the work of the United National UNCITRAL Secretariat on this, following the Government of the People's Republic of China's proposal during the UNCITRAL 52nd session, and considers this initiative to be ever more pressing in the context of the need for economic recovery today.
FIATA continues to support the work of UNCITRAL and to offer its expertise in relation to the development of a new international instrument on multimodal negotiable transport documents, which would provide legal certainty, strengthen the widespread international recognition of negotiable multimodal transport documents such as the FIATA Multimodal Transport Bill of Lading (FBL), and facilitate necessary acceptance by banks for trade financing.

Even More Enlightening

In the meantime we learn, FIATA, through its institutes and bodies, continues to work on the promotion of multimodal transport documents and the FBL with the collaboration of relevant stakeholder organizations, in order to facilitate strengthened use of multimodal transportation for the benefit of international trade.

Digging Deeper

This is clearly a step that could bear consequences in international trade, depending on the speed at which these implementations take place.
It seemed obvious as the only FIATA Fellow in this world today (inducted in 2016) to resort to our FIATA connections to delve a bit deeper into this issue and perhaps expand the line of the horizon.
We were put in contact with Dr. Yang Yuntao, who deals with these issues in his position as Chairman of the Advisory Body Legal Matters (ABLM) of FIATA.

The Land of Long Spring

Dr. Yang Yuntao was born in Changchun, in Northeast China. Changchun means "Long Spring" in Chinese.
Just as its name indicates, this beautiful city is always covered in green, except in winter's snowy days.
Changchun is the birthplace of the first automobile factory in China, as well as the first film studio in the country (Changying). Some called Changchun the Detroit of China.

Teach Your Children Well

The Jilin University (JLU) of Changchung has a very large campus. Dr. Yang Yuntao's parents were both teachers at JLU, so he was actually born within the campus in the 1960s.
It was not surprising that young Yang Yuntao worked hard to achieve his outstanding academic performance.
The law was his calling and the Faculty of International Law in the Law School of JLU opened its doors to him in 1984.
Four years later, after graduation, Yang Yuntao was employed by the National Foreign Trade Transportation Corporation, later known as "Sinotrans", the largest freight forwarding company in China, thus starting his career from the most fundamental work, drafting B/Ls, making Customs declarations, etc. which is a common experience for many successful personalities in the world of shipping and transportation.

Sinotrans Success Lifts All Ships

Dr. Yang Yuntao is a hardworking, no-nonsense professional, it is no wonder his career in Sinotrans developed alongside the growth of the company's international affairs. Our man became the General Manager of the Legal Department and then Vice-President and General Counsel.
During his 20 years serving as the head of legal affairs in Sinotrans, Dr. Yang lead the legal work on various milestone events, such as the initial public offering, litigation and arbitration cases, both at home and abroad, bankruptcy reorganization of listed shipping subsidiaries, etc.

The Natural

Dr. Yang Yuntao has a simple and natural criterion for being a General Counsel, i.e. serving the company in a practical and down-to-earth manner, so that the leadership and his business colleagues can recognize and confirm the company's values.

Top Of His Game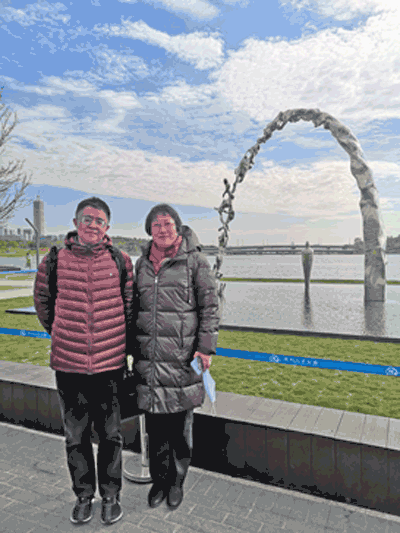 In 2020 Dr. Yang Yuntao was chosen to be Deputy General Manager and General Counsel of China Merchants Energy Shipping Co. Ltd, a world-leading shipping enterprise operating the world's largest VLCC (refers to large size oil tanker) and VLOC (large tanker that carries iron ore) fleets, as well as being the largest product oil tanker fleet in the Far East. This, in addition to being Executive Director and Vice President of the China Maritime Law Association, Vice Chairman of Commercial Law and Practice Committee, ICC China and the Supporting Member of the London Maritime Arbitrators Association (LMAA), in his capacity as arbitrator.
In the interest of time, rather than completeness here, let us end this long list of titles and publications by just saying that in 1991, Dr. Yang Yuntao married Dr. Ding Ding, (pictured here) who is a well-noted Professor of Law in China.

Constantly Engaged@FIATA

In 1999 Dr. Yang Yuntao attended the annual FIATA World Congress for the first time. Since then his contribution to FIATA has been constant. All of FIATA's publications were translated into Chinese and the information exchange with FIATA was notably active and excellent. Thanks to its valuable collaboration with Dr. Yang Yuntao, FIATA has probably been the best-informed association in Chinese affairs in the international transport industry for years.
The establishment of the Standard Trading Terms of Freight Forwarding for and on behalf of CIFA (FIATA's association member in China) was made possible by the unique collaboration between FIATA and CIFA.

Enlightening Good Times

Marco Sorgetti told us that "the years [he] had spent working with Yang Yuntao, Angela Song and President Zhao Huxiang had been the best in his career at FIATA and this was surely due to their intelligent, patient and collaborative approach."

FIATA Membership Benefit

In recent times FIATA's Advisory Body on Legal Matters (ABLM) has produced a milestone publication to assist freight forwarders in their contracting activity. Dr. Yang Yuntao drove the process required to complete such an instrument, intended to assist FIATA Members in their daily business.

Landmark Best Practices Guide

Here is some text:
"For freight forwarders, the contracting process is crucial, not just to mark the start of a new business relationship, but as a crucial method by which to manage one's risk and avoid undue liability exposure. (Abridged) This best practice guide has been developed by FIATA's Advisory Body on Legal Matters to follow the journey of the contracting process, with the aim of helping freight forwarders develop a practical contract management protocol for use in their daily business."
Of course the disclaimer also states:
"It", (the guide) "should not be construed as legal advice."

Up Close & Personal

FT: Dear Dr. Yang Yuntao, we are thrilled to talk to you today. We are very grateful for your time. Despite the difficulties in the last eighteen months, your institution has been quite active, with noticeable results.
YY: Yes, it has been challenging, but I am happy to see these results for FIATA. Our members had insisted on receiving technical guidance from FIATA.
The issue for the ABLM was to write practical advice without compromising the speciality of the legal advice, which cannot be generalized too much, if it has to remain effective. Obviously each contract and each condition have a special character, but I think we have been able to provide good guidance as a summary of our experiences, without compromising on the level of the specialized technical advice that must come from the lawyer.
Thanks to the Presidency, the Extended Board and the Secretariat of FIATA, especially Andrea, Angela and ABLM colleagues' contributions.

FT: Very clear, Dr. Yang, thank you. This is a discussion we have heard more than once. The ABLM has also apparently been active in other areas. You are working very closely with the Advisory Body of Information Technology (ABIT) on the digitization of the FIATA Bill of Lading (FBL), correct?
YY: Right, the former ABLM Chairman Richard Gluck and many other ABLM experts are working closely with ABIT on the eFBL project. I think we may no longer keep our head out of the water, if we do not launch a serious digitization programme. All the requirements are there, but I understand the hesitation.
Many companies are afraid of making the wrong move and others perhaps feel their acquired competitive advantage is at stake. The digitalization of transport documents is a rugged path, which we all know we would achieve some day, but reaching the goal requires entrepreneurship and the investment of pioneers; collaboration and standardization among all stakeholders, such as sea, air and land carriers, freight forwarders/3PLs, ports and terminals, authorities, etc.
FIATA is exploring a feasible way to provide member forwarders with a convenient and secure digital solution to use the FBL. This is the reason why the ABLM has been following the work developed by the Group IV of the UNCITRAL closely since when Richard Gluck was the ABLM Chair.

FT: We heard from external sources of a large conference organized in China, with more than 46,000 participants, this is something that also came forward from FIATA as we stated earlier. We heard interesting developments regarding the Model Law on Electronic Transferable Records (MLETR). Would you like to make comments on this point?
YY: Yes, the conference was organized to celebrate the 1980 Vienna Convention on the International Sale of Goods (CISG). I believe this is the conference you have in mind. I was asked to give a speech and I had the opportunity to meet Luca Castellani of the UN and talk to him about this development. In my view the MLETR is an interesting instrument that can be useful for countries that wish to work in this direction. Chinese companies are looking at this opportunity, although our impression is just in the very beginning of this study. Anyway Luca Castellani was very helpful with relevant material, which I received with thanks.

FT: You seem to be in good hands, Dr. Yang, in contact with experienced individuals, who have been working on this idea for considerable time. We believe FIATA has been involved in this work for a number of years, correct?
YY: Yes, this has been on FIATA's radar for a while. I am aware that these developments are crucial, but in my speech I am also lamenting a relative tardiness of international trade to adapt to new paradigms. This also shows other challenges that the swiftness of digital transactions can produce. It is piling up and a new awareness must come.

FT: You have been a part of the industry for more than three decades, with almost 20 years serving as General Counsel for firstly Sinotrans & CSC, the largest freight forwarding enterprise in China, and then China Merchants Energy Shipping, a leading shipping enterprise. How do you see the role of corporate counsel in a freight forwarding and transport company?
YY: Thank you for this excellent question. In my view, a corporate counsel should assume several main functions for the company. The first one is compliance and management of legal risks. Our industry is highly internationalized, our business goes beyond borders and the embrace of jurisdictions is worldwide. Freight forwarders are confronted with complex and dynamic challenges in complying with distinctive legal requirements in different jurisdictions, especially nowadays when compliance requirements for the transport industry are stricter and stricter, with regard to safety and security, export control and sanction, as well as data protection. A corporate counsel should be able to assist the company in navigating through these challenges.
The second task of the corporate counsel is to facilitate the company's development with his or her expertise in law. Apart from daily operations, the freight forwarding and transport companies have increasing demand in other areas, such as M&A, IPO, overseas investment and debt restructuring. These may go beyond the original scope of knowledge for the corporate counsel, who should however be able to quickly adapt to such new demands and work closely with external lawyers.
The corporate counsel is the core link to convey the company's interest to external lawyers and therefore should take full advantage of the lawyer's expertise for the purpose of maximizing the company's best interest. The general counsel serves as leader of the company's legal team; his/her task is to set up a solid legal foundation for the company. Therefore, ensuring contract management and building a professional legal team are critical for the general counsel.

FT: Thank you for sharing your experience, Dr. Yang Yuntao. What kind of abilities do you think are most important in being a corporate counsel?
YY: The first and most fundamental one for sure is knowledge in law. The second is, as I mentioned, the ability to quickly absorb the evolving information and adapt it to the different demands originated from the company's own development or from new legislation. The third is the ability to communicate efficiently and cooperate smoothly with the company's business sector, as the business departments may sometimes consider compliance measures burdensome and abiding by the process challenging. The last one I would like to emphasize is team work. I have always been very proud to work with my colleagues, both in Sinotrans and in China Merchants Shipping, their expertise in specific legal areas and dedication to the career inspire me to keep moving forward.

FT: What is your take in the new market that we have experienced after the problems with the pandemic in 2020?
YY: Fortunately for China, we have been able to contain the COVID-19 pandemic relatively soon and this has prevented a disaster of historical proportions. If the pandemic went rapidly loose in a country that has a population of 1.4 billion, the consequences could have been very serious for the entire planet.
However, the shock in logistics was strong and sudden, first in China and then internationally. The global supply chain was faced with a series of challenges this year. The pandemic, the obstruction of Suez Canal and the congestion of Yantian Port all challenged the resilience of supply chain. We have seen blockage in sea freight, as well as quick development of air and rail freight. Freight forwarders should play their role in constructing a resilient and secure global supply chain, and provide customers with contingent logistics solutions in extreme circumstances.
FIATA is also dedicated to provide guidance to its Members and I highly appreciate the work done by my colleagues in the Multimodal Transport Institute and WG Sea during such a special phase.

FT: Dr. Yang Yuntao, Marco Sorgetti told us that you are a great soul: we can only subscribe to this statement. Thank for your work in FIATA and, today, for the time you spent with us.
Geoffrey