While many can think fast on their feet, David Vance could think big thoughts from a horizontal position as well.
In the picture David tells it like it is a few years ago, while Rick Elieson AA Cargo President listens up!
"David Vance is such a strong operator on whom I, and the entire American team, relied on for so much. I'm sure his talent is readily apparent to everyone who knows and has worked with him. But what has always impressed me most about David is that he is also very gifted at financial and data analysis, he has an incredible business acumen and he is an incredibly sincere and caring leader who knows how to connect with, and intrinsically motivate a team to perform at their best. He's a wonderful leader and I am better for the friendship, said Rick, now President AAdvantage Loyalty Program.
David, the ultimate Cargo Operations Manager packs it in after 34 years all American.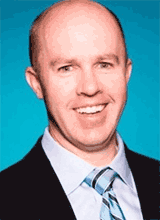 David is succeeded by Sam Mendenhall, (left) who becomes Vice President, Operations for American Cargo. Mendenhall joins the cargo team with 22 years of experience at American, most recently in charge of all Crew Scheduling at the American Integrated Operations Center
Jessica Tyler, current American Airlines President Cargo and Vice President Operations Innovation & Delivery said, "David is leaving an incredible legacy for the Cargo team, as well as American as a whole. He will be missed, but we are excited to welcome Sam to the team to lead the operation moving forward."
Good luck to all and happy landings always, David.
Geoffrey