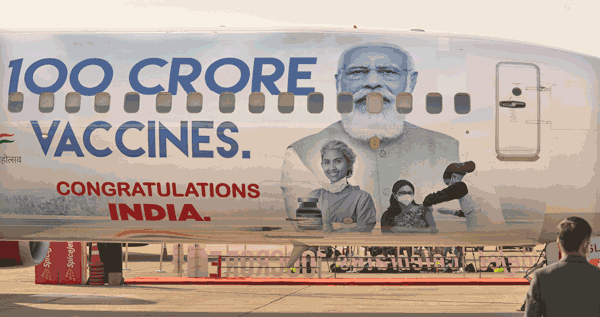 Winner by a Dose . . . SpiceJet unveiled a special aircraft livery in New Delhi, India, Thursday, Oct. 21, 2021 to mark 1 billion doses of COVID-19 vaccines delivered.
India is taking a deep breath and rejoice during the five-day Autumn Hindu New Year celebration of Diwali, with the main Festival Day Thursday November 4.
Diwali commemorates Rama's eventual defeat of the evil spirit Ravana, and his triumphant return to his home.
Diwali for India among other positive things, includes quality encounters with loved ones, family and friends, is also believed to be a good time to launch new ventures.
So the announcement Wednesday October 27 that the India Ministry of Aviation was launching Krishi Udan 2.0 just as airlines are leveraging cargo to boost their financial strength, was well received in this season of change and celebration.
India's Minister of Civil Aviation Jyotiraditya Scindia said that the initiative will give significant "focus on optimizing and incentivizing air transportation of agricultural produce from hilly areas, northeastern states, and tribal regions across India,"adding:
"Due to the constructive policies of the Centre, the domestic air traffic reached its highest level last Sunday (October 24) since the beginning of the COVID-19 pandemic last year, Civil Aviation Minister Scindia said.
"A total of 3,27,923 passengers travelled on 2,372 flights within India on Sunday," he noted.
Krishi Udan follows the Udan Scheme that had been launched in 2016 to improve regional connectivity.
Under that initiative, financial incentives in terms of tax concessions from state governments and airport operators were extended to selected airlines to encourage operations from unserved and undeserved airports, and keep airfares affordable.
Ajay Singh, the Chairman and Managing Director of SpiceJet likes what he hears telling a reporter:
"During the COVID-19," Ajay declared, "the aviation sector, and in particular the air cargo industry has emerged as a rare success story.
"During the lockdown when other modes of transport were constrained, air cargo helped maintain crucial supply chains, including for the transport of food, medicines and other essential commodities, both within the country and from all around the world.
"Air cargo was a lifeline for our farmers, including our marine and aquaculture farmers," Ajay Singh said.