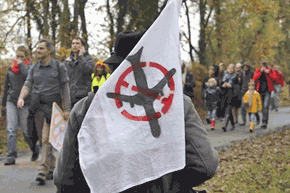 While you were sleeping, getting back to normal after surviving the worst, thank God, a reality check shows that there are still a lot of people out there that don't want airports in the first place.
In the picture recently, demonstrators in Western France protest a project to build an international airport in Notre-Dame-des-Landes.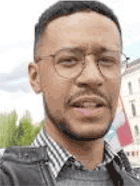 According to Eraldo Souza dos Santos, a lecturer in global history at the University of Potsdam:
"The anti-airport movement has gone global."
Late last month, just two weeks before the start of that United Nations' Climate Change Conference in Glasgow, an unusual organization commemorated its fifth anniversary:
Stay Grounded, a group founded in 2016, is an international activist network of more than 170 smaller protest movements from across the globe.
"Through mutual support and exchange of experiences," dos Santos says "it hopes to inspire and guide collaboration around the shared goal that brings its members together—namely, reducing "aviation and its negative impacts.
"In the years since Stay Grounded started work, it has made a case for seeing anti-airport social movements as a truly global phenomenon.
"From Peru and Uganda to the United States and India, disparate groups of citizens have organized against the environmental and local impacts of airport land development.
"Stay Grounded's research has so far investigated 80 airport-related conflicts and identified 300 more for further investigation.
"So far," dos Santos said," the struggle against airport projects is far from a unified one.
"But Stay Grounded and groups like it, including the Global Anti-Aerotropolis Movement and the U.K-based AirportWatch, are actively working to change that by building linkages between similar movements.
"What is notable is that they've displayed an ever-growing capacity to unite actors from across the political spectrum.
"The movement's top-line, single goal,"dos Santos insists is —a moratorium on airport construction and expansion.
"They seek to reduce or prevent air traffic, emissions from aviation, biodiversity loss and deforestation, noise pollution, real-estate and land devaluation, the displacement of Indigenous communities and the endangerment of archaeological sites."
Eraldo Souza dos Santos notes, that "for each opponent of airports, however, there is a supporter.
"Perhaps the most prominent is John Kasarda, the founder of an airport development consulting firm called Aerotropolis Business Concepts.
"In 2006, Kasarda drew attention for his promotion of what he calls "aerotropolises," urban developments centered around airports, speedily connecting time-sensitive suppliers, manufacturers, distributors, and business people to distant customers, clients, and marketplaces.
"In Kasarda's view, airports now drive economic development in the same way roads, ports and railways did in the past—and many others seem to agree."
More: Twitter at @esdsantos.

Cindy Harris from Indianapolis, Indiana packed her bag and came to New York City. On Tuesday October 27, Cindy imagined she might like the view from the top of New York City's iconic Empire State Building where she found herself amidst the Run Up Contest all the way up 102 floors to the observation deck, the entire 1,000 feet to the top of the world in this annual event that has been squashed for the past two years by COVID .
And guess what? Cindy won!
In addition to a first-class view of the greatest city in the world from 1,250 feet above Manhattan City, Cindy got a nifty model of the most beautiful skyscraper.
Cindy's arrival included a free takeoff via Turkish Airlines to anywhere in the world they fly.
So while everyone else was catching their breath, Cindy took the express elevator back down to the ground, hailed a cab on 34th Street and was off to JFK International on a new adventure
---



It was Halloween in New York City and the kids were out.
Our home is the one with with the Sky Bars, a candy made in small batches off and on in Boston since 1938.
Sky Bar has four flavors Caramel, Peanut, Vanilla and Fudge, all in the same bar in rich milk chocolate.
My favorite defense what with all the scary midgets on the run at our door was to show up unafraid, with candy basket in hand and declare in my radio voice:
"Forget all about Trick or Treat.
"Here is a moveable chocolate feast; with a Treat in every bite just for you.
"But there are some rules to enjoying this candy.
"First you must take a bite only as big as the line in the chocolate that separates the flavors.
"Then just slow down for a moment, savor the flavor . . . get all the caramel in. "Next have a small sip of water to cleanse the palate and sharpen your taste buds before taking the next bite, say Vanilla, that comes after the caramel depending which end of the bar you begin with."
The Sky Bar secret to enjoyment is to take your time.
Savor the flavor slowly.
Gobbling a Sky Bar up all at once, and the tastes all run together and you cannot tell one from another.
Imagine a candy bar that might also serve as a guide to bigger thoughts in life?
Stop and smell the roses.
Catch all flavors and nuances