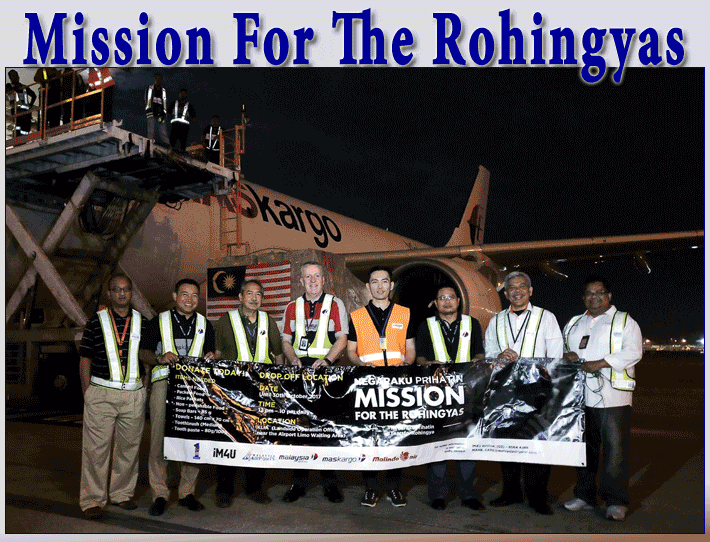 A major initiative for good in Malaysia is "1Malaysia for Youth," often referred to as 1M4U or iM4U.
The outreach organization is an initiative of the Malaysian government and was founded by Prime Minister Najib Razak in 2012.
Put simply, iM4U encourages volunteerism amongst Malaysian youth.
Recently the call came from the PM for Malaysian Airlines, MAB Kargo, Malindo Air, and Malaysia Airports Holdings Berhad (MAHB) to join forces with iM4U to provide humanitarian support to Rohingya refugees in Bangladesh. This occurred after reports circulated of Muslims fleeing from Myanmar's northern Rakhine State to Bangladesh in what is turning out to be the world's fastest-growing refugee crisis.
As part of the effort, MAB Kargo transported relief supplies gathered from collection centers set up and coordinated by MAHB and iM4U across Malaysia.
The relief supplies moved via the carrier's Advanced Cargo Center in KL International Airport (KLIA).
The supplies were delivered in Chittagong, Bangladesh, via MAB Kargo's A330 and were received by the iM4U team on the ground for onward distribution to Rohingya refugee camps in Cox's Bazar district of Bangladesh.
"During this international humanity crisis, we have the pleasure of witnessing our nation coming together as one to help those in need. "In support of the Malaysian Government in the Humanitarian Mission for the Rohingyas – Caring NationDrive, we are humbly honored to be working side by side with the Malaysian aviation industry," said Rudy Malik, iM4U Chief Executive Officer.
"For our part, we are proud and honored to show our commitment and the heart of Malaysia to those in need," declared Ahmad Luqman.