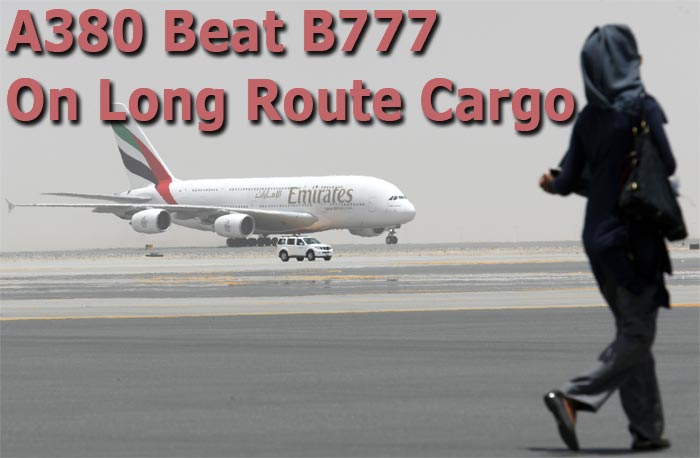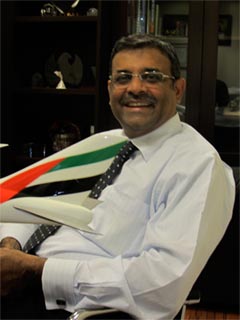 Of all the airline air cargo executives that you have ever met or for that matter have ever heard of, no one was closer to A380 and its possible uses for air cargo than Ram Menen who was present at the creation of SkyCargo and top executive of Emirates Cargo until 2013.
We reached out to Ram, who today is retired, and living with his wife Malou in Luxembourg, and this is what he said about A380.
"Having been involved with the A380 project from Day 2 whilst it was still designated as A3XX, it is really sad to see the production line coming to end in the next few years.
"I have had the opportunity to work with the Airbus team quite closely.
"Emirates were instrumental in getting Airbus to reconfigure/modify the lower deck cargo hold for maximizing loading efficiencies, and are able to load up to 14-16 tons of cargo on normal operations with a full load of passengers.

Invested In Air Cargo

"We accomplished this by getting Airbus to install a turn table, which allowed us to load 3 standard 96"x125" pallets in the tunnel area instead of 6 LD3 containers.
"Not many airlines have taken this option and today are unable to load more cargo."

Never A Great Cargo Aircraft

"Although I have not been a great fan of the A380 from a cargo point of view, it is a great passenger aircraft and I have always enjoyed travelling on one.
"Emirates have been very successful in operating A380s as they feed into and feed off of large wide body aircraft.
"Other operators tend to have narrow body smaller aircraft feeding A380.
"The result of that action is that the benefit from the contribution cargo can make to the A380 operation (and bottom line) is lost."


Beats Boeing 777-300ER

"Fact is," Ram said, "that the A380 has better cargo capability than B777-300ER on sector lengths of up to 14-15 hours.
"The B777-300ER is a freighter in disguise up to sector lengths of about 11 hours (based on pax configuration and full load) and then the degradation on payload was quite steep whilst the A380 flies further with full payload."

What Happened To EK A380 Freighters?

"As for the freighters, Emirates were the first to order two of them which later on were converted to our passenger order. "When the order was placed, there was no successor in sight for the B747-400ERF and we needed a larger freighter to handle our future growth.
"We worked quite closely with the Airbus team to define the freighter and realized that it had a few challenges that needed to be resolved.
"As example, we discovered that A380 tended to make a better freighter for integrator type of traffic than the traditional heavyweight consignments.
"This is why there was more excitement amongst the integrators, and FedEx and UPS placed larger orders."
(Editors Note: Eventually because of some A380 delivery delays and other market forces, the integrators moved their freighter business to Boeing. Whether they might revisit the possibility of A380 in a conversion to cargo is, at this point, an open question).

Tall Cargo Loaders Needed

"The challenge was also loading the upper deck that required hi-loaders reaching up to 8 meters high.
"This also would have limited the airports, this aircraft could serve.
"Boeing's redesign of the B747 to the -8 version provided a better solution to our industry and with all the other challenges the aircraft was having at the entry into service (EIS), the freighter program was shelved."

Continue To Enjoy The Ride

"It is sad that A380's life has been cut short.
"Although the production line is being shut down, I am sure we will see A380 up in the sky for another couple of decades, so let us continue to enjoy riding on them as long as they are up in the air," Ram Menen said.
Geoffrey