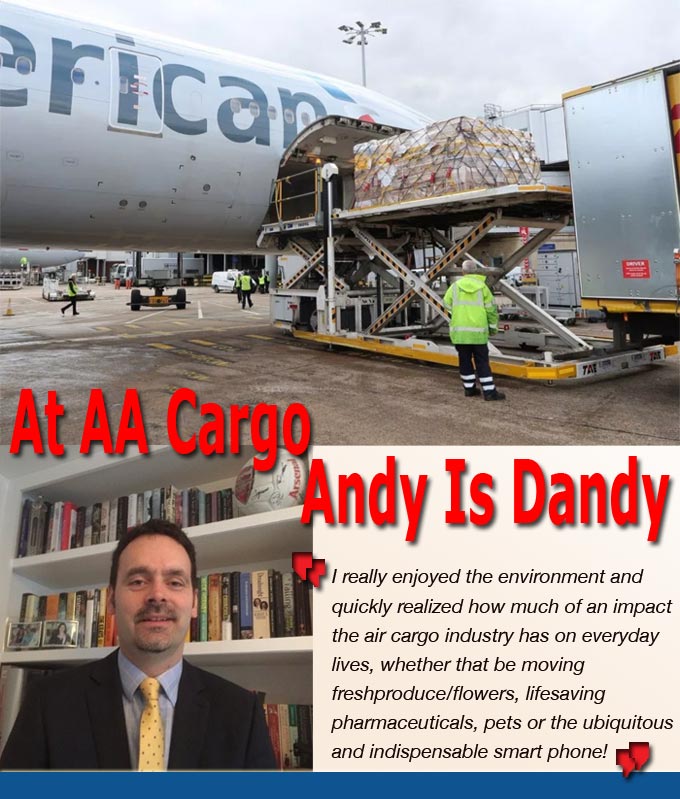 We caught up recently with Andy Cornwell II, who serves as Regional Sales Manager, Northern Europe for American Airlines Cargo. Andy lives in Teddington, Greater London, United Kingdom.
Teddington is a green upscale part of town with a history going back hundreds of years. That history also includes a time during World War II, when General Dwight D. Eisenhower planned the D-Day landings at his Supreme Headquarters Allied Expeditionary Force (SHAEF) at Camp Griffiss in Teddington's Bushy Park.
Today a small plaque in the 1,100-acre park, (LaGuardia Airport by comparison sits on 680 acres) dedicated by the Royal Air Force recalls that time.
For his part, Andy, who commutes daily to work from Teddington, finds it no battle to wax enthusiastic about air cargo in general, and working with his team at American Airlines in particular.
Andy joined American in 2009 whilst working on his MBA at Buckinghamshire New University at High Wycombe, Buckinghamshire.
Asked why he chose air cargo Andy is completely up front:
"I'm not sure I did," Andy said.
"I think air cargo chose me!
"Like many people I've spoken to over the years, I entered the world of cargo only as a stop gap before university.
"However, I really enjoyed the environment and quickly realized how much of an impact the air cargo industry has on everyday lives, whether that be moving fresh produce/flowers, lifesaving pharmaceuticals, pets or the ubiquitous and indispensable smart phone!
"I did, however, complete my university experience years later, whilst still working full time in cargo, which actually allowed me to align my chosen modules to the world of cargo."

The Brexit Thing

"A sizeable portion of our volumes flying from the U.K. originates in mainland Europe, where we've not seen an impact to our operation.
"Although there is lots of uncertainty around Brexit right now, we're focused on continuing to provide the seamless movement of goods into and out of the U.K. however we can, to help meet customers' needs — whether that's by truck, via our interline partners, or moving more on our direct flights from mainland Europe.
"So far, we haven't seen much of a change on cargo movement to and from LHR, which remains one of our biggest cargo hubs worldwide.
"We're simply working to ensure that goods are able to continue moving uninterrupted between the E.U. and the U.K."

Keeps On Trucking

"Road feeder service has been a focus for us over the past few years.
"In 2018 alone, we had more than 20,000 truck movements across Europe.
"American Cargo has looked to grow our network by utilizing trucks to operate where we do not fly directly, or where we are capacity-constrained."

Goes With The Flow

"For example, we utilize truck service to flow business around Europe from markets where we see strong demand (like Germany) to others where we might have excess capacity.
"We use the same approach in the U.S., making use of an extensive trucking network to offer service from new origins and to new destinations including offering custom solutions, such as trucking directly to customer premises. We're always looking for ways to ensure we can move our customers' cargo, no matter where it needs to go," Andy said.

2018 Was A Very Good Year

"All our gateways performed extremely well in 2018. In fact, as an organization, American Airline Cargo had a record-breaking year, posting our best ever operational performance, volume and revenue numbers.
"LHR moved more volume than in prior years, while at the same time improving performance to be the highest in the system, which is testament to the great efforts and collaboration made by our Commercial and Operation teams."

Good All Over

"American Cargo also performed particularly well out of Frankfurt (FRA), Amsterdam (AMS), Dublin (DUB), Madrid (MAD) and Barcelona (BCN).
"We are extremely focused on customer engagement and interaction and want to continue working closely with our customers to ensure we're offering the best possible service in the industry."

Investing In Change

"It is probably a lot quicker to explain what hasn't changed rather than what has!
"The eAWB initiative is a huge focus for us — we're leading the way in eAWB growth, but the main goal must be to streamline industry processes and go fully electronic.
"Our team is also extremely focused on increasing the ease with which customers work with us.
"We're currently investing heavily in updating our technology with our iCargo project, called Project Payload, which will see the number of systems reduced from 90 to eight.
"This initiative will provide improved visibility and efficiencies for the airline and our customers."

What Could Change To Improve Cargo In UK?

"Firstly, I'd like to see much more investment from airport authorities around Heathrow (LHR) and other U.K. airports in terms of infrastructure, transport, and technology.
"For example, it would make sense to increase our interline business, but it usually takes far longer to transfer goods 100 meters from one carrier's shed to the other than it is to fly the goods from the other side of the world.
"We need to add efficiencies and transparency to the chain, which will be helped with technology.
"New technologies would also assist with and reduce unnecessary truck movements through careful planning and automated notifications directly between Customs, handling agent, customer, and truck operator.

Someone Who Changed My Life

"One of the first people I worked for was John Smith, who was Managing Director at American Airline Cargo after retiring from British Airways.
"He taught me the importance of earning respect through hard work and commitment, always being flexible when seeking customer solutions, and how to ensure one has a healthy work/life balance.
"John retired 15 years ago, but I still meet up with him when I can."

The Service Failure Lesson

"There have been a few service failures I can recall, but the one thing I have learned is we are judged not on whether there is a service failure, but in how one recovers the situation and communicates with others during that process.
"Always be honest and upfront with the customer and advise of any issues or changes as soon as possible, offering a solution."
Geoffrey