Who Has The Next Big Idea
Late News . . . IATA said that it is in the final round for a ULD Air Cargo Innovation Award scheme.
"Out of the 56 innovative ideas submitted, an independent jury shortlisted three finalists," IATA said.
Unilode Aviation Solutions is a finalist for its Digital Transformation Program; Air New Zealand Cargo & Cargo Composites for the aeroTHERM ULD, and SITA, Safran & CHAMP for their Smart ULD.
All three finalists will present their idea at the IATA World Cargo Symposium in Singapore that takes off March 12.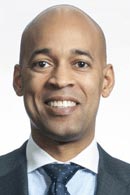 Delegates will be tallied for the idea they like the most with winner announced at the closing event WCS March 14.

Delta Cargo & SkyTeam
"By rebranding our international products to align with our SkyTeam Cargo partners, it is now easier for our customers to do business with all 12 member airlines," said Shawn Cole, (right) Delta Cargo–Vice President.
"The DL product rebrand, aligning with SkyTeam Cargo includes no changes to our product offering," Mr. Cole said.