On Sunday February 2, Super Bowl in Miami and The Kansas City Chiefs' stunning come-from-behind victory was the thing here in USA and elsewhere around the world for sports fans.
I have to admit I look at this big show-stopping football event as the post-game gateway to heaven, meaning the advent of six months of nonstop baseball every year.
But this year brought back some memories of being in 1970 in Kansas City, a place that straddles the states of Missouri and Kansas, at (what else?) a trade show. It was the last time the Kansas City Chiefs appeared in a Super Bowl.
Kansas City at that time, nearly 50 years ago, and for more than 30 years before that, had a lively jazz scene with some wonderful music venues.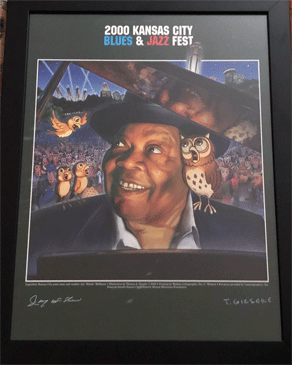 Recall the great pianist James (Jay) Columbus McShann (also known as Hootie) who enjoyed a long career, and who formed a sextet in 1937, which featured a young Charlie Parker.
Scores of recorded McShann songs over the years included some, that were not released commercially until the 1970's, featuring Parker.
But Hootie who actually played in obscurity during the fifties and 1960's, was otherwise quite a prolific musician performing in KC clubs and at other venues.
We saw him in KC in 1970 in a small club, where he absolutely blew the doors off the joint.
A live album, Hootie Blues, recorded in 2001 in Toronto was released in 2006 by Stony Plain, showed that McShann could still bring it at the age of 85.
He died at the age of 90 on December 7, 2006.
And if you are wondering, if jazz is still alive in Kansas City today, check out the Green Lady Lounge, the Phoenix, and the Majestic Restaurant—all are good.
Better still, one can go the Negro Leagues Baseball Museum and the American Jazz Museums, which are side by side at 18th & Vine and listen to live jazz in the adjacent Blue Room.
The Mutual Musicians Foundation (a century old Jazz union hall) is great too.
Somewhere up there, Kansas City Hootie is celebrating that come-from-behind Kansas City Chiefs Super Bowl victory.
The way it ought to be.
Geoffrey