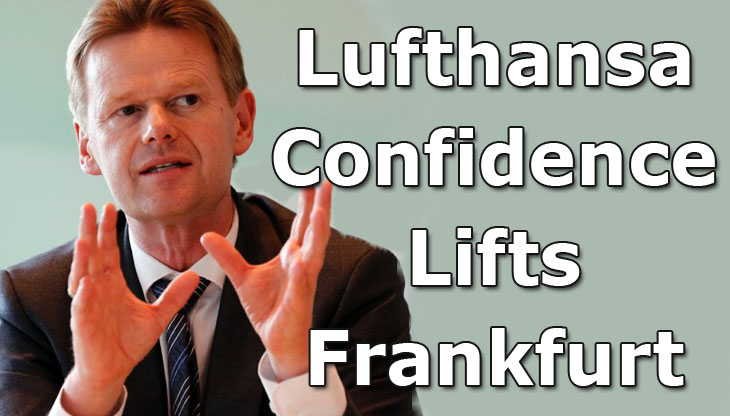 There was an undeniable sense of confidence and even forward-thinking optimism at the Lufthansa Cargo press conference held in Frankfurt on Thursday March 19.
Pop-up strikes by pilots and demonstrations by others in downtown Frankfurt last week notwithstanding, the message was upbeat from the top executive cargo team at Lufthansa Cargo.

Lufthansa Cargo achieved an operating profit of EUR 100m last year.
That number represents a significant increase for the cargo airline when compared with the previous year (EUR 79m*).
Chairman of the Executive Board and CEO Peter Gerber said the carrier is looking for more in 2015 and the years ahead.
"We achieved a good result in challenging conditions.
"A strong focus on top quality, high-performance products and flexible capacity management played a key role in this, along with Lufthansa Cargo's strength in sales.
"Lufthansa Cargo expects to increase profits further in the current year," Mr. Gerber declared.
"Air cargo is and will continue to be a growth market." Despite growth rates being slightly lower than in the past, Mr. Gerber says he is confident "that air freight will always be the only viable transport option for certain goods."
"Major exporting regions like Germany are an excellent long-term basis for the air freight sector."

Top Cargo At Lufthansa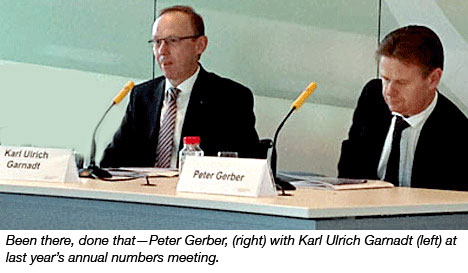 On the sidelines, Peter Gerber engaged a well-wisher, who said, "good luck with your first annual report," (Gerber assumed command of Lufthansa Cargo on May 1, 2014).
Peter smiled and said:
"Actually, I have presented the results and thoughts at three prior annual meetings."
That admission is striking in its frankness.
Mr. Gerber is on the record keeping things straight and factual right out of the gate.
Our first impression of Peter Gerber's performance with the press, which numbered around 60 reporters from around the globe, is that he is an earnest and informed voice for air cargo, taking forward one of the storied and successful transportation franchises in aviation history.
What is especially noticeable about Peter Gerber is his ability to present his objectives and rationale in the kind of detail that includes a quick sentence or two to sum up his entire thesis.
"Everything of real value is going to be flown.
"And it is going to stay that way," he said, as the PowerPoint whipped by on a giant screen amidst an avalanche of facts and figures.
Suddenly, rather than fogging the subjects over, everything was made clear in his direct words.
"Is there a need for freighters?
"We think so!" Mr. Gerber declared at another point.
As mentioned, the business case was made in longer, more exact terms, but straight talk was welcomed like a gentle wake up tap on the shoulder.
"Frankfurt is the epicenter of Europe's industrial sector," Mr. Gerber emphasized.
"Geographically, it's much better positioned than London or Paris.
"Frankfurt is the main European hub for our customers, the major international freight forwarders.
"It's an ideal location for us to continue investing."
That last remark can at least be considered to be wishing for a positive answer on whether or not Lufthansa Cargo will indeed be building a new cargo terminal at FRA.
Although no one is saying much, handicappers with some sense of optimism can indeed look at Lufthansa management and view the carriers' two top executives, Spohr and Garnadt, both of whom once served as the cargo bosses.
Final word on that project is expected by the end of April.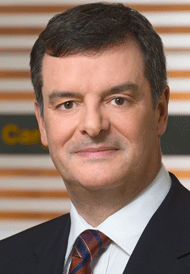 "The Money Guy"

Dr. Martin Schmitt, Board Member Finance and Human Resources, highlighted the importance of successful cost management for the myriad enhancement programs Lufthansa Cargo has planned for the future.
"We are making ambitious investments in our future; to do this, we require a solid, long-term earnings base."
The SCORE profit improvement program was a major factor behind the airline reviewing its earnings situation last year.
SCORE contributed EUR 116m of earnings in total.
"We will continue to work hard on our cost structure and find ways to increase revenue," Herr Schmitt declared, pointing out that Lufthansa Cargo expects profits again in 2015.
Geoffrey