As President Trump enters his second year, it's time to reflect on the impact of his policies on the air cargo industry.
No one can disagree that it has been a good year for all segments of the air cargo industry despite the typical Washington gridlock and opposition obstructionism.
The U.S. economy is strong—U.S. GDP may increase by as much as 4 percent in 2018, fueled by high job growth, low unemployment, and raising salaries, allowing consumers to increase their spending.
Value Added America
Because of the financial environment and some advantageous policy changes (most notably sizeable tax cuts in 2018), businesses—both foreign and domestic—are saying they see the U.S. as a good place for manufacturing. Now overseas money is flooding back into the U.S. economy and there appears to be a bump in domestic investment.
Taken together with a more assertive trade policy, the U.S. has returned as a value-added manufacturer, and not just an exporter of raw resources and services.
This has meant a boom for air cargo; one, I think, that is likely to continue so long as the U.S. dollar doesn't appreciate against the Euro or other major currencies.
Call For Scheduled All Cargo
But despite all this good news, the U.S. is still missing a scheduled all-cargo international airline able to take on the non-U.S. scheduled freighters. Long gone are Seaboard World Airlines, Flying Tigers, and North West Orient freighters, and no U.S. passenger carrier is flying freighters like many of the foreign airlines do.
But in this environment, it may only be a matter of time before U.S. scheduled cargo airlines return and take to the skies.
The timing seems right with the growth in the commercial market and the DOD's desire to preserve its military organic freighter life span.
Looking Into CRAF
The Department of Defense maintains that ability through its Civil Reserve Air Fleet (CRAF) program, but it may have trouble doing that much longer. CRAF depends on the integrators' and non-schedule U.S. airlines freighters (Charter Carriers) for its cargo movements. Since the latter are shifting more and more to long term aircraft leases to protect their profit structure, especially given the risk of increased labor costs (triggered by the shortage of pilots in the U.S.) coupled with an increase in leasing large freighter aircraft (triggered by Amazon's entry into the market) and the military pallet interoperability issues of the B777 freighters purchased by FedEx, there may develop a problem in the DOD getting sufficient CRAF cargo lift.
Pilots In Short Supply
The pilot shortage has exacerbated much of this. One cause of the pilot shortage is the FAA requirement for commercial U.S. pilots to hold 1,500 training hours, compared to only 250 hours in most other countries. U.S. carries are busy adjusting the effect of this policy, including large pay increases to its pilots, but a total durable solution will take time without policy changes, putting U.S. carries at a severe disadvantage compared to their foreign airlines competition. This requirement was put into effect for safety reasons, but comparing safety records across countries—as well as U.S. ridership on foreign carriers—it might not make sense to insist on requirements so far out of line with international standards, especially since many believe the policy change was a reaction to an incident that had little or nothing to do with pilot training hours.
The Trump Effect On Cargo 2018
What can I predict for the air cargo industry for President Trump's 2nd year in office? His pledge to improve American infrastructure, including airports, will surely help the airlines. He has also vowed to work on cyber security, effecting "free flight" that will reduce flight time and airline costs, which may potentially enable the large passenger hub and spoke carriers to add an additional bank of flights. Increased disposable income brought about through tax cuts, low unemployment, and salary increases will help more Americans afford vacations and increase consumer spending, boosting passenger volume and increasing demand for door-to-door parcel delivery and inventory management. Increase in domestic manufacturing will also spur demand for schedule airport-to-airport air freight, which will either move in passenger aircraft bellies or on non-U.S. freighters.
Air Cargo Step Up & Raise Your Voice
The Trump effect has helped air cargo grow to record levels, but the industry cannot afford to be complacent. Airlines need to take an active part in developing the sector and support and encourage the U.S. Government to help solve problems. Carriers—individually and through industry groups—need to align their tactical plans to achieve the strategic plan for industry growth. These are the times when the airlines need to speak with one voice.
Bil Boesch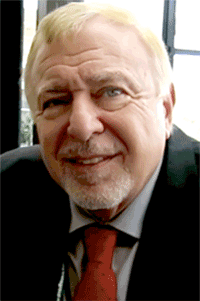 Mr. Boesch started his career in global transportation and logistics in 1965 working for Seaboard World Airlines. He later joined Flying Tiger Airlines and Emery Worldwide. Mr. Boesch then left Emery to become Pan American World Airways' Senior Vice President where he headed both Passenger and Cargo Sales and Operations. He left Pan Am to lead American Airlines' Cargo operation and retired from AA in 1998. Under his direction American became a world leader in the air cargo and logistics business.
Mr. Boesch was part of the extensive on site planning and support of the Iraq drawdown, involvement with the Afghanistan operations, and has worked on all aspects of the Civil Reserve Air Fleet (CRAF) from both an airline and government standpoint.
Mr. Boesch has also served as Chairman of the International Air Transport Association (IATA) Cargo Executive Subcommittee in 1996 and 1997, Vice Chairman of IATA's Cargo Committee. Mr. Boesch served on the Board of Directors of Air Cargo Incorporated, Air Cargo International, The International Air Cargo Association (TIACA), Envirotainer, Cargo Logistics Solutions, Deutsche Post/DHL Global Mail, al Seqir and consulted for major U.S. companies including Flight Safety.
Mr. Boesch is the recipient of numerous awards including the Lifetime Air Cargo Achievement Award, the Ellis Island Medal of Honor and various awards from the U.S. Department of Defense.
Mr. Boesch is presently continuing his work for the U.S. Government and heads up The Council For Logistics Research.
To Read Part 1 of This Series, Click Here
To Read Part 2 of This Series, Click Here
To Read Part 3 of This Series, Click Here
To Read Part 4 of This Series, Click Here
To Read Part 5 of This Series, Click Here
To Read Part 6 of This Series, Click Here
To Read Part 7 of This Series, Click Here
To Read Trump Effect—India Walks Softly Carries Big Stick, Click Here
To Read Trump Effect—Implications Of A Trump Trade War, Click Here
To Read Trump Effect—Trump Across The Pacific, Click Here