Hong Kong air freight forwarders have a full-plate year, but long-term competitiveness will depend on infrastructure investment at HKIA and supportive government policies.
Those thoughts were among the key points made by Brian Wu, the affable and insightful chairman of the Hong Kong Association of Freight Forwarding and Logistics, the non-profit organization which represents the autonomous territory at FIATA as well as pushing forwarder interests closer to home.

Years Two Wu
Wu, elected chairman for two years in April, was previously vice chairman of Haffa and has served on the organization's executive committee since 2009.
His first steps in his new role have been to push Hong Kong's administrators for more support.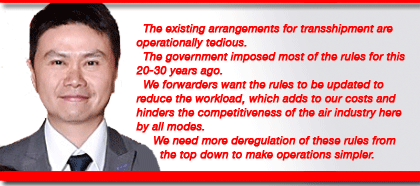 Wu Would Like
First and foremost, Mr. Wu would like further deregulation of policies governing transshipment of cargo at HKIA arriving by land, sea, or air, mostly from mainland China.
At present, he said licensing for particular products such as telecommunication products was bureaucratically time-consuming for forwarders.
Mr. Wu would also like to see air-air transshipment rules extended to air-sea and air-land movements via HKIA, and he thinks arrangements at Singapore's Changi Airport Free Trade Zone can be used as a performance benchmark for through and non-through airside transshipment cargoes.
Wu Rejects Tedium

For example, Mr. Wu said administrators should allow value-added services such as reassembling, repackaging, and sorting and packing to be performed on transshipment goods at HKIA before the goods are further shipped to final destinations.
"The existing arrangements for transshipment are operationally tedious," he said.
"Hong Kong is a small city with very few factories and most of the products are made in China and transshipped through Hong Kong for export overseas.
"The government imposed most of the rules for this 20-30 years ago.
"We forwarders want the rules to be updated to reduce the workload, which adds to our costs and hinders the competitiveness of the air industry here by all modes.
"We need more deregulation of these rules from the top down to make operations simpler."
Forwarders Have A Voice
He also said stakeholders would like more input into the government's strategic decisions:
"The Hong Kong government encourages industry to do more business with high value cargo such as frozen food, but they need to listen to us," he explained.
"We need to set up suitable facilities and we need more land for this and these cargoes, otherwise customers will do this business in Mainland China."

Bridging The Future
"We are very glad infrastructure is being upgraded, especially the bridge to Macao, which is due for completion soon, and the third runway at HKIA, which we hope opens in 2023, although this might be optimistic.
"Once open, the new runway will give us more timeslots for landings and increase frequencies.
"And more capacity will help us better serve customers. But we would like more input on infrastructure decisions in future."

WU On The Stakes
Mr. Brian Wu also issued a stark warning about what could happen if Hong Kong does not keep supporting its air freight stakeholders.
"Hong Kong's port was number one in the world; now it is ranked number 5 behind Shanghai, Singapore, Shenzhen, and Ningbo-Zhoushan.
"But we are number one for air freight and we want to stay there. Airports in Mainland China are catching up a lot and we need the infrastructure to support us."

Business Is Rising
As reported in FlyingTypers, throughput at HKIA surged 17.8 percent year-on-year in March to 433,000 tons, while in the first quarter volumes were 11.5 percent higher than a year earlier at 1.1 million tons.
Wu said the market had been unexpectedly positive since September 2016, while the first quarter of this year was much better than a year earlier when the market was largely stagnant.
"It's hard to anticipate the future," he explained.
"We didn't know Q4 of 2016 would be as good as it was and it accelerated so quickly from September that airlines and terminals ran short of equipment such as ULDs, although they did a great job of handling a very unexpected market pick-up. It carried on being busy right up to Chinese New Year. It was then quiet in February and bounced back in March.
"Now we are very optimistic for 2017 and there are lots of big product launches later in the year, such as the new iPhone, which the big multinationals are already shipping. Chinese companies such as Xiaomi and Oppo also have launches and these will boost demand to Asia and especially India, which has been hot for second tier mobile phone producers for some time.
"A lot depends on how sales go and whether inventories need replenishing."

Middle Class Expands Market
Wu said Asian demand growth had outstripped Europe and the U.S. in percentage terms over the last year. "Asia and particularly India are the rising stars of the future," he added.
Asia is also importing a lot more cargo by air.
"We are seeing a lot of import shipments, but those are not limited to IT products," he explained.
"The Chinese population is buying a lot of foodstuffs and wine from Europe and the U.S.
"The middle class is rising in China and want to enjoy life and are buying luxury items from overseas.
"Also, e-commerce has also been booming for the last 3 years.
"The Chinese government is encouraging more trading and imports to Mainland China to facilitate demand from the population, and this will continue in future.
"This is giving more balance to the market, which is traditionally export led. I don't know how long it will last, but the air market is hot so we are very positive for 2017 and ahead," Mr. Brain Wu declared.
SkyKing