Dateline Erbenheim Airbase, January 10, 2019—The Man in the light blue shirt above is Volker Dunkake.
We have known, and very much liked Volker from the days of Lufthansa Charter and the absolutely outstanding people who populated that company like Christian Fink, Heide Enfield, Andrew Morch and some others.
Once above Germany, Volker and I flew in a restored S38 flying boat from the 1930s, the aircraft dressed up in zebra stripes, the way wild life explorer Frank Buck's 'Bring 'em Back Alive's, S38 flying boat flew the skies.
So when we needed to show our faces and some love on Whit Monday, June 10 as Berlin Airlift aircraft returned from antiquity to spend a few days celebrating 70 years since air cargo saved a city, Volker, now with ATC Aviation, went and visited the aircraft at Wiesbaden U.S. Army Base.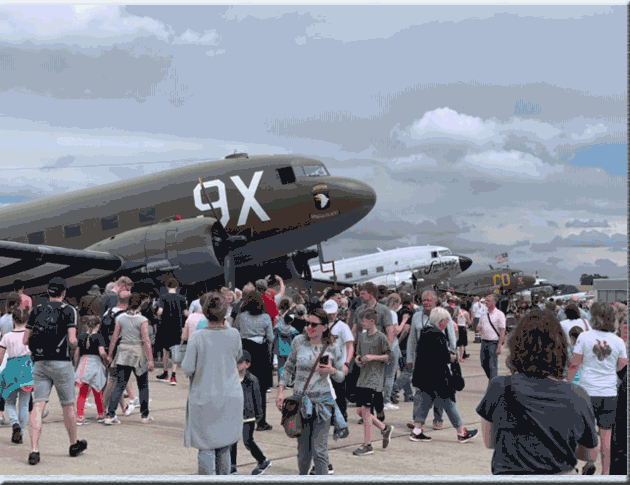 "What a scene," Volker reports
"After finding parking in the middle, of nowhere and a walk of 5km we spend the afternoon at Erbenheim Airbase amongst approximately 40,000 others from all nations.
"We mostly enjoyed old men in shaky planes dropping chocolate for the kids again.
"Unfortunately those who where not flying, were more into the beer than a photo chat.
"It was all in good fun, as we all remembered how the Berlin Airlift saved our city in 1948-49.
"These men who dropped bombs on Germany in 1945 came back in 1948, less than three years later and delivered coal, and milk and eggs and life, whilst dropping candy for the kids, as they flew in and out of Tempelhof Airport in Berlin.
"The birth of air cargo and our industry of today began with the Berlin Airlift.
"People of Germany will never forget the kindness of the "Rosinenbombers", Volker Dunkake said.
Thanks Volker!
Geoffrey