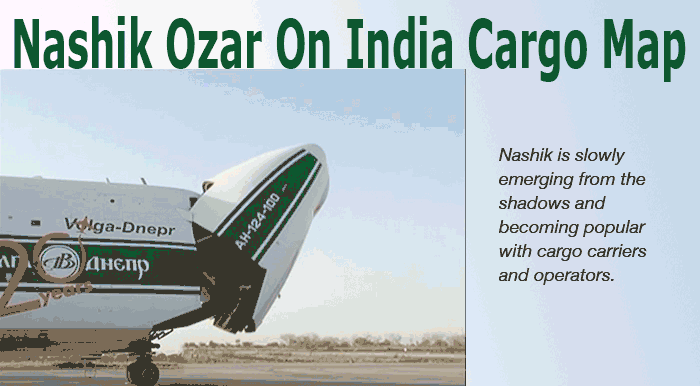 Nashik Airport located at Ozar about 20 kilometers northeast of the city of Nashik, Maharashtra, India is owned by Hindustan Aeronautics Limited, which had used the airport primarily to develop, test and build aircraft for the Indian Armed Forces.
Now Nashik is seeing a second life for air cargo; in fact the airport will double its annual growth in 2018 exporting goats and sheep to places including the UAE.
Exporting Goats and sheep to Sharjah started in 2016.
So far in 2018 12,356 goats and sheep had been dispatched from Nashik via eight flights. The animals are usually sent during the monsoon season (June to August).

Get His Goat

A logistics veteran, Sudhakar Sen, CEO, HALCON (a joint venture between Hindustan Aeronautics Ltd and Container Corporation of India, that manages the airport) spoke exclusively to FlyingTypers.
"Yes, the executive said," the number of flights are rising and the stats depict the confidence of the trade.
"In 2016-17, the airport handled nine freighters a month while in 2017-18, the number went up to 38.
"This year between April 1, 2018 and July 18, 2018, Nashik saw 22 freighters and also handled 129 scheduled passenger flights.
"While the airport has handled a wide variety of cargo – including an AN-124, it is ready to send out pharma products to Kabul in Afghanistan."
Elsewhere airport sources indicated that there would be two such cargo flights a month.
"About 100 tons of pharma products will transit Nashik each flight."
As Sen pointed out, "HALCON has been handling export pharma cargo at the air cargo complex for last five years. "These pharma consignments are transported to the gateway airport (Mumbai) through bonded trucking."
Sen emphasized that HALCON was "actively working to facilitate the direct air uplift of the pharma cargo from Nashik Airport."
Price & Location

Freight forwarders pointed out that Nashik would be ideal for pharma exports since there are quite a few pharma manufacturers in the city as well as in neighboring Aurangabad, around 185 km away by road.
"These pharma units could avoid an already congested Mumbai airport – around 165 km by road – and send their goods out from Nashik Airport," FlyingTypers was told.
"In fact, the airport wants to get 20-25 per cent of the 40,000 tons a month of cargo currently handled by Mumbai airport."

An Airport Centerstage

"Nashik is slowly emerging from the shadows and becoming popular with cargo carriers and operators," CEO Sen declares adding,
"Response is immense and in addition to non-scheduled freighters recently, we handled 8 B747 freighter technical landings in June 2018."

About Nashik

It was way back in September 2011 that the HALCON-operated Nashik Airport (well known as Ozar Airport) started its commercial services).
The airport has a large cargo facility as well as a passenger terminal.
With passenger services started at the end of last year, came belly cargo. For example, the Jet Airways flight, which launched Delhi-Nashik-Delhi sector on June 15 is carrying export cargo for London and Dubai.
"With this the trade and industry in Nashik is getting direct access to the international market," Sen said.
Along with Jet, IndiGo and SpiceJet have also started operations. "The Regional Connectivity Scheme will act as a catalyst for economic growth of the Nashik region.
"As we say, the economy of a nation flows in the wings and wheels of transportation," Mr. Sen declared.

Future In The Wings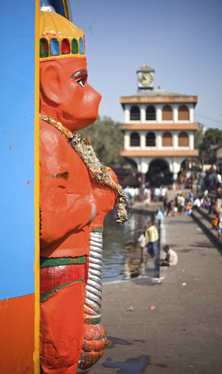 Hanuman statue at Nashik, India.
HAL decided in 2005-6 to start commercial operations from the airport and offered the government-run Container Corporation of India Ltd. (CONCOR) (whose core business is being a carrier, a terminal operator, and a warehouse operator) 11 acres of land for cargo operations.
As Sudhakar Sen put it: "HALCON is a successful marriage between HAL and CONCOR two of India's well known PSUs. CONCOR fulfils its role providing cargo handling and Customs operations and HAL provides air traffic control and navigation services."
The airport's cargo division has seen a 44 percent rise in exports between April 2017 and March 2018 (5,500 tons in comparison to 3,800 in the previous year). Of that, 2,000 tons consisted of perishables, vegetables and fruits along with goats and sheep.
The air cargo complex at the airport was inaugurated in March 2008. With a major investment of Rs 70 crore from HALCON, the cargo complex has put in warehouses, an integrated packing centre for perishables, cold storage, facilities for comprehensive ground handling services, CCTV surveillance, screening, bar-coding, labelling and Customs clearance.
Nashik Airport officials firmly believe that the airport will become the forwarders' choice.
Mr. Sen pointed out that when plans to start commercial operations were drawn up, there were issues regarding connectivity and the runway.
All that was a dozen years ago.
Today, with all the clearances from the Directorate General of Civil Aviation, the airport handled a B747-400 ERF some time ago and is now all set to handle all wide-bodied aircraft.
Comparing Nashik to other cargo airports (there are none in India yet), Sen said there was provision for all the special handling facilities for heavy cargo, engineering goods, pharma and perishable goods at substantially lower costs.
"With low cost airlines ruling the skies, low cost airports is an idea whose time has come and Nashik Airport aims to lead the way," he said.
Even as the government regional connectivity initiative gets going, Nashik airport hopes to bring down logistics costs. Sen said that the aim was to reduce cost by bringing the airport facility virtually to the customer's doorstep.
"We believe that regional airports like ours can reduce transportation time and costs for the industry.

Low Cost Connectivity

"As a low-cost cargo airport we complements operations at other airports by providing feeder services."
Sen believes that the airport would enable the large number of manufacturers in and around Nashik to connect to major markets by air.
"Space has been created to enable forwarders and airlines to set up offices within the airport.
"We would also like to leverage Nashik's agricultural produce.
"The airport can be an emerging cargo hub because of its proximity to major cargo generating centers.
"It serves the major agricultural belt of Maharashtra and the state's third largest industrial belt with six agri zones and a Special Economic Zone.

Days of Wine & Roses

"The city is also known as the wine capital of India.
"While the wine produced – both red and white – from the 29-odd wineries is for domestic consumption, a lot of it is exported to countries around the world," Sudhakar Sen concluded.
Tirthankar Ghosh