---
Vol. 7 No. 133 WE COVER THE WORLD
Wednesday December 3
, 2008

Emirates Sky Cargo's Pradeep Kumar is Senior Vice President – Cargo Revenue Optimization at Emirates, responsible for Capacity and Network Control Centre, Revenue Management, Pricing and Yield Management, Revenue Planning and Systems Development, Global Accounts and Customer Relations.
He was appointed to this position in July 2007.
Pradeep began his career in 1977 with Dnata, part of the Emirates Group today, actively involved in the operational and functional aspects of the fast-growing organization.
Present almost since the beginning in 1986 he joined the newly established cargo division of Emirates Airline. Along with a handful of recruited colleagues, he was actively involved in setting up the entire cargo division, which today accounts for 21 percent of the airline's operating revenue.
In 1992 he was appointed Cargo Yield and Pricing Manager and in 1994 as Cargo Revenue Optimization Manager, responsible for creating and structuring the entire department. He became General Manager of the department in 1999.
Pradeep graduated with a Bachelor of Science in Zoology from the University of Calicut, India in 1976.
He is married and has two sons and says next to air cargo, he enjoys music, reading and gardening.
Q: What impact do you feel from Emirates new Dubai cargo terminal and what lies ahead for that facility?
A: The impact is manifold.
Previously, cargo was processed at different locations in different working environments, which resulted in duplication of various labor-intense processes, communication gaps, cost inefficiencies, etc. In addition, with the heavy 6th Freedom traffic connections, ability to connect and distribute cargo from Dubai in line with the commitment to customers was a challenge and undermined our efforts to a great extent in delivering a premium and quality service. Furthermore, the situation had a major impact on yield and revenue optimization due to our inability to optimize revenue per position. We can have the best systems – and intentions – in the world to deliver the best but it all depends on the efficiency, where the rubber meets the tarmac.
With the move to our Cargo Mega Terminal, processing of cargo takes place under the same roof and, with state-of-the-art technology, we have achieved both process and cost efficiencies. We were able to achieve optimal utilization of the available capacity which gave us an immediate increase of 35% additional revenue earning capability. We are now offering 'deliver as promised' commitments and are handling temperature-sensitive perishable cargo with cool chain options, shock sensitive vulnerable cargo with special areas for stowage along with all other cargo which require special handling and storage.
Q: What is the most important thing to Pradeep right now?
A: To achieve our revenue objectives for the current financial year.
Q: Can you elaborate on near- and longer-term prospects?
A: Emirates is not immune to the turbulence in world economy. Global air freight is often seen as a barometer of world trade. The traffic contracted in the April-October period and is likely to slow for the rest of the year before the market stabilizes. Lower fuel prices, stronger U.S. Dollar, unprecedented government efforts to battle the global economic crisis as well as the decreased freight capacity by airlines in recent months will help to boost the air cargo industry next year.
Q: What is the impact of the current world situation?
A: Even though there is doom and gloom in the world economy which impacts air freight, there are opportunities. We are leveraging our strength in people, technology and strong network with wide-body capacity serving most of the secondary markets with one stop and the team is out to make the best of the situation.
Q: What areas of growth (new markets) do you foresee?
A: Middle East, Africa and South America.
Q: What lies ahead for SkyCargo?
A: Emirates has not slowed down and is going ahead with the acquisition of aircraft in line with the medium- and long-term plans. The introduction of these wide-body aircraft into new markets allows us to further strengthen our market position and deliver customers value for their money.
Q: Describe new systems or disciplines in force or being implemented that will build SkyCargo while benefitting the customer?
A: On Sept 8, 2006 SkyCargo rolled out a state-of-the-art system SkyChain, which integrates various activities in both commercial and operational aspects of the cargo business. Starting from stock release to customers, pricing, capacity management, acceptance of cargo at origin airport, processing at the Hub, distribution and delivery at destination, data transfer to Finance for processing and billing, etc all take place in one system. We were able to enforce disciplines at every level and were able to eliminate unwanted processes, giving us remarkable process and cost efficiencies.
The system allows us to communicate or receive messages in any form from customers, service providers and is fully e-Freight compliant.
Q: What is your industry view, how should air cargo proceed to realize best practices?
A: IATA's initiative in implementing e-Freight initiatives is the best direction to achieve efficiencies at various levels. Managing the business using automation should be the driver to manage costs. The one who exercises control on the costs is going to be the winner.
Q: If there is one thing you could change, what would it be?
A: Change the focus from revenue management to 'revenue and cost management'.
Geoffrey Arend


Now comes a plan for merger between British Airways and Qantas, but actually the subject has been continually on the back burner somewhere almost forever.
At one time BA owned 25% of Qantas. The two carriers since 1994 have participated in a Joint Services Agreement (JSA) sharing resources including air cargo handling and other facilities.
Both code-share and are members of the One World alliance.
Now with continued downward economic pressure and the hot breath of Lufthansa emerging as the most powerful European carrier, voices for merger have become even louder.
Will a truly global airline emerge or will some lawyers just get rich pushing through what has been described as a "merger lite" plan.
In Melbourne, Australia, The Voice notes:
"The lofty ambition of slapping Qantas and BA together is fraught with legal and political impediments.
"Politics is the big rub.
"This deal is not about satisfying the concerns of a couple of competition regulators.
"It is not bilateral.
"It is about rewriting a plethora of bilateral aviation treaties: changing laws and dealing with national sensitivities and myriad stakeholder concerns."

Air Cargo Germany Readies Takeoff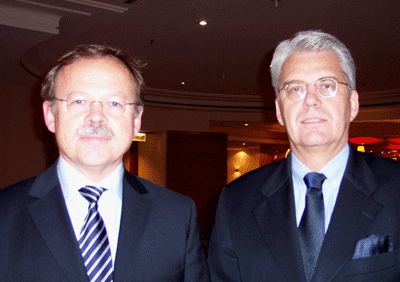 You've got to have guts to airborne two craft as a cargo start-up these days. Michael Bock and Thomas Homering, former executives at leisure carrier LTU and now CEO and Managing Director of newcomer ACG Air Cargo Germany GmbH certainly do see the hazard of the economic downturn but do strongly believe that their biz plan will work despite some meager times ahead.
"We favor a rather conservative financial path to minimize any unnecessary risks along the road," Homering states.
The airline intends to deploy two leased B747-400SF during the second half of January. By then ACG expects to have been conceded the AOC by the German aviation authority Luftfahrt-Bundesamt.
"Our aim is to grow our business step by step. That's why we intend to offer our capacity at the beginning exclusively to charter brokers," manager Homering emphasizes.
Negotiations with some brokers are well underway, he confirms. Next step to come, in April 2009, are scheduled flights both from Frankfurt-Hahn Airport via Moscow and Shanghai as well as Hahn-Istanbul-Hong Kong and back.
Hahn Airport was chosen as home base, because unlike neighboring Frankfurt there are no intentions to impose any night flight bans. Instead, the airport can be utilized 24/7. Hahn ground services offer the airlines very fast turnaround times and the recently enlarged runway of 3,800 meters can handle even the biggest commercial aircraft.
"Since we are a newcomer we are a very lean enterprise that guarantees us some cost advantages compared to traditional cargo carriers. However, we don't consider ourselves a discounter but a cargo airline that offers their clients a quality product for a fair price," CEO Michael Bock emphasizes.
Quality is also the key to the name the new airline was baptized with. "Punctuality, reliability, security and quality, those are main attributes the global markets associate with German produce."
"As ACG Air Cargo Germany we intend to service our customers in the very same manner," Homering states.
According to both managers there is enough room for a second national air freight carrier in Germany.
"We have talked to many agents lately and they told us that they would prefer having a choice between two German capacity providers for flying their goods," claims CEO Michael Bock.
By possessing the majority stake he is ACG's real boss. Minority stakeholder is Dublin-based City Leasing Ltd. The management team is complemented by a former troika of Aeroflot Cargo, among them Andrey Goryashko, once SU Cargo's General Manager, further Alexander Kirichenko and Alexej Prikhodchenko.
"We hired them because of their excellent market connections and their exceptional insights of the international forwarding scenery," Homering explains for bringing them on board.
The two leased Boeing aircraft B747-400SF belong to Icelandic Avion Aircraft Trading that purchased them from Taiwanese China Airlines and had them converted in Israel by IAI-Bedek.
Up to now about 15 licensed B747 Captains and First Officers have signed contracts with ACG. A total of thirty are needed for keeping both jumbo freighters permanently in the air.
According to Homering, "the pilot market has eased quite a bit as a result of the economic crises and the struggle for some airlines are contending with to survive."
To get sufficient basic loads ACG is eager to have as many blocked space agreements as possible to be signed by forwarders.
Says Manager Bock: "Not only do we appreciate having pacts with big agents but also welcome commitments by any smaller forwarder."
Meanwhile, sales agent ATC Aviation Services has been appointed by ACG to act as their GSSA in Germany, the Netherlands and Switzerland for exclusive marketing of the main and lower deck space of the B747-400SF that is not blocked by capacity purchase agreements.
Heiner Siegmund
An Air Cargo News/FlyingTypers Original

Our exclusive series "Women In Air Cargo" asks our readers to send some words and a picture about somebody that you know who is female and has made a difference in air cargo.
This effort is not limited to just success or failure, it is meant to raise awareness about the legions of unique women who in most cases are unsung heroines in the air cargo industry.
So write and we will share your story with our readers around the world.


Women In Cargo Hall Of Fame
Mumbai Recovers, BKK In Doubt

Gloria Whittington, Managing Director, DAX-Dependable AirCargo Express thinks air cargo faces an extremely challenging year in 2009, but some of growth will be found, particularly in U.S.-Asian trade.
For the record DAX (Dependable AirCargo Express) specializes in bi-directional air service between North America, Hawaii and Guam.
The lady is outspoken and speaks straight from the shoulder and right from the heart.
"Greatest growth, on the order of a 10 percent increase, is expected to be in U.S.-Indian air cargo as that nation continues to expand its production base in a number of hi-tech and traditional industries.
"China, the perennial leader in cargo growth, will fall behind India in its rate of increase to about eight percent, down sharply from its usual double digit increase as production in that nation slows reflecting lessened demand from outsourcing manufacturers."
The Managing Director also has a take on the recent unrest and terrorist attacks in Mumbai and Bangkok.
"I believe Indian air freight will not be affected by the tragic terrorist attacks in Mumbai," she stated.
"Cargo continued to flow from Indian airports even during the height of the terrorist attacks.
"The Thailand situation is another, far more serious matter to the international air freight community with cargo piling up at Bangkok's principal airport since the sit-down protests by anti-government forces.
"There doesn't seem to be a political solution at present to the Thai situation," she declared.
"If this stand-off continues, we will have to arrange alternative scheduling to inbound and outbound Thai cargo," Ms. Whittington stated.
Turning once more to the general air freight situation, Ms. Whittington commented, "there definitely will be less growth in 2009 than in past years due to a worldwide economic slowdown," she said.
"We expect a growth rate of no more than two percent in the year ahead, down sharply from the eight to ten percent growth rates air cargo has enjoyed in the past," said the DAX-Dependable AirCargo Express executive.
Ms. Whittington compared the growth of air freight, however modest, to an expected sharp decline in ocean volume during the coming year.
Geoffrey Arend

Karen Rondino


Maria Schmucker


Lina Rutkauskien


Lucy Ntuba



---

Under siege for eight days, Suvarnabhumi Airport is now scheduled to reopen to receive aircraft flights on December 15. Meantime China Airlines said that it is resuming freighter operations to Bangkok as anti-government protesters' occupation of the Thai's capital airport ended.
CAL said that it resumed both its Luxembourg-Bangkok and Taipei-Bangkok freighter services. DHL Express International (Thailand) also said that it resumed operations. "We were the first flight that landed and took off at Suvarnabhumi on Tuesday, which is a good sign," said Chananyarak Phetcharat, managing director for DHL's Indochina region . . . KUZU Airlines Cargo (A300 pictured) took delivery earlier this week on December 1st of the second of three A310-308Fs that it bought from Emirates. The aircraft arrived at Ataturk International Airport on the same day at 23:30 UTC and will soon commence scheduled, charter and ACMI Operations between Istanbul, the Middle East, Europe and Asia . . . Scandinavian Airlines System (SAS) said it is in talks with Air India to fly from New Delhi to seven domestic India destinations. SAS currently operates three direct flights a week between New Delhi and Copenhagen. Locations under consideration are Pune, Mumbai, Chennai, Bangalore, Kolkata, Goa and Kochi. In a related development the carrier named InterGlobe , which is the largest airline management company in India as GSA, InterGlobe has representatives in 12 cities throughout the subcontinent . . . Schenker Australia Pty Ltd, which has been providing import and export services for Siemens medical products is expanding its services to cover all Australia and New Zealand international and domestic import and export activities and domestic freight for Siemens . . . UPS first B747-400 freighter commenced service from Cologne-Bonn operating to Hong Kong five days a week . . . Kingfisher Airlines is starting daily services on various international sectors, including Mumbai-London, Chennai-Colombo and Mumbai-Singapore. India government has granted permission to Kingfisher to operate daily services to Singapore, Hong Kong, Bangkok, Colombo and Dhaka. Exact launch dates are yet to be confirmed . . . Prof. Dr. Wilhelm Bender, Chairman and CEO of Fraport AG, has been appointed as a new member of the Supervisory Board of Lufthansa Cargo AG. He succeeds Wolfgang Mayrhuber, FRA VV, who has resigned from his seat on the supervisory boards of all companies in charge of individual business segments at the Lufthansa Group with the exception of Lufthansa Technik . . .