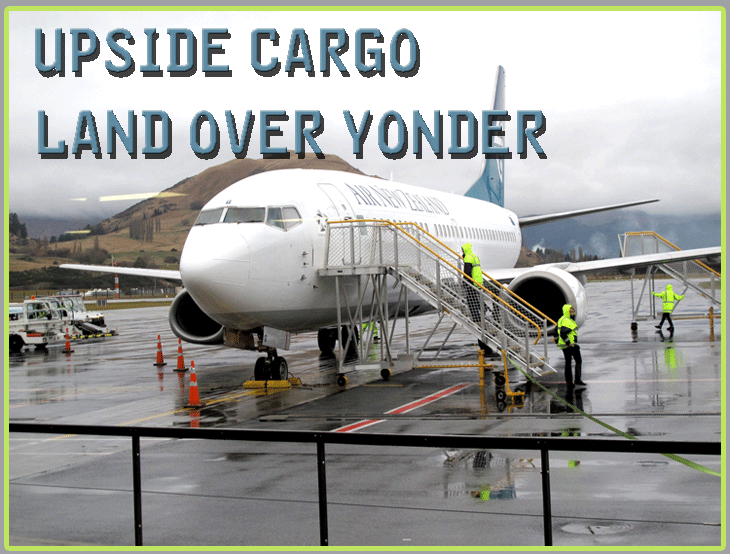 Air New Zealand is pictured at Shanghai Pudong International Airport as the carrier assesses a number of Chinese cities as potential destinations that could be added to the carriers' PVG and HKG services. Interestingly, adding Chengdu would be a route of 10,505km—slightly longer than Auckland to Los Angeles.
Despite global declines in cargo yields, Air New Zealand is remaining startlingly competitive. In FY 2016, the carrier saw net profit reach NZ$338m (USD$242m converted at current conversions rates), an increase of 154 percent year-on-year. Its distance from global markets saw lower fuel prices contribute considerably to the gains, but operating revenue also surged. And, more significantly, cargo volumes were up 9 percent, yield by 1.6 percent and revenues by 21 percent with growth particularly strong on Pacific long-haul services and into Singapore. Given that many carriers are reporting yield, revenue and, in some cases, also volume decreases, the results were outstanding.
Rick Nelson, Air New Zealand's General Manager Cargo, said the airline's freight business had, like most carriers, been impacted recently by global declines in cargo yields. But he insisted that upgrading products rather than cutting prices and services had helped retain competitiveness.
"Air New Zealand has remained competitive in the markets," he said. "Our diversification of cargo product globally, with a focus on high quality products and services, through understanding customers' needs and developing appropriate solutions, has helped reduce the potential impact on yields.
"Understanding customer needs and creating appropriate solutions which add value will continue to be fundamental to our cargo success moving forward."
Of course, the airline has also benefitted from the economic performance of its home market, which provides a steady supply of cargoes for uplift. "New Zealand is a primary producer of perishable products and innovative manufacturing," said Nelson. "New Zealand has a strong reputation for high quality products and, as a result, we have seen increased volumes of cargo.
"Equally, as New Zealand establishes or enhances trade agreements globally, we see an evolving and growing level of cargo.
"While the economics of air cargo continue to be put under pressure, the potential for trade to increase to the benefit of many countries should have a positive impact on cargo volumes in the short and long term."
Air New Zealand has a fleet of 106 passenger aircraft at present with a committed investment of around $2.2 billion in new aircraft over 2017 to 2020. Nelson said the introduction of new Boeing 787-9s has enabled capacity increases into key markets, such as China, further supporting trade to and from New Zealand.
"A new ULD handling system, which will shortly go live, is a significant investment in cargo efficiency and will further differentiate our Cargo Operations business from competitors and ensure a seamless import and tranship process for Air New Zealand customers," he added.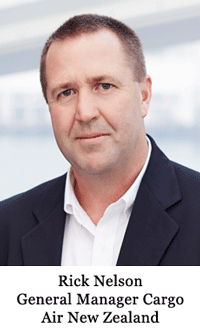 "Air New Zealand has also significantly invested in digital technologies, enhancing online national cargo booking portals and online support for agents.
"As a result of our expanding network our global Cargo sales team has increased in size. We continue to invest in our people and in strong leadership development."
The carrier has also benefitted in the past year from expanding its network to include Buenos Aires, Ho Chi Minh City, and Houston. New services have also been announced to Manila and, in November, flights will resume to Osaka.
"This expansion of our network has opened up additional direct gateways to our cargo customers and potential new markets for importers and exporters in the Pacific Rim," he said.
"Air New Zealand is continually looking at new potential routes or enhancements to existing routes, and consideration is always given to the impact these routes would have on cargo. South East Asia continues to be an area of growth."
Besides the addition of new routes, Air New Zealand has also been working hard to extend its 'virtual network' through strengthened relationships with alliance partners, giving access to more than 150 different destinations to customers. This virtual network has also benefitted from "significantly increased volumes" in the past 12 months, said Nelson.
"With a good start and a strong growth documented in 2016, Air New Zealand is determined to see this through and has made further investments in digital technologies, enhancing national online cargo booking portals and online support for agents."
Sky King