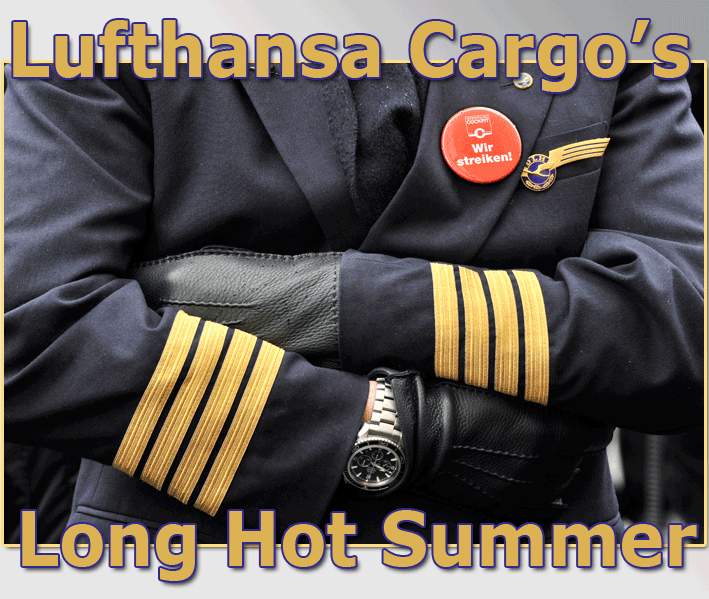 Despite the best laid plans, labor relations with employees in both the passenger and cargo divisions of Lufthansa are key to the carrier's future.
"Lufthansa Cargo is under the obligation to post profits or it will cease to exist independently and be reintegrated in the carrier's passenger division."
That statement, made by Lufthansa Cargo Senior VP-Europe and Africa Joachim Haas in 1998 came to mind yesterday. According to outgoing Lufthansa Chief Financial Officer Simone Menne, the carrier will post a loss this year due to "massive overcapacities" among air-freight carriers.
The loss at Lufthansa Cargo unit will be its first in six years.
The Summer of 2016 may be remembered as the season Lufthansa Cargo attempted to right itself by charting a course through some tough business skies, lowering costs and dreaming up some new markets as the route to improved results.
So far, the news out of Frankfurt where LCAG is headquartered has centered around an ambitious austerity program titled C40, which, if enacted, will see a whopping cutback of almost 20 percent, or 800 of a total 4,600 of LCAG's worldwide staff axed.
Those numbers include downsizing and resultant job loss for roughly 500 Lufthansa Cargo staff in Germany.
Additionally, at least two (and probably more) of Lufthansa Cargo's current Jet-A guzzling 14 M1F freighters will be gone.
The total fleet on the other side of all of this—including the 777Fs, also operated by LCAG—is marked up to be 17, according to the carrier.
Other measures aimed at improving yield and competitive edge originally advanced by the carrier as core parts of the "Lufthansa Cargo 2020" roadmap—entailing investments of about 2 billion Euros (US$1.1 billion) for fleet renewal, a new IT system, and replacing the 1970s handling facilities at FRA hub with a modern facility dubbed "LCC neo"—have been put on hold.
Bottom line, Summer 2016 witnesses slashing costs as the main focus at LCAG.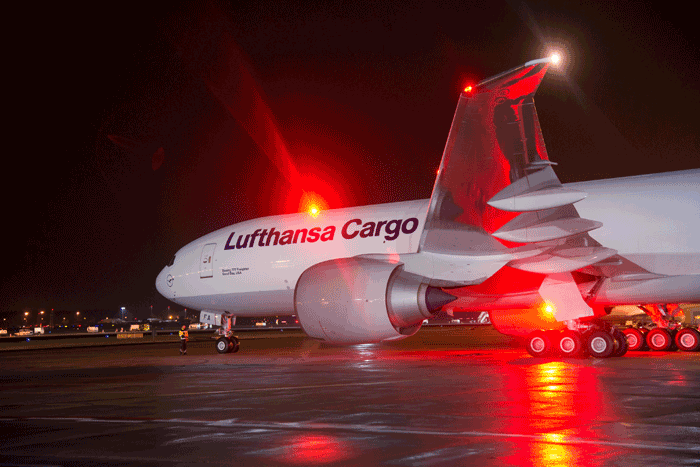 Staff Grievance

For the record, both Lufthansa Passenger and Lufthansa Cargo have repeatedly experienced service interruptions as employees have staged various grievance work stoppages during the past few years.
There is no sign that labor will roll over easy as German services union VerDi is already organizing protests against the planned layoffs and salary reductions within both the LCAG workforce and the LH Maintenance unit.
Sources tell FlyingTypers that "it is difficult to see how any of the envisioned cost savings in line with service improvements can be implemented in the short or medium term range."

Enter Some Bright Ideas

Peter Gerber, CEO of LCAG, has of late announced a number of new products to be rolled out by LCAG that are obviously meant to boost market image and improve yield and market share of LCAG while lowering unit costs.
Gerber, who has been serenaded by the German Daily Handelsblatt as possessing a "calm but assertive leadership style," certainly has not left much doubt about that when describing Lufthansa Cargo's new products.
As for assertiveness, during this period of change and lower yields the air cargo industry is taking a wait-and-see approach.
One cornerstone of the new LCAG products offering is centered on an initiative branded "myAirCargo," a product targeting private passengers with a particular focus on Lufthansa passengers.
So far, myAirCargo is only in the testing phase, available to employees of Lufthansa and Austrian Airlines by logging in with an employee ID card.

The Pitch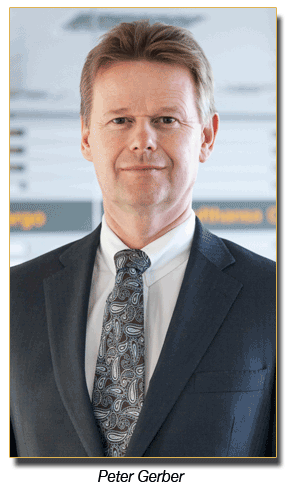 "Lufthansa Cargo has often been a pioneer in the past when it comes to developing and launching new products and services," Mr. Gerber declares.
"We want to live up to this again with myAirCargo," he assures.
The claim that the myAirCargo product will enable passengers and other private individuals to ship any kind of personal item via air freight, and that shipping will be a "quick, simple, and cost-effective experience" are among the many advantages of myAirCargo, according to Lufthansa Cargo.
However, exactly how myAirCargo compares to similar services available by Postal Operators and Integrators, and even specialists in the travel agency trade so far is unexplained, as perhaps LCAG is evaluating employee shipping results so far.

Between The Lines

As we read it, the myAirCargo roadmap could eventually allow cargo bookings to be made by the traveler utilizing a specialized app, which presumably will be made available in IOS and Android versions.
LCAG advanced just how myAirCargo might work for the consumer, while offering a tasty example, but all of it might very well turn out to be pie in the sky.
"You want to take a biking tour on the legendary Route 66 across the USA? In that case just buy a ticket and book your motorbike to accompany you as an air freight shipment and we together with local forwarding partners will take care of the rest," exclaims LCAG CFO Martin Schmitt.
But that glorious word picture aside for a moment, we wonder what is new about this product offering?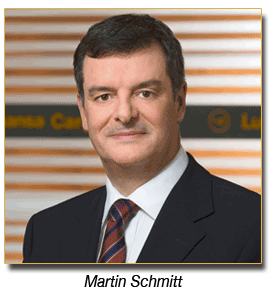 For example, currently there are a number of specialized travel agents that offer motorbiking tours to the most remote locations of the globe and include transportation of equipment (read motorbike), required visa, and other services for the trip, both for individuals and for groups.
One issue that stands out in the example cited by Mr. Schmitt is that the motorbike is considered dangerous goods under the IATA Dangerous Goods Regulations (DGR), rules that LCAG must strictly observe.
Motorbikes are classified as "UN 3166, vehicle, internal combustion, flammable liquid powered" and their preparation for transport requires strict adherence with Packing Instruction 950 in the IATA DGR. To prove such adherence with the required standards, the shipper must sign a formal transport document, the "Shipper's declaration for Dangerous Goods," which most individuals are legally unable to sign because they lack the stringent training in accordance with the mandated IATA DGR—unless they happen to work in a position which entails shipping of dangerous goods by air.
While presumably LH Cargo has envisioned that the "local forwarding partner" cited by Mr. Schmitt signs this declaration and thus acts as a shipper, that very action will certainly make such a service no less expensive than motorbike movements offered by the aforementioned specialized travel agents and others.
An industry observer we spoke to wondered "why forwarders should partake in such activities which will hardly cover costs, given the amount of work required to deal with customers not familiar with import/export requirements for a product where an airline targets private shippers by circumventing the forwarding industry?"
"myAirCargo enables passengers and other individuals to ship any kind of personal item via air freight," says Mr. Gerber, underscoring that the myAirCargo service can include "artworks, souvenirs or any kind of personal purchase made by a traveler."


What About Customs?

A customs official at Frankfurt airport told FT: "We would certainly inspect any and all of such shipments, given that private shippers are typically not familiar with VuB (the German abbreviation for the custom's term "Verbote und Beschränkungen; Prohibitions and Limitations").
"We certainly expect to see," the customs official continued, "the presence of products made from endangered species without the required CITES documentation, undeclared dangerous goods, foodstuff without documentation that these are fit for human or animal consumption, and a multitude of other rather problematic items."
"While the services of FedEx, UPS, and TNT include handling, customs clearance, and door-to-door delivery, any private shipper would require the services of a forwarder both at origin and destination; in case of a motorbike which is supposed to be returned to the travelers home country twice."


But Will myAirCargo Work?

Talking to the industry it seems that "myAirCargo is truly a test," the source said.
"Understand that Lufthansa Cargo some time ago asked forwarders if they wanted to participate in myAirCargo as the handler on arrival and departure, including packing and delivery.
"Apparently, Lufthansa wanted to partner with the forwarders on this offering.
"It is not known what their experience is so far with myAirCargo as this service (mentioned here earlier) is only available to staff.
"But if they want to offer myAirCargo to all passengers, my question would be how they will categorize them?
"I would think passenger shipments must be treated as unknown shippers because they cannot be treated as known shippers just because they have a ticket.
"Another question would be if myAirCargo will create more business.
"Personally speaking, if I am shopping at a bazaar in Istanbul and purchase some items, I would ask the store if they can ship and how much it will cost.
"Will there be somebody at Lufthansa Cargo to answer my call and questions about the cost of shipping, plus all the other details?"

New td.basic

The second cornerstone of the new LH Cargo products announced by Mr. Gerber is an attempt to improve market share by targeting price-sensitive shippers by means of a new "td.basic" product, which will be made available for online bookings only.
According to LH Cargo, the transit time for the new "td.basic" product will, on average, be three additional days compared to its standard product for "extremely attractive prices."
A booking fee will be levied in order to prevent blind bookings and the routing of the cargo—which might be by means of LH's new cargo alliance partners—will be communicated to the forwarder some time after the booking.
Whether or not these new products will be accepted by the industry and yield the results expected by LCAG senior management, only time will tell.
In the meantime, the big picture includes an 800-pound gorilla in the cargo terminal, as labor unrest sparked by the C40 cost-cutting initiative takes hold, while elsewhere cutbacks at the Lufthansa maintenance facilities in Hamburg could also impact Lufthansa's future.
Finally, a thought that is rattling around inside my head right now was offered as a general comment in a letter this week from our now retired but always brilliant Special Commentaries Guru, Ted Braun.
Mr. Braun has something of a working relationship in Germany and speaks the language, having spent time there with his dear mother-in-law, who lives today in Frankfurt as a survivor.
Speaking of the current situation in air cargo 2016 and with a weathered eye on the Atlantic Ocean, Ted writes:
"If and when I think of air freight, I believe that until and unless a new business model is developed, a stagnating global economy combined with a seriously outdated system must eventually force fundamental change; beyond cosmetic modifications at the edges."
Stay Tuned.
GDA/Flossie