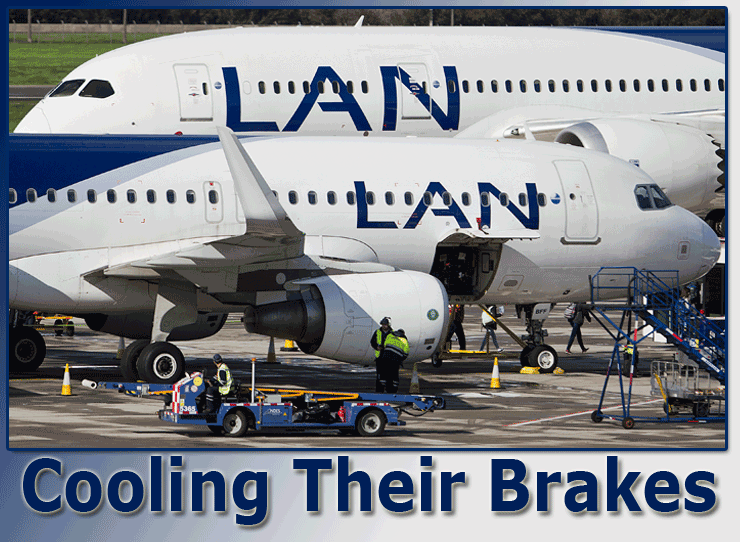 LAN Aircraft cool their brakes on the tarmac last month in Santiago, Chile, after LATAM agreed to pay more than $22 million in fines to the USA Securities and Exchange Commission (SEC) and the Department of Justice (DOJ) for a violation of the accounting provisions of the Foreign Corrupt Practices Act.
LATAM, while operating previously as LAN Airlines, made a $1.15 million consulting agreement with Argentina's transportation ministry in 2006, supposedly to study airline routes, according to the Justice Department.
The proposal came as the airline was attempting to enter the Argentine airline market by acquiring the defunct Aero 2000 airline and then employ workers from two other defunct airlines, LAFSA and Southern Winds.
The airline made payments of $300,000 in October 2006, $300,000 in November 2006, and $550,000 in January 2007 to a consultant and his wife through a bank account in Virginia rather than the consulting company, the court summary said.
"The LAN Cargo Executive knew and intended that Consultant would use some of the money he received under the draft agreement to bribe union officials to accept terms more favorable to LAN," the court summary concluded.
LATAM Airlines Group, which resulted from a 2010 merger of the former LAN and TAM airlines, said it "cooperated fully" with the investigation.
"LATAM and its senior management reaffirm its commitment to complying with the laws of all of the countries where the group operates," said the company, which boasts 53,000 workers flying to 140 destinations in 24 countries.
LATAM agreed to pay $12.75 million, cooperate with the investigation, and retain an independent corporate compliance monitor for 27 months according to the agreement announced by Assistant Attorney General Leslie Caldwell and George Piro, special agent in charge of the FBI's Miami office.
LATAM also reached a settlement with the Securities and Exchange Commission by agreeing to pay $6.74 million to offset the value of benefits it received and $2.7 million in interest.
Although LATAM didn't voluntarily disclose the violations, the airline cooperated with the investigation after the bribery was revealed in the Argentine press, the Justice Department said.
But LATAM failed to discipline its workers—including at least one high-level executive—for the criminal conduct, the Justice Department said.