There are legions of "virtual forwarders" entering the cargo business in 2017.
We recently spoke to a leader of the international forwarding community for a reality check on the impact VFs have on the industry. Keshav Tanna is a transportation innovator whose impact is felt globally beyond his company base at Mumbai, India.
Tanna serves as Director at Links Forwarders Pvt. Ltd.
He is also FIATA Vice President and Chairman of the FIATA Air Freight Institute.
Digital World Awaits
"The industry," Keshav said, "is no doubt headed in a direction of digitization as customers desire information at the click of a button and 24/7.
"The conventional forwarder has recognized this and most have moved towards embracing the new technology.
"There has no doubt been a huge impact on the industry with various kinds of electronic data exchange platforms introduced in our industry."
Delivering Essential Services
"A face, a voice, and a lot of compassion are what the human freight forwarder brings to the table.
"The most touching line one of my customers told me was that "if my cargo could speak, would you not have been more careful?"
"A virtual forwarder has limitations in delivering essential services, perhaps only offering a help line or a mail box.
"By any measure, that limitation is not what a customer wants to interact with, especially when something goes wrong, or when a shipment requires hands-on attention at short notice.
"These are limitations to a VF.
"So can virtual robots replace humans?
"I would think not—not just yet, anyway."
Disruption & Progress
"Digital disruption is inevitable, and hence no doubt this has affected our thought process in terms of things to come.
"However, with disruption comes progress.
"While the conventional brick and mortar freight forwarder will no doubt remain, our business does need to move with the times and embrace technology to provide a blend of both conventional as well as digital services.
"Digitization is the norm of the day, as it serves multiple purposes in terms of accessing information 24/7; data storage and capture which avoids duplication; process simplification; and most importantly transparency," Keshav Tanna declares.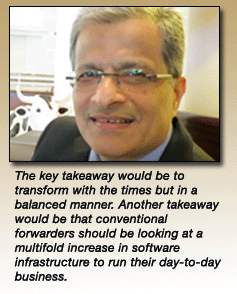 Counting Days Of Change
"I do not think the traditional forwarder will perish (just yet) as freight forwarding, as I see it, is a 'people' business.
"That said, change is inevitable in our industry, just like it is in others.
"There is no doubt that people cost money and business is all about money.
"So digitization will increasingly replace some of the manpower for the traditional forwarder to remain competitive.
"The key takeaway would be to transform with the times but in a balanced manner; over the years, telephonic/personal interaction has seen a downward trend as online information access has become the norm of the day.
"Another takeaway would be that conventional forwarders should be looking at a multifold increase in software infrastructure to run their day to day business."
Again The Human Factor
"In terms of day to day experience, while customers simply love the pricing/process capabilities that a VF can offer, their biggest complaint I hear is that they are 'just a number!'
"Very limited personal interaction sometimes loses the feeling of touch and in a people business that could be a turning factor.
"In terms of IT platforms, most traditional forwarders are now up to speed; track and trace has now advanced to a stage of a mobile app the forwarder provides to his important customers. However, more importantly, customers now want to go two steps further and talk directly to our systems on a real time basis.
"Many conventional forwarders do offer system access to their leading customers. Such access offers real time visibility to shippers from the moment the cargo leaves their warehouse until it has been picked up by the consignee at destination or door delivered at destination as the case may be."
The Pricing Challenge
"One of the major challenges a conventional freight forwarder faces is in terms of the pricing platform the VFs provide.
"Customers are able to access negotiated rates at the click of a button with utmost transparency.
"This activity is being used against the conventional forwarder time and again to lower prices.
"I do not know how much of e shopping you do, but I have noticed a peculiar phenomenon when one tries to buy the same product the third or the fourth time - the price "rises" with each buy - the algorithm kicks in and it recognises your favourite product (perhaps will be a trade lane in case of VF developed software…) As they say, there are no free lunches. "
The Reality Check
"Yes," Keshav smiles, "a Virtual Forwarder is only as good (or as mediocre) as his software allows him to be.
"Also, it should be mentioned VFs have rarely encountered critical situations face to face, whereas the real life forwarders have 'been there and continue doing that' day in and day out.
"Taking a wider view, corporations have daily war-like situations in their boardrooms, which is where a real flesh and blood forwarder backed and supported by a decent software offering has opportunity to lead the way and come out ahead.
"Put another way, we fly by the seat of our pants and face real life situations on a day-to-day basis, but the thrill of a three-point touchdown makes everything worthwhile and the customer happy.
"No pain no gain, as they say!"
Streamlining & A Bump In The Night
"Algorithm platforms are a reality; they are no doubt useful for streamlining processes, but have limitations in terms of having set rules to solve set problems.
"The question is whether a customer will always have a problem that can be solved by a set of pre-determined steps?
"In fact, when there is the smallest problem, most of my customers would like to hear a voice on the other side telling them how the problem can be solved."
"But beyond that, in most cases the shipper wants to hear the voice of somebody senior in customer service, rather than that of a help line.
"This is where a Keshav Tanna would be different from the others.
"In our organization, one of the most important SOP is the one where a customer is on the line with a problem!
"In fact, this is the time when they need me and I should be available.
"That's where I come in and where I need my inbox to be involved.
"When the going is good, I don't need a pat on the back.
"But when things get sticky, I want to be the first to know, as that is the time my customer needs me the most."
Looking Ahead At Changes
"If the traditional forwarder does not embrace technology and chooses to live in the past, he will perish, no doubt about that!
"There is a 'real' challenge from the 'virtual forwarder' and there is no running away from it.
"But I believe family businesses that have continued to survive over the years will evolve.
"Many conventional forwarders who think it may be enough to invest in people need to understand that investments in systems and technology is a reality in 2017.
"As vital to our business as people are, alone we cannot take our business to the next level.
"I have no doubt that the traditional forwarders will continue to survive in this highly competitive environment because we sell a service and hence the human touch cannot be completely ignored.
"Back our effort with enhanced technologies and competitive pricing and we are here to stay!" Keshav Tanna said.
Geoffrey