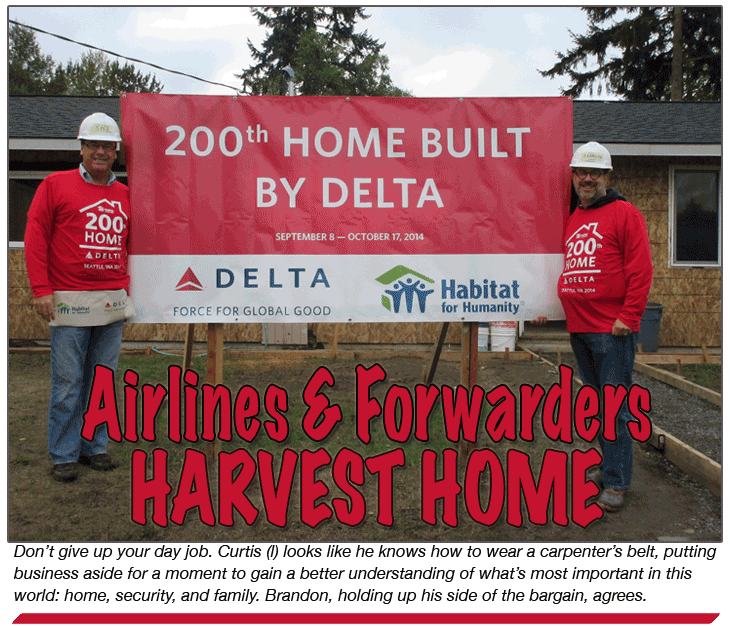 Apropos of this harvest time of year, when crops and provisions and thoughts turn to the long, cold winter ahead, Delta Cargo rolled up its collective sleeves and helped build a "Harvest Home." Part of a Habitat for Humanity build effort in Seattle, Washington, the project was completed just last Friday.
"The experience was even sweeter," reports Delta Cargo VP Cargo Commercial Ray Curtis, "as freight forwarder representatives from the Airforwarders Association joined our team in the effort for a special build day as part of Delta's ongoing Habitat for Humanity project in Seattle."
The Seattle event marks Delta's 200th Habitat for Humanity build and is part of the fall volunteer program with Habitat in six cities.
More than 2,300 employees from all parts of Delta Airlines are participating in projects in some of Delta's hubs and key cities, including Atlanta, Detroit, Los Angeles, Minneapolis/St. Paul, New York City, and Seattle.
Several board members and executives from AfA and Delta Cargo leaders supported the project, which is restoring a home for a family of four.
The hands-on effort included concrete pouring, interior and exterior painting, and staining a fence.
Brandon Fried, AfA's executive director, noted:
"We in the freight forwarder community are proud to be able to roll up our sleeves and join in this effort."
"Cargo was thrilled to invite our AfA partners to participate in Delta's 200th Habitat for Humanity build, a milestone in our long-standing relationship with Habitat," Ray Curtis said.