Andreas Seitz is the outspoken and at times ebullient Managing Director of DoKaSch. DoKaSch is located about an hour from Frankfurt Airport in Montabaur, a picturesque German village with a big yellow Castle looking over the town.
DoKaSch has been in the container business for more than 30 years and in temperature controlled solutions since 2013.
The company says that has it just what you are looking for in Pharma Transit 2020.
The company also operates a big container station for its containers, including its popular Opticooler in a place called Kelsterbach, which is just a stone's throw away from Frankfurt Am Main's main runways. Kelsterbach is a made up airport town with a couple of good restaurants.
"Like everyone in the air cargo sector," Andreas told FT, "the pandemic and its impact came as a shock and we were confronted with many unexpected problems.
"The reduced and unstable global flight network, especially with the breakdown of belly freight capacities, was a big challenge. It made any kind of transport more complicated because even urgent deliveries could not always be accommodated and it was sometimes hard to re-position empty containers.
"At the same time, the demand for active temperature-regulated transport solutions was rising. While this was good news for us, it was still a challenge because of the heavily reduced air cargo capacities.
"However, due to the great collaboration and commitment of our partners, our agile internal processes and our spare stock, we managed to face these challenges and adapted to the unusual situation quickly."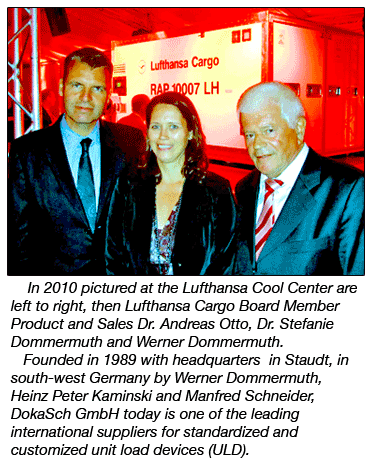 The Challenge Right Now

"We are focusing on our Opticooler.
"From what we know currently, most of the vaccines will require temperature-regulated transports, many in the range between 2 °C and 8 °C, which is what the Opticooler is designed for.
"Even under extreme conditions at varying between very low and very high temperatures, it keeps the cargo very well within the 2 °C to 8 °C temperature range.
"Opticooler is quickly available because it can be configured with the simple push of a button and is available at different locations around the world.
"The Opticooler program offers the highest quality and reliability, and there is no better technology today than active/rechargeable containers to manage the many uncertainties of the global cool chain."

Core Competence

"We at DoKaSch focus on air cargo ULDs only, which is our core competence for 30 years.
"We will not step into non-ULD passive boxes, since Opticooler RAP uses the given lower deck capacity of an aircraft to the maximum with 5 euro / 4CP1 on one pallet space.
"Developing a special solution for e.g. for minus 40°C or minus 80 °C would be too late for the current vaccine peak, and may not be needed after the vaccine campaigns.
"However, we are still adapting and optimizing our internal processes to ensure the high availability of the Opticooler in these challenging times."


Can Air Cargo Handle The Vaccine Rush?

"IATA," Andreas Seitz declared, "recently estimated that 8,000 jumbo jets will be necessary to transport all the vaccines.
"This shows the scope of the challenge we will have to face.
"Probably all of these transports will require temperature-controlled transport solutions. While many of these are in the +2 °C to +8 °C range, some will even require temperatures around -80 °C. These in particular will pose the real challenge.
"We learn more every day about what will be considered necessary for the transport, but the capacities are still limited. The vaccine transports will probably occur together with a recovery of the global economy, while intercontinental passenger flights will not return into service at the same speed.
"In turn, the belly capacity will be quite limited, and there will be capacity shortages. However, we are certain that air cargo is preparing itself properly for what is to come.
"The upcoming situation is difficult, but manageable if everyone along the supply chain acts responsibly.
"It is crucial that everyone, from pharma producers to airlines, cooperate in every single stage of the transportation cycle.
"Close cooperation over the entire cool chain is the prime directive. Since the number of packaging solutions – by all suppliers - is limited, a turnaround time as short as possible and a secure re-positioning of assets may become key.
"For example, containers must be unloaded as soon as possible upon arrival to be returned empty on the same charter aircraft."

What Surprises You?

"Aside from the total and sudden breakdown of air cargo capacities, I was pleasantly surprised by the resilience of the air cargo industry and the fast ability to adapt.
"Air cargo quickly managed to reorganize itself and focused on priority transports like pharma.
"The way all stakeholders worked together and established new solutions was astonishing.
"This also includes the responsible aviation authorities.
"Everyone knew what was at stake, and the collaboration between airlines, forwarders and authorities was quick and efficient.
"Instead of slow bureaucratic reaction, new procedures and solutions were established in a rather short amount of time.
"The best example for this of course was the development of the 'preighters'".

Air Cargo Reacting Swiftly To The Challenge

Airlines around the world quickly started converting their passenger planes to handle the demand despite reduced capacity, in particular for live-saving medicines.
"Over the last couple of years, the climate for cool chain has markedly improved as the stakeholders became much more aware of the importance and requirements of cool chain transport.
"As always, there is room for further improvements.
"Several aspects of the cool chain are still quite manual, and every packaging solution - active as well as passive - needs certain and specific care.
"Airlines must comply 100 percent with their operational procedures, in particular for temperature-controlled shipments.
"This is, and will be a challenge without enhancing digitalization.
"This requires not only full transparency about the shipment and the specific conditions at all times, but also the ability to take immediate corrective action to avoid a temperature deviation, if there is a deviation to the SOP detected during transport."

The Flying Cool Warehouse

The DoKaSch Opticooler promise: Expect highest reliability and availability, combined with biggest volume (means lowest air cargo costs per pallet) plus easy access.
"The Opticooler serves as a flying cool warehouse, protecting the most temperature sensitive and risky cargo at any climate and any temperature and with almost unlimited runtime (compared to passive solutions)."
Geoffrey