The dynamic industry leading lady profiled here is our very own Keshav (FIATA Board) Tanna's wife.
Hema Tanna runs her own cargo business along with her brother.
Although Keshav has mentioned, "funnily we are competitors," for India Logistics, the Tanna family is a powerful force for good up and down the line.

Here Comes Hema

Mumbai-based Hema Tanna, Director, Manilal Patel Clearing Forwarding Pvt. Ltd., could have 'strayed' to the travel industry but something about cargo attracted her so much that she joined a logistics company that had been established by her grandfather.
That was way back in 1998.
Today, with two decades in the air freight and ocean freight forwarding industry, Hema is considered a 'hands on' person, with complete knowledge of the industry processes.
The 70-year-old family-owned logistics company is carried forward by her elder brother and herself. The duo has set up nine regional offices in India and have also moved to set up offices in France – Paris and Lille – and in Dhaka, Bangladesh.
Hema Tanna's guiding spirit has been her father, who unfortunately passed away at a very young age. She remembers his words to keep on focusing on the business and the people who work with her.


In 2020 Cargo In A Place of Pride

"Cargo has perhaps never seen such importance in its entire life as it is witnessing at present!" Hema Tanna declares.
"Carriers have hopefully realized, that in these difficult times when thousands of jobs have been lost, along with billions of dollars in revenues, the only help line came from air cargo!
"As Governments closed down their borders, passenger traffic disappeared overnight, and along with that, so did belly capacities.
"That same piece of cargo which had no voice, now sat on the same passenger seat and was a virtual Godsend in these difficult times.
"Not so long ago, when it went in the belly of the aircraft, it was perhaps ruthlessly removed to accommodate a piece of passenger baggage – how times change!
"Being involved in the business of air transportation, I can only hope that carriers do not forget this and remember what an important role cargo plays in airline revenues."


Lest We Forget

"I would like to see that this continues for future – rates of course are questionable currently, but I guess demand versus supply would take care of that in future.
"Of course, one must also remember, that had it not been for air transportation, movement of even essential commodities would have come to a grinding halt and I applaud the carriers for standing by in these difficult times; the industry fully acknowledges that the carriers are seeing some unprecedented times, but have stood by in support of the trade in moving medical supplies, pharmaceuticals, vaccines and other life-saving equipment, be it PPEs, masks, etc."


Been Ready For The Antidote

"As and when a vaccine is developed there is no doubt that it would move by air and the quicker the industry prepares for this, the better.
"A lot of pharmaceuticals already move by airfreight currently and hence the industry does have the basic infrastructure like temperature control facilities, GPS-monitored transportation, etc in place; however one must remember that this movement is not going to be only from airport of origin to airport of destination; there is a huge hinterland movement to be expected and that is where logisticians like us will have to be prepared to move the same swiftly and under sterile conditions."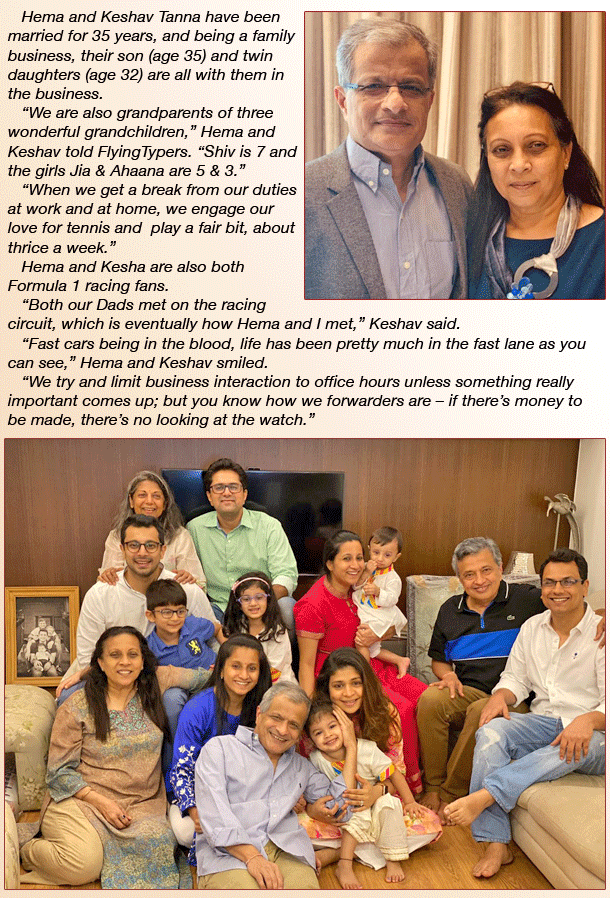 Expects Competition

"There is no doubt," Hema declared, "that Governments will be hawk-eyeing these movements, with possible monitoring of rates and hence competitiveness will be the key.
"For a short period of time then, demand might overshoot supply and air cargo space could be an issue; but this is inevitable as the vaccine will need to find its' way into the global markets swiftly and only air cargo can achieve that mobility."
"Be that as it may and all said and done, currently in commercial terms, air cargo itself has proven to be a vaccine for the airlines!"


2020 Has Been A Real Adventure

"I must concede," Hema Tanna admits," that nothing and absolutely nothing, comes even close in my 20 years in this industry, which can be compared as a parallel to 2020!!
"Many years ago when I joined the cargo business I had a choice of joining the more glamorous travel industry and as a woman that would, perhaps, have been the choice of any other female.
"The cargo business is looked at perhaps to be more male-dominant.
"Nevertheless," Hema assures, "I chose to join the family business – which is cargo and I am glad I did that, as otherwise today perhaps I would have no work to do with passenger flights virtually at a standstill."

The Woman Stands Up For Cargo

"So as a woman, I feel reassured that I did take the right decision because had it not been for cargo, I have no idea how the aviation industry would have survived.
"It has been devastating and only reminds me of how my Dad spoke about the War during my younger days – human and commercial devastation at its worst!
"How long it would take for global trade to be back on track is anyone's guess, but for family run businesses like ours, daylight still seems a distant future."

The Company Line

"We are situated in India with branches in major metro cities; we also have our own office in Paris and the biggest challenge has been how to deal with order cancellations.
"Customers have simply abandoned shipments and we as nominated forwarders have been lumped with not only the cargo, but also ancillary charges attached to it, such as storage, freight etc."

Lessons Learned

"The biggest lesson the forwarding industry should have got from this pandemic is how to control credit, as businesses have vanished overnight and many others have taken refuge under the force majeure clause.
"Digitalization has played a big role during these trying times and those who were not in sync with the need of the hour suffered badly, as virtually all businesses were being conducted online; physical intervention being impossible, one saw the industry in a rapid ramp up mode to trade digitally."

Custom Situations

"Indian Customs went through a huge faceless/paperless exercise which is now in place; air cargo requires various mandatory and or voluntary trainings – most of these modules are now available online as classroom training became impossible.
"This is going to be the new normal going ahead and those who have not ramped up their systems will already be finding themselves in very difficult times.
"Like they say, there is always something good in everything, but honestly I can't wait for good times to be back soon – wish I had a crystal ball!"
Tirthankar Ghosh