Many people would not be aware that a very lucky meeting after a delayed flight at Shannon Airport in 1958, resulted in the start of the industrialization of modern Ireland.
Richard (Dick) Malkin, pioneer air cargo journalist (Flying Typers), landed at Shannon Airport to do a story on the all-cargo Seaboard World Airways hub.
Sean McCool, 63 years ago was given the job of showing Dick around.
Dick got all the information he needed.
But then his flight back to IDL (today JFK) was delayed ex-SNN for 24 hours.
So Sean, the dreamer and doer for Irish air cargo and Dick, the inventor of modern air cargo journalism were together at a pivotable time in Irish transportation history, that as it turned out changed everything.
Sean McCool spent some of the time squiring Dick around the local industrial units.
But of course in 1950s Ireland, there was little beyond farming.
Well as it turns out, Richard Malkin had just visited The Colon Free Zone in Panama which was one of the first International Tax-Free Zones.
Mr. Malkin, surveying the scene in Ireland suggested to Sean that a Tax Free Zone with a 'well-positioned on the edge of Europe' magnificent airport, an abundant English-speaking work force, might capture the Irish spirit and be a good prospect for building air commerce.
Sean McCool was beyond excited and moved at once that day to organize a meeting, where Richard Malkin presented his idea based on recent findings from Panama to a group of local Irish politicians.
That is exactly how Ireland landed one of the first Duty Free Zones in Europe.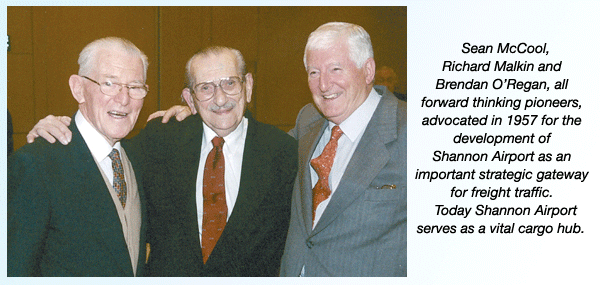 For their efforts, both men were lauded by the Irish government. Most recently in March 2021, the now 90-year old Sean McCool was awarded Lifetime Achievement by All Ireland Business Foundation.
Speaking on the selection, Kieran Ring, deputy chair on the Adjudication Board said:
"The Accolade is in recognition of Sean's outstanding contribution to Irish Industry and Commerce over the seven decades of his career. In our opinion, the pioneering work undertaken by Sean in the development of the air-cargo sector has made an enormous contribution to the flow of cargo on and off the island, an infrastructure which has established Ireland as a major global export hub."
Geoffrey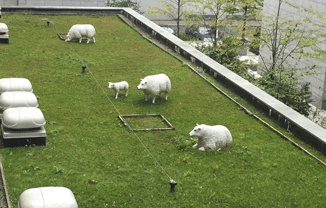 How Ireland
Attracts Business
Over 700 U.S. Multinationals are now based in Ireland.
Twenty-four of the top 25 Pharma/biotech companies have a base in Ireland.
Foreign Direct Investment (FDI) in Ireland topped USD$1 trillion in 2019.
In addition to the FDI drive, Ireland was also a founding member of the European Union.
The government invested heavily in education which was also a major factor in many overseas companies basing their operations in Ireland.
Ireland has also moved away from the low- end assembly sector to the high-end services and manufacturing sector.
Irish GDP in 1960 was USD$1.9 billion
Irish GDP in 2019 was USD$418 billion
U.S. companies in Ireland export over USD$80bn in goods and services annually (4 times more than U.S. Companies in China);
Ireland is second only to Norway on a United Nations annual ranking of 189 countries, measured according to average longevity, education and income.

Irish In America

Over 6 million Irish emigrated to the U.S. from Ireland since 1820 (famine) and there are now estimated to be over 30m of Irish decent in the U.S.
The strength of the Irish Diaspora can never be underestimated.