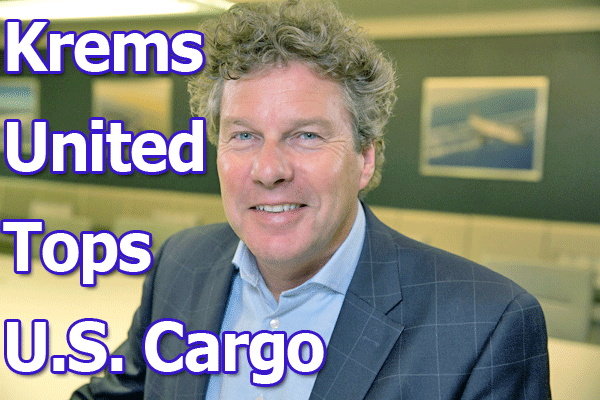 Several years ago, in the saloon of a Las Vegas hotel where an air cargo industry convention was being held, a lusty debate took on the proportions of a high-decibel shouting match. The subject in shrill dispute: has the air cargo industry achieved a solid state of maturity? The question rocked the barroom.
The peaked voices raged for perhaps an hour. But then the inevitable thirst for liquid refreshment gradually, one by one, had the effect of dampening the enthusiastic ventilation, with the question about maturity unresolved, forgotten, left for another day.
Forgotten, but not for long. The question vaulted back in my mind when I received the news of Jan Krems' as President of United Airlines Cargo and his team having reached the staggering sum of 11 million Pfreighter shipments whilst achieving unexpected levels of air cargo revenue for UAL during the darkest days of the COVID-19 pandemic.
It struck me at once that Krems' international crossover from Air France-KLM to the highest rung on the cargo ladder at one of the United States' greatest airlines was nothing short of an act of industry maturity—a mirror of events in a globalized marketplace.
Now as the world gathers at World Cargo Symposium in Dublin, Ireland this week, Jan Krems stands shoulder to shoulder amongst the top five most dynamic and results-driven cargo executives in the world during the past decade.
This week Jan can only smile, as United announced that it is going gears up, relaunching most of its fleet promising most of its airplanes and all that needed belly-lift back into the air during the next couple of months.

FT: What are you saying about priorities at United Cargo right now?
JK: We have two main goals to get us through the pandemic—to provide unsurpassed quality in our air cargo services and to stay close to our customers. Early in the pandemic, when passengers travel levels dropped overnight, we kept our planes flying filled with cargo around the world. Our customers continued to support us through the most difficult time in our business, and we were able to sustain operating because of their support. Although the industry will likely continue to face limited capacity, we will support our customers with quality service as they have shown their support for us.

FT: What lies ahead for United Cargo as 2021 winds down and you ready yourself for 2022?
JK: As our cargo business unit has functioned uninterrupted and thrived during the pandemic, we have been able to do more with less resources. However, our priorities remain the same and there are a lot of things we are working on over the next few months. As you know, we recently launched our new website. Our eStrategy project is only getting started. We are going to introduce new features and capabilities over the next months that will allow us to remain the number one belly carrier. Customers will be able to book their orders online and we will be entering new marketplaces—but more on this to come.

FT: What would be a perfect day in your work experience and kindly list a couple of those times in recent memory?
JK: A perfect day for me is to have a motivated group of employees working for you on the projects that have a positive impact on the company. A perfect day is to hear that United Airlines is on track and performing above expectations. A perfect day is to see that the world is opening up again. A perfect day is to do work that has a positive impact on the world—to ship vaccines to the people who need it most—to hear that COVID cases are going down—and to see a light at the end of the tunnel. Perfect days are coming again.

FT: What have we learned from the pandemic?
JK: We've learned that cargo is important to an airline—and to the world. We have had to keep the global supply chain moving. As a company, we have learned that we need to work together as different business groups to get things done.
United Cargo would not be as successful without the help from operations, scheduling, technology, and all the other business groups we work with every day. What we have all learned is that we are vulnerable, the world is vulnerable and could grind to a standstill. We cannot take anything for granted. We've learned that there are a lot more things that are more valuable than work.

FT: What can air cargo do better that is easily within reach but perhaps overlooked?
JK: The one thing that we can all do better in air cargo is to work more effectively together—to cooperate. When there is a problem that is affecting the whole world, we need to work together to solve it. Take the vaccine for example—we can transport the vaccine much faster if we have cooperation between governments, companies, entities, airlines, countries, etc. Cooperation between different air cargo companies are the links in the chain and we can work better if we work together for a common goal.

FT: Why are you passionate about what you do?
JK: I am passionate about people and I get to work with some truly amazing people. I get to work with the amazing people from across the globe with different cultures, viewpoints, and skills that they bring to the table. No day is the same at United Cargo, and that excites me. If I come into work and there are 50 tons available capacity on a flight, I know that I will be able to fill it. I also like working for a company where my business unit has its own profit and loss. I am able to take ownership and celebrate the wins with my team and work on areas that need additional support.

FT: As leader of United Cargo top air cargo in the world, what is the most surprising thing have you have learned about yourself since 2019?
JK: The number one thing that I have learned in the last two years is that you need to surround yourself with the right people. The right diversity, the right skillsets, the right leadership . . . I have learned that there are so many things that I cannot do, but if you have the right team, you will get them done. You have to give people credit for the job that they do, you have to give them the freedom to do the work, and you have to let others shine around you. You can only get so far by yourself—but if you have the right team around you, you will be unstoppable.

FT: Where do you expect to be in fives years -as United Cargo, as an industry and if possible to project yourself into this thought stream as well?
JK: United Cargo is primed to be the global leader in five years' time. With our digitization and eStrategy, we will be thriving in new markets. Our technology, our fleet and our processes, forecasting, and planning will be unrivaled. We will also be a cleaner, greener airline with our investments in sustainable fuels and electric aircraft.
As an industry, I believe we will make more progress in five years than we have in the last 15 years. The industry will be more cost-effective, more technologically advanced, and more progressive. But, we do need to make more progress in aligning governments, countries, agencies and airlines across the globe. It's an exciting time to be in the air cargo industry.
Where will I be in five years? I will be excited to see United Cargo to grow and thrive from a distance. Perhaps I will be enjoying my life making wine in Spain. I hope to see United Cargo continue to be the number one belly carrier in the world from Spain behind a good glass of wine.
Geoffrey