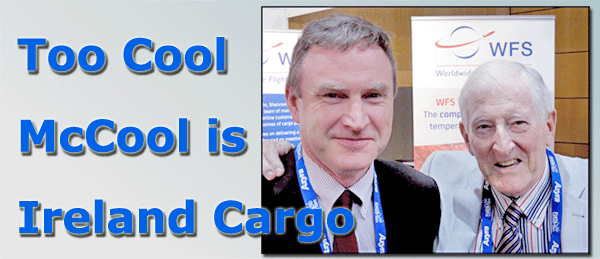 The quick move of IATA's World Cargo Symposium from a venue in IST to DUB at last minute brought to the fore the always engaging agility and ability of Ireland to not only handle a big show on short notice but also to have some bright and brighter people ready, willing and able to share point of view.
Ian McCool may not be on the program at WCS, but lucky for air cargo we caught up with him last week.
The McCool family has been architects of Irish air cargo almost since the form was invented.
Ian is here offering some pride of place, but more importantly to attendees of WCS this week and others tuned in worldwide, Ian brings a sense of what's up and matters and what is next in Irish Air Cargo.
Ian is Too Cool McCool when it comes to organized logistics in Ireland.
He is informed, so you be informed.
"My father Sean McCool," Ian said, "founder of our company and pioneer in Irish aviation history is now 90 years old and nearly retired after having started work at Shannon Airport in 1958.
"I am very fortunate to have learned from one of the best transport minds in the industry," Ian McCool said. "My father set up the business in 1989 and I have had the pleasure of working with him for over 30 years."
International Airline Marketing (IAM) is Ireland's largest Air Cargo General Sales and Service Agent (GSSA), responsible for approximately a quarter of all freight from Ireland.
Working on behalf of numerous world leading airlines including American Airlines, Etihad Airways, Air Canada and All Nippon Airways, IAM forms the core of an expanding group, which includes cargo trucking, handling and training divisions.
"I am also very fortunate to be working with one of the best teams in the industry.
"We see the clouds are starting to clear and we are in for a good few years ahead. One of the things the pandemic has taught me is that nothing is certain or static.
"I always try to prepare for the unexpected. This is even more the case based on the experience we have gained over the last 18 months.
Air cargo had not been at the "top table" for many years in Ireland, but was now back again.
"Everybody talked of the importance of air cargo but as a commodity, with over supply in certain parts of the world, it was historically undervalued.
"This was mainly driven by the basic economics of supply and demand and some lack of understanding of the value of the product."

The IAM Team Effort

"The change in our team at IAM over the last 18 months has simply amazed me. I am so proud of what our team has achieved."

Staying Alive & New Streams of Business

"Initially it was about keeping the show on the road but we quickly moved at a rapid pace and developed so many new streams of business.
"We are now above pre-pandemic market share levels. In recent months we have moved 30% of the air export tonnage from Ireland as per the IATA stats.
"The support of our customers, principals, suppliers and all the team at IAM has made this phenomenal achievement possible," Ian Mc Cool assures.

The IT Advantage

"We were well established with our IT platforms, pre-pandemic, to ensure we had the ability to adapt swiftly to remote operations.
"IAM, as others, will continue to refine this as well, as accelerating our e-freight and digital service offerings in 2021 as a priority.
"But for us the term – "There is no I, in Team" — has never been more relevant than in the last 18 months.
"Everyone at IAM pulled together to ensure IAM adjusted to the new world."


Setting Paperless & Other Goals For Air Cargo

"I look forward to the day where we are completely paperless," Ian McCool said. "I think we are very nearly there and have seen great strides over the last 5 years but there is still some bureaucracy holding back some key trade lanes.
"The developments in the drone sectors changing the final mile sectors of the supply chain will be very dramatic. The technology is improving swiftly and the regulatory bodies are close to finalizing the controls for large-scale commercialization.
"The drive to go 'green' is key and has moved forward at pace over the last two years. The great saying—There is no Planet B— has to filter down into every organization and also requires more pressure from big business on governments.
"The majority of airports have generated most of the revenue from passengers up to March 2020. Cargo has been a bi-product for most airports and thus has had very little investment. Cargo should get more of a hearing and far more consideration on investment plans of many airport authorities. This should be the case for the near future and may be become the new norm," Ian McCool said.

How To Work Better

"On the work front, I am loving the changes in the industry over the last 18 months and the fact that air cargo and logistics have been a key part how we have survived the pandemic and kept the world spinning.
"We get great pleasure from seeing a shipment of life-saving pharmaceuticals taking off from DUB and knowing it is making a massive difference to someone's life.
"I love the fact that I am always learning and even though I have 30 years plus experience, every week holds a different challenge to be overcome."

What's Next?

"Long term planning is difficult at the moment, but it is getting a bit clearer.
"We have had a few people approach us over the years to see if they could buy us, but we are not interested in selling at the moment.
"When you enjoy what you do and have a very successful business, we see no reason to change."

Too Cool McCool

"Ireland as a country is about to embark on the next stage of the transition.
"The proposed harmonization of the global tax rates may reduce Ireland's tax advantage, but there are many factors still very much in Ireland's favor.
"With the UK outside of the EU, it leaves Ireland with a strong advantage as the only EU member state with English as its first language.
"Our skilled workforce, security, stability, legislative system, quality of living, access to markets and established relationships are key advantages," Ian McCool assures.
Geoffrey