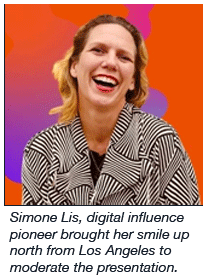 The International Air Cargo Association TIACA Executive Summit went back to the future with dreamers and doers from Silicon Valley, including LeadersInk MatchlabN founder Simone Lis (moderator); Myles Goeller, Chief Business Officer, Reliable Robotics Corporation; Eugenio Donati, AeroVect Co-Founder; Gather AI Co-Founder Sankalp Arora (joining remotely) and Elroy Air CEO David Merrill in a session that talked about the future.
Merrill stands in front of a powerpoint with the Elroy Chaparral, a VTOL cargo lifter. Elroy Air says it holds commitments for more than 500 aircraft.
The aircraft, Merrill said, will move up to 500 pounds of cargo 300 miles without airport infrastructure.
On its earliest modern era ocean hopping aircraft, the elegant Lockheed Constellation, KLM Royal Dutch Airlines utilized a detachable pod for extra baggage and cargo for its long-distance flights.
The snazziest cargo branding was dreamed up by Eastern Airlines marketing that called the pods "Speedpaks" as extra cargo lift was the order of the day, post-war into the early 1960s.
But what's old is often new again.
TWA branded its product "SkyCargo" postwar, a branding that was later adopted by Emirates as Emirates SkyCargo, which is still in use today.