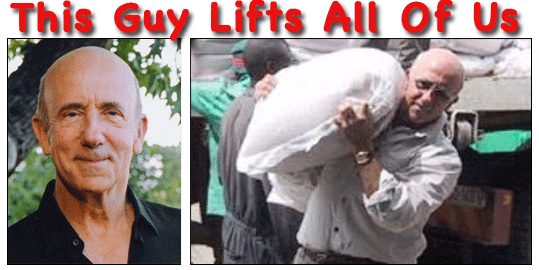 He sold the company he built into a powerhouse in 1997 to UPS, getting what must have amounted to everything and a bag of chips, against anything that he might desire for the rest of his life.
Lynn Fritz spent 35 years creating a 10,000-employee, world multi-modal shipping Goliath across 120 countries.
So what prompted Lynn Fritz to get the UPS settle-up and then begin an organization that would funnel his world-class knowledge in information technology to help humanitarian relief organizations cope with emergency situations around the world?
Something bigger than all of us, is the probable answer.
But when the capacity of the human heart allows one of the better-known and admired air cargo executives of the past quarter century to reach out like Lynn Fritz has, the door that has been opened can serve to radiate sunshine upon the better demons in all of us.
The Fritz Institute in San Francisco, dedicated to mobilizing disaster management expertise has received many millions from Mr. Fritz.
"Taking something of one part of my life and applying it to help others is an intellectually and emotionally compelling mission," Lynn Fritz said.
The view of this soft-spoken and unassuming, worthwhile gentleman accepting his induction into The The International Air Cargo Association TIACA Hall of Fame last week in San Francisco can be squared directly with a view of him with a heavy bag of grain slung over one shoulder as he helped unload a truck in some god-forsaken African village in early December just prior to Christmas 2002.
TIACA to its credit recognized a true great of our business of all time.
Everyone in the room was better for being near him.