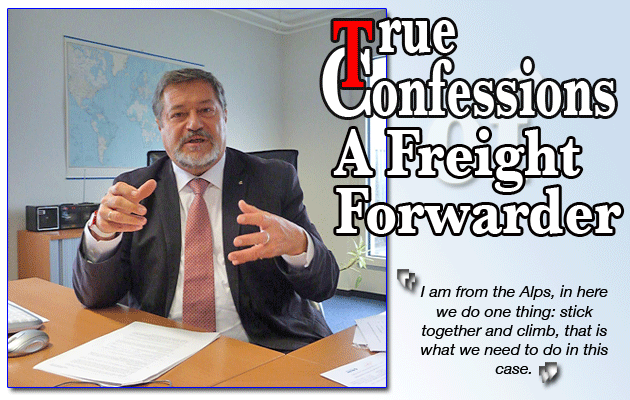 Marco Leonardo Sorgetti was a practicing freight forwarder in Turin, Italy before he pivoted to organized air cargo. He sold his company in 2000, worked for the Italian federation Fedespedi and then joined CLECAT, the European Freight Forwarder Federation as Director. In 2012 Marco became Director General of FIATA International Federation of Freight Forwarders Associations, the international association of 40,000 Freight Forwarder member organizations. He retired in 2017, but has remained active in the logistics field.
Marco is always soft spoken, smart and steadfast. What we like most about Marco is that he is a good listener with a wealth of ideas and he is always willing to share with everyone.

FT: What do you want to happen?
MS: Probably the most obvious and uncanny thing one could wish for this summer, an effective cure for COVID19 . . . One could argue it is not very creative as a request.
As second best I would wish for more solidarity, perhaps almost as uncanny.
Surely easier to achieve and nearly as effective as a cure, solidarity could work at individual and even at national level. The Latin said: spes ultima dea, so one should not give up hope. Maybe we shall get both.

FT: What is the most important point about the shipping industry that you want to get across to everyone that asks you that question?
MS: Reading the news one thing strikes me: there is a rush to axe jobs for companies to survive this period without losing margins . . . Airlines, shipping and logistics are not different from any other sectors, but this is not a good strategy in the long run. It may give stakeholders the impression that the company is well managed, but in the end the impact on society at large will be terrible, companies will not have markets to operate in as consumers' buying power will be gone for a long, long time. This is a short-sighted approach, we need a new deal instead.
Everyone should be ready to accept some sacrifice. I wonder how deep we need to plunge into depression to learn that we need to use other instruments in times like these . . . This is a time to resist, resist, resist whatever it takes, we must invest in our future and stop thinking about ROI's to impress the stock market.
The recent figures published by many countries, in particular the UK, show that the period ahead will be difficult, solidarity will be key to overcome the situation.