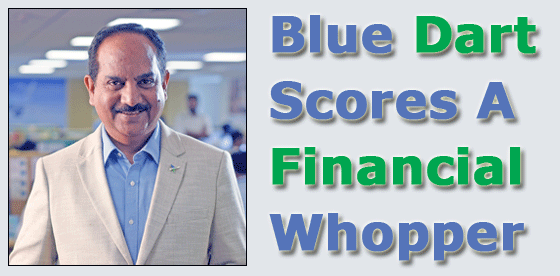 Blue Dart India results for the April-June 2022 quarter saw a four-fold jump in its net profit: INR 119 crores or USD$1,49,15,924. The company's strong performance has seen revenue going up around 50 percent to INR 1,293 crores or USD$1,62,072.
Managing Director Balfour Manuel said:
"Life in the pandemic has leap-frogged. We are out of the pandemic now. It is a mix—better realization, yield improvement, digitization, service quality and cost management."
Blue Dart witnessed "healthy volume growth during the quarter and carried 77.08 million shipments (last year 51.22 million shipments) comprising 278,393 tons (last year 184,431 tons)."
The consistent robust performance along with the recent quarter's showing – in fact, the company leads the domestic air express market with around 50 percent market share – has led Blue Dart's management to chalk out expansion plans. These plans include acquiring bigger aircraft – it has a fleet of eight freighters – and it is also mulling expanding its charter operations to countries like China and Vietnam even as it sets up gateways away from the metro cities to India's small towns.
Manuel mentioned the usual suspects:
"Our fleet expansion will enhance our geographical reach and widen our capacity to service current and potential demand across industries. Moreover, our key growth levers for the upcoming year will revolve around leveraging the power of technology and digitalization to provide sustainable logistic solutions with a deep focus on carbon sequestration."

The GatiShakti Factor

"With an eye on growth in the future, Blue Dart is banking on the government's focus to improve infrastructure through the GatiShakti National Master Plan for multimodal connectivity that will see dedicated freight corridors, logistics parks, economic zones, rail corridors and waterways that will ease the movement of goods. These initiatives will provide the necessary boost to the economy of the country.
"Blue Dart wants to leverage these growth opportunities to cater to the demand for higher capacities, by expanding its network."

Follow The Fleet

Fleet expansion will see Blue Dart getting new aircraft. Of the eight freighters it presently has in its fleet, six B757s will be phased out in a few years leaving it with two B737-800s. Sources indicated that it will induct two B737-800s by the end of 2022.
Additionally, Blue Dart joins the big parade looking for new freighters to help it to increase the tonnage per aircraft by 60 percent. The new freighters will fly into Tier II cities based on load factors. The B737s will be ideal for smaller airports. Already, the company has started looking for pilots and engineers for the planes.
Blue Dart birds operate only at night because the congestion at the major airports of India continues through the day.
Blue Dart wants its international charter operations to grow and not without reason. The international charter services have brought good returns to the company: the margins in the last quarter were at an all-time high level of 18.7 percent. These operations started during Covid when Blue Dart flew medical supplies to Guangzhou and Shanghai.
Later, there were flights to Hong Kong, Bangladesh and Myanmar.
These flights, conducted during the day, saw the freighters back in their base in time for domestic operation.

New Cities Hubs

Along with the acquisition of freighters, Blue Dart is expanding its ground hubs and network to handle the expected growth in volumes. It is a smart business move since it will enable Blue Dart to pick up cargo originating from these smaller cities to fill the freighters.
The cities where cargo bases will be set up would be Guwahati in the North-East and Coimbatore and Kochi in the South. While Guwahati, the gateway to Northeast India is a major air hub for transportation and business, Coimbatore International Airport caters to around eight districts that serve the export and domestic markets and Kochi in Kerala serves the Cochin Economic Zone as well as the Tirupur-Coimbatore cargo hub, a key cargo market.
For the moment, Blue Dart is on strong ground but competition is looming with IndiGo launching its own freighter services. Further, most passenger carriers have strengthened their cargo services.

Bring On The Competition

A new freighter airline, Pradhaan Air was launched recently but Blue Dart's Manuel does not seem too worried.
He maintains these freighter services are necessary and "complement our business, as we use their services often to reach locations."
For Blue Dart, its tie-up with DHL provides it a solid base (international logistics giant DHL holds a 75 percent stake in the company) and through a special arrangement, it focuses entirely on the domestic logistics sector. That understanding prevents Blue Dart from not expanding internationally.
Even so, according to Manuel, DHL directly connects Blue Dart to 220 countries. "The complimentary strength that DHL provides in the international sector for our customers is unmatched and, vice versa, we compliment them in the domestic sector.
"It's a great strength and an association built over the years since 2004."
Tirthankar Ghosh