Richard Malkin, the greatest and first air cargo Editor, who passed away on July 11, 2017, often shared his experiences in air cargo with FlyingTypers.
Dick Malkin, covering The Berlin Airlift in 1948 is pictured here in front what was left of The Reichstag whilst reporting on the big aerial parade of all-cargo aircraft into Berlin Tempelhof, that saved a city and also gave rise to modern air cargo.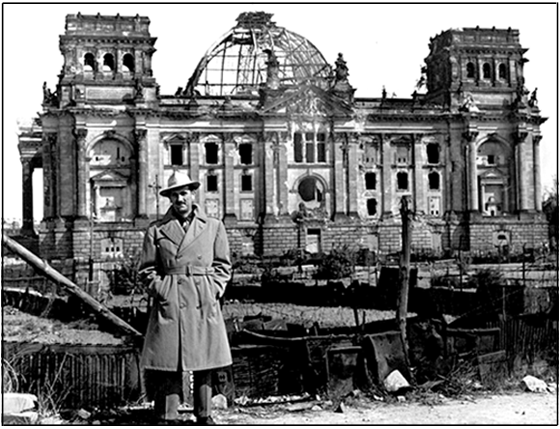 Malkin worked until he passed away quietly at 105 years of age.
We went out every couple weeks for breakfast. At one encounter I asked him as he thought back nearly 70 years what stories had remained fresh in his mind that we might share today.
Dick went to work furiously turning out reams of yellow legal pad copy filled with his distinctive elegant prose in double spaced handwriting.
Mr. Malkin was near blind at that time but that did not slow him down.
He ditched the typewriter and worked it out with Sabiha to get the stories written, edited and out in every case by deadline.
When Richard Malkin died and the flame and light went out we were left with several stories.
Rereading the lot and thinking how much these stories might mean to air cargo people, because they are all about people, we have decided to share them with you.
The format Malkin utilized was the short story genre where his immense word power really got down to business.
One year before The Berlin Airlift steered him into air cargo, Malkin won the coveted O'Henry Prize alongside Truman Capote for fiction.
Here he employs a similar format to highlight different events, trends, people and their thoughts over the 70 years he covered the air cargo industry.
We hope you enjoy this series.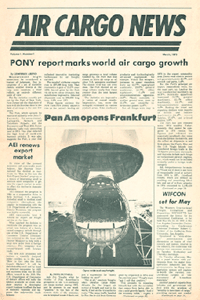 Alive In '75
It was not the kind of a year to inspire cheerful souls. The Organization of Petroleum Exporting Countries (OPEC) had a stranglehold on the world oil market, and the airlines were put to a serious test. There was that economic phenomenon, stagflation, and America was in its grid.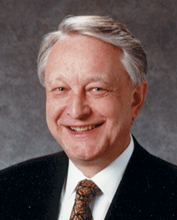 Some airlines were studying plans to reduce services: others were reviewing expansion plans. But all was not dark.
At Air Express International, a new division was introduced—Fashionair—to serve the wearing apparel industry. Among a series of significant appointments was young Guenter Rorhmann, vice president–Germany, who eventually went on to Lead AEI.
And, yes, FlyingTypers' daddy, Air Cargo News, burst onto the air cargo scene.

Sailing Along On Subic Bay
Prompted by feasibility studies, which covered manufacturing and trends in trade over the ensuing three decades, Federal Express arrived at a decision to say farewell to its Asia Pacific hub in Subic Bay, Philippines.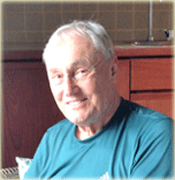 Barry Hansen, senior vice president of Air Express International, in a critical statement of shippers who tended to look at the air freight budget without examining the tradeoffs, stated:
"There is no appreciation that air freight is an element of customer service. Take the traffic manager in a staff position. He is often saddled with a restricted and unrealistic budget designed to control the expenditures on air freight. The tradeoff of repeat sales needing competitors' delivery schedule, and customer satisfaction are seldom brought into focus."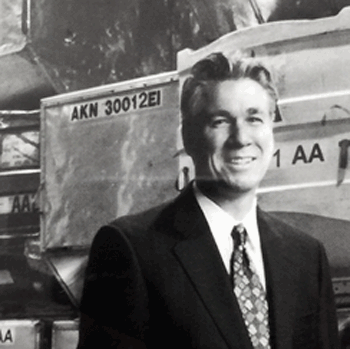 Get On The Same Page
said Robert L. Jones, Jr. in 1999 on the subject of dealing with the customer.
The late founder chairman and chief executive officer of Alliance Airlines put it this way:
"You want to avoid problems with the customer, so you make sure that you settle all issues before the contract is signed.
"After that, all else is easy."

Refine Your Business Technique

said Dennis W. Patrick, President, Lynden Air Freight in 2002.
He led that company for a quarter of a century before retiring in 2008.
In a forceful comment on techniques for "everyday work," Mr. Patrick reasoned: "You can remember one minute manager and management of objective. "You can remember how Japan and 'quality management' led the industrial world in their modern management and demand for 'zero tolerance' for errors and 'quality management.'
"Still, there are some principles that prevail, and I think quality as a noun, incorporated in a culture is one of those.
"I am thinking of continuous improvement, meeting mechanics, measurement, and process improvement."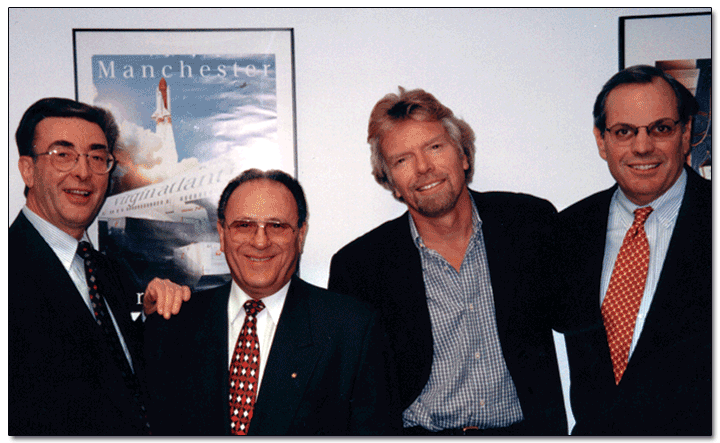 The Constant Is Change
said Angelo Pusateri, co-founder and president of Virgin Atlantic Cargo USA in 1989.
Commenting on the role of opportunity, Angelo (pictured second from left with Alan Chambers, Richard Branson and John Ryan, all of whom pioneered Virgin Cargo declared:
"If there is anything I have learned about the air cargo business, it is that nothing ever remains the same, and as a marketing-oriented individual, I would find it dull if it remained unchanged.
Where would opportunities then come from?"