Eat until your hands get tired!
There's lots more when sharing comes from the heart!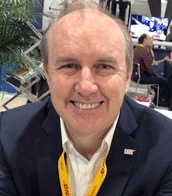 "You can learn a lot about each other by sitting down with our team and service partners and enjoying a meal together," declares Mark Thiermann Regional Director South America-ATC Aviation Services AG.
"ATC has served Korean Air for more than 20 years.
"Here we celebrated and said thanks for that milestone of service, cooperation and friendship by sharing a rich culinary experience of superb Korean cuisine," Mark said.
From the looks of that groaning board, just about every taste had a place at this harvest home and nothing was left out.
"Not only do we adhere to the high procedural standards of our represented airlines, but ATC is always working to deepen our relationships by sharing and developing better understanding all around," Mark noted.
What's next?
"Let's go for more!," Mark Thiermann exclaimed.