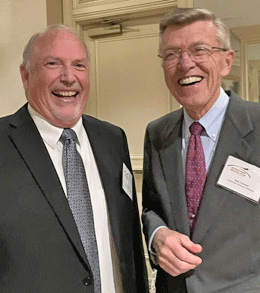 Why Are These
Men Laughing?
The last time this many great industry people ate dinner together was when Bill Boesch dined alone . . . They honored Fred Smith who invented FedEx at the L. Welch Pogue Dinner in Washington, D.C. September 14.
In the picture (left) is the great Michael White, former President of Cargo Network Services Corp. (CNS) and now a key player building PayCargo with Robert Crandall, (right) the genius who invented frequent flier and guided American Airlines to the top of the U.S. flags and lastly or maybe firstly hired Bill Boesch, who came in and put American Airlines Cargo into business internationally and reformed the AA Cargo product completely.
Heart of my heart, we love those memories . . .
Laughing? . . . L. Welch Pogue founded the Washington D.C. law firm of Pogue & Neal, which represented several major airlines and other industry clients. Prior to that, Pogue was Civil Aeronautics Board (CAB) Chairman from 1942 until 1946. During his CAB tenure, much to the chagrin of Pan Am Chairman Juan Trippe, Chairman Pogue helped strike down a plan for a single U.S. world airline.