Earlier we wrote about the Asparagus Festival taking place in Bavaria and elsewhere right now in Germany and decided to make the point again.
If Covid has taught us anything it's to look around and find some extra pleasure when we travel.
Who knows if or when we will pass this way again?
Starting next week the giant halls of Messe Muenchen Convention Center will be filled with logisticians from around the world, all in town in a jam-packed venue to do business at an event branded Air Cargo Europe (ACE), which had been shut down due to Covid for the past couple of years.
Early report is that ACE 2023 is about to be a blockbuster!
There are two "Halls" at Messe Muenchen dedicated to air cargo, HallB1 and Hall B2.
At Hall B1.317-442 is ATC Aviation Services AG. Led by Ingo Zimmer, a brilliant and innovative CEO with a dedicated staff that includes many ex-airline cargo people, ATC was established in 1971. Today ATC with a roster of more than 70+ airlines in 34 countries is simply the best GSA/GSSA in the world.
EMO Trans is located in Hall B1. 431-532. EMO is a family company that has been around for more than 50 years and continues today, fiercely independent, lead by Karin Frigger, Chairwoman and Marco Rohrer, CEO and President.


Elsewhere Kale Logistics is located at Hall B2.122. Amar More and his team who have masterminded nothing less than a revolution in effective airport cargo community systems welcomes all. Interestingly Hall B2 also contains Qatar Cargo B2.128.
So here in 2023, ACE features the most important developer of systems for the future of ground handling of air cargo in the world; and an exciting fast growing airline and many other small companies located in a Hall where you have to look a bit to find them at a less busy intersection near where the sessions are held.
For the record historically ACE isn't so much about sessions as it is about extraordinary levels of networking that will be in vogue, on overdrive at this king-sized event.
Messe Muenchen is where everybody has booked lots of staff to populate display stands that will be chock o'block along avenues that bob and weave at this gigantic gathering. Despite the density and 'cheek to jowl' atmosphere it can still feel select and even intimate within the booth spaces.
You might miss some things, because it can be overwhelming at ACE just in terms of diversity.
The airlines, the GSAs, the suppliers and the airports in Hall B1 and B2, the surface carriers, the integrators, the truckers, the bigger ocean carriers, the freight forwarders, located in other halls are all there on the half shell for a couple of days in Munich May 9-12.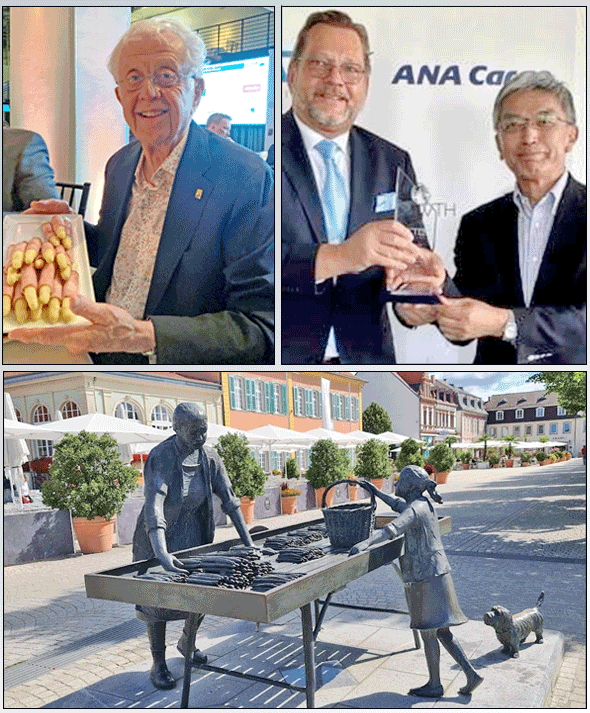 International partners growing friendship as Ingo Zimmer, CEO of ATC and ANA Cargo CEO Toshiaki Toyama celebrated recently. Spargel is served everywhere in Germany this month as special limited quantities are exported for gatherings and special events in cities around the world. Here EMO Trans powers a delectable white asparagus plate at the German American Association Dinner in Manhattan. Also pictured the iconic Spargelfrau Sculpture in Schwetzingen.


One More Thing, 'FRISCHER SPARGEL' (fresh asparagus) drives the 'Spargelzeit' time of year right now in Munich.
This incredible vegetable has been cultivated in these parts since the 1600s, is only available for about six weeks every Spring and is commonly referred to as "white gold" for its unique subtle flavor.
Germans and increasing numbers of the baptized dream about devouring white asparagus in every preparation imaginable right now while you attend ACE.
People sit in cafeteria-style places at big common tables behind stacks of plump asparagus spears.
For the record, Schwetzingen, a small town of about 21,000 takes a bow as Spargel Capital.
The white asparagus stalks were first cultivated in the garden of the Baroque Schwetzingen Palace in 1668, 156 years before Beethoven put pen to paper and composed his Ninth Symphony!
Today in the center of town at Schwetzingen is the famous Spargelfrau, a statue of a woman selling asparagus.
So have a good time at ACE, do a lot of business, but do not under any circumstance even consider missing Spargelzeit all around you next week in Munich.
Order the Spargel wherever you are.
If it's not on the menu, congregate elsewhere!
The classic plate serving includes half dozen white asparagus served with Hollandaise Sauce, small white potatoes and Bauernschinken (German prosciutto) sliced thin. If you might share your experience, we will joyfully pass it on!
GDA