"Great show!" said Mike Oslansky, one of the outstanding air cargo professionals in attendance at Messe Muenchen Air Cargo Europe Munich last week who were having some high times enjoying the opportunity to see old friends and make new ones in MUC.
Although the displays were impressive, equally on the mark were walkabouts, developing business during the four-days, pressing the flesh greeting old contacts and making new ones.
Mike Oslansky is a last mile operations guy; a unique, highly skilled professional in air cargo today, not a bad place to unleash his unique expertise, which includes 33 years at United Airlines Cargo before retiring in 2020 as Director Cargo Operations, then going into business for himself forming his own MAWB Services LLC. based in Chicago.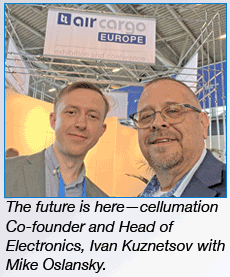 "Last week I was helping to promote Airblox and cellumation GmbH, two unique companies.
"Airblox stacks up today as a key new entrant in our industry because it allows freight forwarders (buyers) and airlines (sellers) to trade cargo capacity in the form of standardized electronic block space agreements (eBSA).
"cellumation technology is unique compared to other sortation solutions.
"The cellumation solution uses less space in a warehouse and there is virtually no chance of system downtime.
"This is critical for our industry that is now transitioning to the world of e-commerce and the timeliness of its last mile deliveries," Mike said.
"The future is here and it's great to be a part of it," Mike smiled.
GDA/SSA