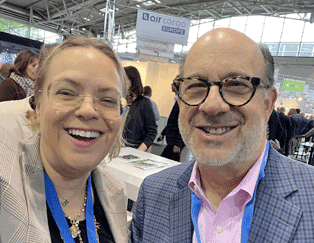 Dear hearts and gentle people . . . Jennifer Frigger Latham, VP Sales & Marketing, EMO Trans at Messe Muenchen Air Cargo Europe pictured with The Airforwarders Association (USA) Executive Director, industry trade show organizer and empresario Brandon Fried.
Question was how goes it, at this 2023 turn at a show that played out for transportation people like a mammoth family style reunion, talking more about how good it feels to be back together after missing these gatherings every other year during the Covid. This was Jenni's reaction.
"EMO Trans was excited about this year's Transport Logistics Trade show because the last few years have been marked by our industry overcoming tremendous obstacles to support humanity in continued growth and prosperity and in helping people all over the world get back to health.
"The challenges permeated from the c suite to the desk level and we are proud of how every level of our organization contributed to our great results.
"The outcome is that we not only had record profits, which have largely been reinvested in the organization as capital to make infrastructure improvements and hire staff, but also that the team itself has become battle tested, more resilient and more capable.
"The market is shifting, and we will as always be guided by our 50 years' experience as we drive solutions through continuity.
"The new innovations stand on the shoulders of our experience.
"About the Munich Air Cargo Europe show last week: "After four years of being away, we invested in a larger booth and more team members attended because we are proud to show our investment of the last four years.
"From customers and colleagues to vendors and even competitors we love these people and boy have we missed everyone!
"Nothing felt better than seeing each other again," Jenni declared.
Brandon agreed: "The Airforwarders Association's international engagement continues this week as we met many members and made new friends at this popular event that has not happened since the pandemic began.
"Air Cargo Europe is the international gathering for the global air freight industry.
"Since 2003, it has been held every two years in Munich.
"It's been a busy few weeks for the AfA, starting with cohosting a recent event in Miami with 35 members and Transportation Security Administration (TSA) air cargo leadership to discuss upcoming security enhancements. From there, it was off to address forwarders of the World Air Cargo Association in Sorrento, Italy, followed by our participation in the International Air Transport Association (IATA) World Cargo Symposium in Istanbul, Turkey.
"Next is the upcoming Cargo Network Services Corp. (CNS) Partnership Conference June 3-5th in Miami. Hope to see you in Miami," Brandon said.