United Cargo's Product Development & Marketing Manager Krisha Kucharski shows exuberance for air cargo and life, and it is simply irresistible.
There are people who are competent and talented at what they do and then there are those that bring excitement, purpose, and teamwork to the task at hand, making it a communal adventure.
Meeting Krisha is an effervescent experience, like uncorking your first bottle of champagne.
Medium Cool
We want to put a gauge on UA's TempControl offering, but before we can even get out our note pad, Krisha links up the cool chain and bids us climb aboard.
"This is a very exciting time to be involved in TempControl at United Cargo. "While we have offered a strong product since our launch in 2009, we are being recognized more and more as one of the worldwide leaders in the transport of pharmaceuticals, medicines and other temperature-sensitive goods.
"For example, we were among the winners of the first DHL CARE Award at their recent Global Life Sciences & Healthcare Conference.


Receiving the CARE Award. Left-to-right in the photo are: David Bang, Global Head of DHL Temperature Management Solutions/CEO LifeConEx at DHL Global Forwarding; Angel Ramirez, VP – Global Operations, Logistics and Postal Affairs, United Cargo; Ingo Rahn, EVP Global Head of Air Freight, DHL Global Forwarding; and Angelos Orfanos, President, Life Sciences & Healthcare Sector, DHL Customer Solutions & Innovation.

"The 'R' and the 'E' stand for Reliability and Excellence—two elements to which our whole team is committed when transporting these products. 'C A' is short for 'Carrier Award,' but we prefer to think they represent two qualities that set us apart and guide our actions throughout the entire process from first customer contact to delivery to the patient: 'Consistency' and 'Adaptability.'
"The third foundation of the program, and what for me is the key guiding principle for TempControl, is integrity.
"Integrity is all about keeping our promises and doing what we say we'll do when we say we'll do it.
"It also means being honest before, during and after the shipment, and not making any promises we can't keep."
Exceeding The Need

"TempControl was developed to transport pharmaceuticals and life science products, and those commodities still represent the majority of our business. "But the types and varieties of shipments are expanding: for example, we have moved meat and ice cream for the U.S. troops overseas, and a variety of other foodstuffs as TempControl.
"Our strategy for improvement and innovation is to be as knowledgeable about the pharma industry as we can, and to be as close as possible to forwarders, manufacturers, regulatory agencies, and patients.
"We base the development of TempControl on what the industry needs from us.
"All TempControl's innovations have started with something we've heard from our customers or their customers."
The Rule To SJU
"Our new widebody service to San Juan is exciting, especially when you consider that there are 49 FDA-approved pharmaceutical plants in Puerto Rico and 14 of the world's top 20 pharma companies have manufacturing operations there.
"The opportunities presented by adding new cities to the TempControl network are always inspiring: we just added Strasbourg, France, and Stuttgart, Germany, so we're up to 62 locations worldwide.
"Another positive development this summer is the redeployment of 19 of our United's wide-body aircraft to service U.S. domestic routes.
"Widebody lift for air cargo is a great boost to our ability to quickly connect life science product packaging via TempControl between the entire U.S. and the rest of the world.
"It's also exciting to hear the consistent projections for the need for more temperature-controlled transport due to the growing middle class across the globe, an aging population that will need more healthcare products.
"The marketplace of pharmaceuticals and patients is constantly evolving, and so are the most effective ways to connect the two," Krisha declares.
Discovery & Partnership Experience
"A key part of my role is to discover, then evaluate and develop, new ways to take advantage of United's comprehensive network to connect manufacturers and forwarders to patients worldwide. United Cargo's Manager of Specialty Sales Mary Tussing has been a great cohort as we've worked together to develop TempControl at United.
"In 2016, through Mary's vision, we are focusing our efforts on smaller trade shows and events.
"We learned last year that this approach promotes more effective collaboration with pharmaceutical companies as well as our freight forwarder partners.
"That said, we still do participate in many larger shows: we will co-host the Health and Personal Care Logistics Conference reception here in Chicago for the second consecutive year this fall."
Not All Beers & Skittles
"Outlining challenges today in shipping temperature-controlled cargo include commoditization as a key issue.
"The economics of the air cargo industry are very challenging, and temperature-controlled shipping is recognized as one of the few growth areas.
"So there's a lot of bandwagon-jumping: people who talk the talk of cool chain shipping before they can truly walk the walk.
"At United we strive to specifically avoid that with our TempControl product, though United has one of the greatest networks in the air.
"We explore expansion to our network only when we can fill a customer or patient need.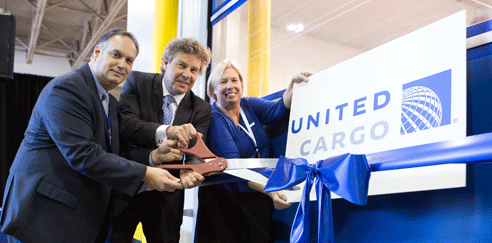 In January 2016 United Cargo celebrated the grand opening of a new TempControl Center at their Cargo Facility at Newark Liberty International Airport (EWR).Cutting the ribbon from left to right are—Jan Krems, United Cargo President, Jose Rosado, United's Senior Manager of Cargo Operations in Newark and Mary Tussing, United Cargo's Manager of Specialty Sales.

"We don't certify a new TempControl handling station until all the necessary quality processes are established, and until everyone who'll come in contact with the shipment is completely trained in those processes.
"Of course, the primary challenge with these extremely valuable and irreplaceable products is uncontrollable events and risk mitigation.
"While we try to control everything we can control, we believe the most useful tools we have for handling these challenges are our defined SOPs.
"These SOPs not only establish standard work flows for products and routes but, just as important, define set responses and communication paths that we follow when irregular operations occur."


Some Better Ideas For Air Cargo
"I think the industry would benefit from being more open to change—in the use of technology, reexamining processes, and several other areas.
"Air cargo needs to continually evaluate the best way of doing things without any bias toward continuing the way we're doing them now.
"Fortunately, this is happening more frequently in the areas of improving quality and efficiency—because customers are demanding it.
"As an industry we need to further leverage advances in technology, as has been done in almost all other industries, to drive reliability and fast and safe delivery."


All About Krisha
"I can't say I wound up in this industry or in this role as a result of any master plan!" Krisha declares.
"I earned my Bachelor's degree in Business Management Administration and Legal Studies from Bradley University in Illinois, and I also had the opportunity to complete some of my course work abroad at the Prague University of Economics.
"My university career advisor knew I loved to travel, so she advised me to apply for an intern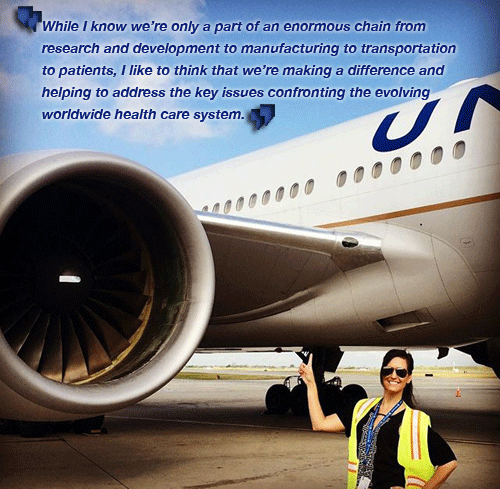 position with United. The internship was with United Cargo's Capacity team, and after 7 months I became a full-time cargo capacity analyst.
"After 18 months in that position, in September 2013 I was promoted to my current position of cargo product development & marketing manager – focusing primarily on our TempControl product.
"Similar to the start of my United Cargo career, I became involved with TempControl because it sounded interesting and different—and like it could be fun!
"From my capacity work I understood the importance of achieving the right cargo mix and yield on each flight, and that temperature-controlled shipping was growing in volume and importance to our business.
"With my constant drive to learn new things, be the best in what I do, and make a contribution to the success of the company, I'm glad I made the move.
"It's a tough job at times, but a rewarding one."


The World Beyond Air Cargo
"Something I've learned—but I don't think the public or even other folks in the airline industry recognize—is the impact that cargo has on the economy and the lives of people worldwide.
"This is especially true for the medicines, vaccines, and pharmaceuticals we transport via TempControl.
"We have the ability and the duty to ensure these products are transported quickly and with integrity so they can make a positive impact on patients' well-being.
While I know we're only a part of an enormous chain from research and development to manufacturing to transportation to patients, I like to think that we're making a difference and helping to address the key issues confronting the evolving worldwide health care system.
"That's something that motivates me," Krisha said.


Women In Air Cargo
"Since I joined the cargo industry 5 years ago, and specifically since I've been in my current job, I've seen a steady increase in the number of women in the industry and the importance of their roles.
"I've also noticed more and more young professionals of both sexes entering the field.
"This is a stark contrast to my first day on the job fresh out of college, when my impression was that cargo was an 'old boy's network.'
"I see this as a refreshing, and long overdue, shift in attitude.
"The industry needs people who look at its issues with new eyes and fresh perspectives.
"While I appreciate all the battles that have been fought for equality for all groups, I want to be part of a generation that ignores gender, race, ethnicity, and every other characteristic that might divide people.
"The key questions are: Are you passionate about your job? Do you have something worthwhile to contribute?"

Life In Balance
"On the subject of work/life balance, I have to admit I'd prefer a little less 'work' and a little more 'life'—but I think everyone would say the same!
"When I am able to relax and get away, I enjoy taking advantage of the benefits of working for an airline.
"I love exploring places I haven't been, and I find it relaxing to extensively research future trips and plan every detail of my itinerary.
"This ensures I get the most out of every moment, since my travel time is limited and I'm on a quest to visit every country on the planet.
"Recently I've been searching out places to indulge my newest obsession: scuba diving!
"The love of travel was instilled in me early, at age 2, when I flew to Poland with my father to visit his family.
"I consider myself very fortunate that both my parents supported and encouraged this passion, and now traveling is of course a major part of my job at United Cargo.
"I would definitely recommend the airline business to anyone starting their career.
"It's exciting, there's a wide variety of things to get involved in, and there are great opportunities to succeed."
Geoffrey