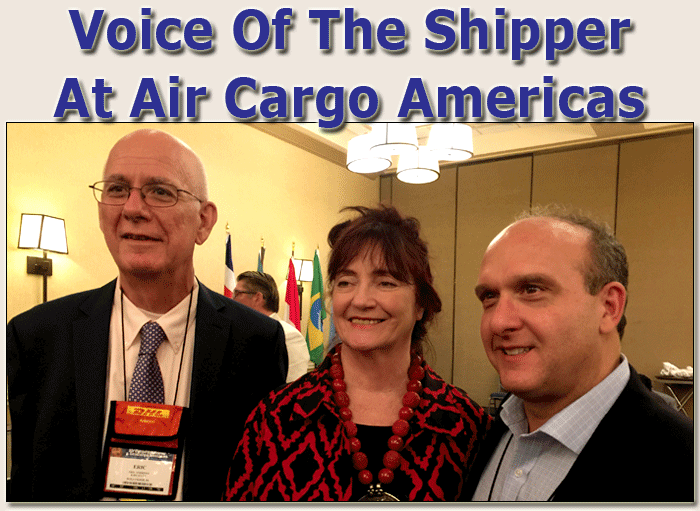 At Air Cargo Americas PriceSmart, Inc. Executive Vice President of Logistics and Distribution Frank Diaz delivers an eye-opening address. Pictured with Mr. Diaz (right) is Charlotte Gallogly, President World Trade Center Miami and Eric Andrews, President EMO 24 LLC.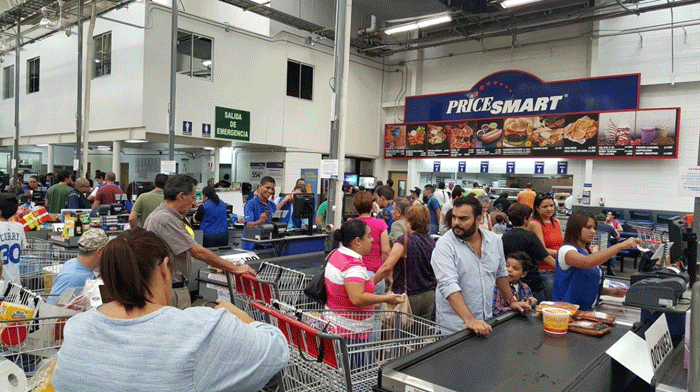 PriceSmart In Barranquilla.
PriceSmart, Inc. Executive Vice President of Logistics and Distribution Frank Diaz delivered a rousing address at Air & Sea Cargo Americas on Wednesday, discussing the rise of e-commerce and its impact on cargo.
"The landscape of retail is constantly changing," Frank Diaz declared, "and at a rapid rate.
"Almost daily now there are news reports about disruption of retail, and bankruptcies.
"Store closures, zombie malls, and,the 'Amazon Effect' all dominate retail news headlines."

Shifting Customer Preference

"Traditional brick-and-mortar retailers," Frank Diaz insists, "appear under attack with massive disruptions, but a closer look reveals that e-commerce retailers (albeit some more aggressively than others) have only capitalized on evolving consumer preference changes that favor shopping online.
"By focusing on customer-centric solutions to the shopping experience and offering features like mobile access, competitive pricing, the convenience of 24/7 access to shopping, large selections, quick delivery, and free shipping, e-commerce retailers have changed the overall landscape for retail, raising the bar for all of us."

Disruption Versus Distortion

"So is it disruption or distortion that is the reality here?
"Take the oft- noted e-commerce baseline offer of free shipping.
"I was raised with the understanding that 'nothing is free' and there is 'no free lunch.'
"So when it comes to the purchase of anything, clearly someone is paying for the costs of shipping.
"Having started my career in the parcel delivery industry (that ironically once viewed residential delivery unfavorably) shipping obviously cannot be free.
"The disruption," Frank Diaz points out, "is really in the challenge presented to retailers.
"For this example in the logistics field we need to deliver goods faster and cheaper."

Hold On To Your Hats

"In my view, there has never been a more exciting time to be in the logistics industry.
"Gone are the days where logistics was synonymous with simply warehouse and truck only adding costs.
"Now, in many cases logistics decisions (now more broadly viewed as supply chain management) are cornerstones of business strategy and competitive advantage in the marketplace.
"This raises the importance of our 'disruption' challenge, which will not go away; in fact, it will expand as e-commerce expands (along with its disruptions) beyond Business-to-Consumer and deeper into Business-to-Business relationships."

Cross Border Growth Booming

"I believe the future is bright, particularly with cross-border e-commerce throughout the Americas.
"The combination of an expanding middle class (World Bank estimates that the middle class now represents 30 percent of the population across the region), increasing penetration of smart phone use (the preferred method of shopping for online), improving infrastructures and warehousing availability, and relative geo-political stability are drivers forming a good foundation for cross-border e-commerce to grow."

Growth Vision To 2020 Is 25 Percent
"Some estimates put cross-border growth annually at 25 percent through 2020, impacting mostly air cargo volumes, although I believe that there is opportunity for ocean cargo as well," Frank Diaz said.

Technology Leads The Way
"With e-commerce, complementing a technology platform, product assortment, and payment methods join with an effective and efficient logistics system as key components.
"Covering the 'first-mile' through to the 'last-mile,' you should never forget that the focus will be on reliability with faster and cheaper logistics."

A Matter Of Perception
"While these words might not sound strange coming from a retailer, shipping rates are important.
"Saying 'It's not only just about the rates' might indeed raise some eyebrows.
"Taking a 'net landed cost' view to logistics costs and subsequently processes will offer ways to drive costs down and reliability up.
"With cross-border e-commerce, it's international logistics.
"Unlike domestic e-commerce (as practiced in the U.S.), the international process is more complex with more hand-offs and interdependencies between parties and sub-processes that add time and costs.
"This in effect makes entry difficult, but offers opportunities for carriers, integrators, and freight forwarders to innovate process-based solutions that increase speed and reliability and remove costs from the system.
"For example, considering that e-commerce shipments are generally small, air and ocean carriers should (as part of the first-mile) expect and prepare for an increased demand for origin consolidation services that later (as part of the final-mile) should be complemented by detailed shipment visibility, speed of shipment deconsolidation, and clearance and delivery with lower total landed costs.
"While these challenges are not easily resolved, perhaps a customer-centric effort toward improving the customer experience is our collective path to take."

New Industrial Revolution
"E-commerce is our today; so what's on the horizon for tomorrow?
"Nothing less than the future of freight is on the line.
"We are in the midst of a new industrial revolution that our industry needs to address."

Who Is PriceSmart?
PriceSmart is a retailer that offers a membership shopping experience using the warehouse-club format. It has served Latin America and the Caribbean for just over 20 years now.
Unique amongst U.S. retailers, PriceSmart is based in the United States with retail stores (or "clubs") in 13 countries and generating essentially all of sales offshore.
PriceSmart leadership and innovation dates back to the mid-1950s, when the legacy company began as FedMart (1954) and later became PriceClub in 1976.
Father and son team Sol and Robert Price pioneered the concept and warehouse-club retail industry with their first location in San Diego, California. The idea was simple: operate a highly efficient bulk-packaged retail and distribution business model that offers high-quality products and services at every-day low prices in return for a membership fee.
Today the Price family concept is viewed as having ultimately laid the foundation of an over $200 billion retail industry segment. Familiar names like Costco, BJ's Wholesale, and Sam's Club can thank PriceSmart for their business model.
In fact, it was the merger of PriceClub and Costco in the mid-1990s that in large part formed the industry leading to the Costco that we know today.

A World View
"PriceSmart focused on emerging markets around the world, beginning with various ventures in Asia-Pacific that ultimately we divested from. It eventually found great acceptance and ultimately success in Latin America and the Caribbean for the warehouse-club format.
"Today, our merchandise offering is comprised of a mix of imported and products.
"PriceSmart operates 40 warehouse-clubs in 13 countries with approximately 3 million cardholders and $2.9 billion in sales."
Geoffrey