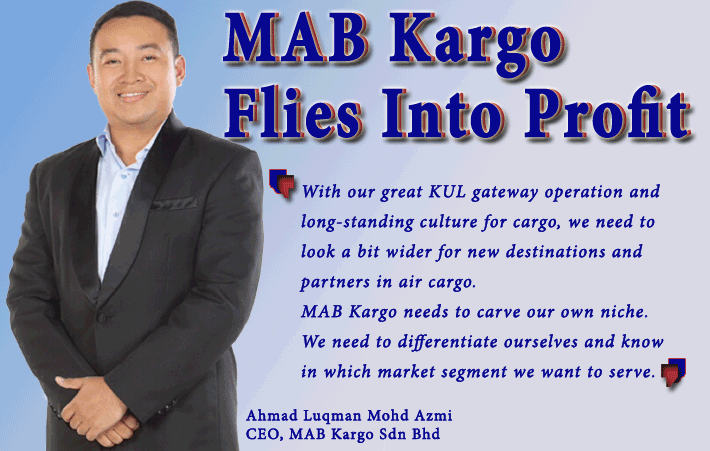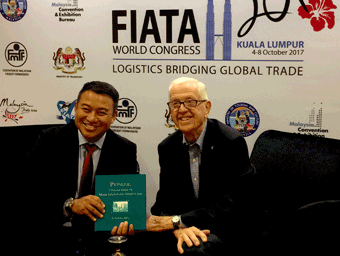 At FIATA's 56th World Congress held in Kuala Lumpur last October, we asked MAB Kargo Sdn Bhd CEO Ahmad Luqman:
"How did you cope with the snow whist attending University in Syracuse, New York?"
The question didn't stop the energetic executive. Instead he reflected the look of an "Orangeman" (the school colors) who has shouldered the snowstorms that blow in off of Lake Erie and bury upstate New York in a manner unknown to Southeast Asia.
MAB Kargo is a subsidiary of Malaysian Aviation Group, and CEO Ahmad Luqman has been a part of the cargo picture at the carrier for his entire time at the company, now totaling twenty years.
He immediately admits that he enjoys cargo, employing his touch for data analytical skills, strategy formation, and implementation.
"I have been privileged to have served in various positions covering cargo terminal operations, system operations, and sales.
"But if I could do it all over again I would have jumped into sales right away because that is where the rubber meets the road.
"I especially enjoy the human contact with both team and customers," he said emphatically.
"Dealing with shippers and freight forwarders is where the action involves providing customized business processes to meet industry needs and demands, and where we can, through sensible partnerships and cooperation, move the air cargo industry forward."

Advancing KLIA

"Developing and implementing cargo processes for the Advanced Cargo Centre in KLIA as well as the Penang Cargo Centre have positioned MAB Kargo to deepen and expand our footprint in the niche markets we serve via our three A330-200 freighters, China to Malaysia and Malaysia to China," he said.
"We deliberately reduced the network during past years to allow us to manage our business better," Ahmad said.

New Aircraft, New Routes?

It's a positive sign for cargo at the carrier that Malaysia Airlines will be adding new airplanes and increasing capacity and service, and possibly adding some new routes.
"We realize about three quarters of our throughput is via belly freight, so the airline adding new generation wide-bodies with their increase payload capabilities hits a sweet spot to our overall service offering, giving us capabilities to service new markets."
"We seemed a bit taken aback for some time with the explosive growth of the Middle Eastern Gulf carriers and we focused on some very solid lucrative markets as our core business.
"I suspect that will continue, but now we also feel quite strongly that for us, with our great KUL gateway operation and longstanding culture for cargo, we need to look a bit wider for new destinations and partners in air cargo," the executive said.

Long Night's Journey Into Day

Several years of losses have not diminished the cargo manager's enthusiasm, either, as 2017 will complete the long planned and hoped for turnaround at the carrier.
"We are on track to turn a profit in FY17," Ahmad Luqman said.
"We are carefully considering our options and will only move to serve market segments that can support our value for money proposition.
"Still," Ahmad Luqman warned, "air cargo yields are likely to remain under pressure as airlines deploy newer, more fuel-efficient aircraft.
"This is where MAB Kargo needs to carve our own niche. We need to differentiate ourselves and know in which market segment we want to serve," said Ahmad Luqman.

The Family Man

Very much a family man, Ahmad Luqman lives in Kuala Lumpur with his wife and four children.
He was born and raised in Selangor and attended school in Perak.
He recalls his first jobs in Negeri Sembilan as a "time of reflection that set the tone for the rest of my life."

Thinking 2018 & Beyond

"Our focus is on China," Ahmad says emphatically.
"With the recent announcement that Alibaba is moving to Malaysia, we are into the e-commerce sector with both hands and feet and will be a major player providing solutions to the market.
"Beyond the horizon matters to us very much," he adds quickly.
"We are looking for partners to drive our brand to greater recognition in America and Europe, to see us as a go-to resource across the routes we serve directly."
Geoffrey