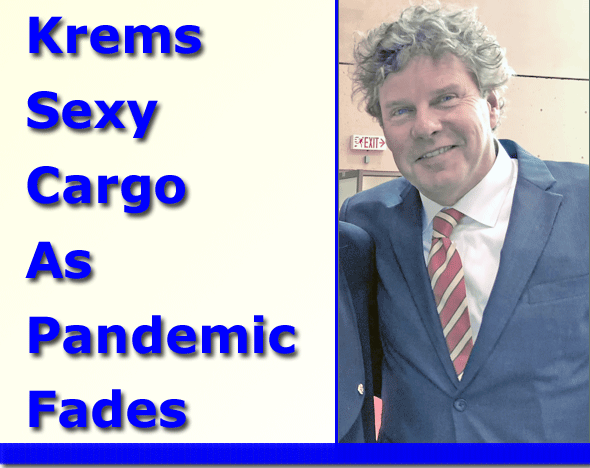 The big Ferris Wheel branded London Eye that dominates the south bank of River Thames Borough of Lambeth skyline these days, offering a circular, high and a better view of London night and day is an exciting eyewitness back to normal after the saddened atmosphere of that long emotional goodbye to the beloved Queen during the past weeks.
All of a sudden it's back to business, as a hopeful IATA World Cargo Symposium takes centerstage all this week.
Here is a chance for us air cargo commoners to meet and greet the air cargo leadership Royalty, as they cameo appear from their mandated annual IATA Cargo Membership meetings for a break, or to queue up in line for some refreshments.
Hope if you ask, "what did you discuss?" the question will not be met with the response I once heard one airline cargo chieftain give:
'Why am I here? First thing that guy in the meeting asked us, is does anybody have any good ideas to share? I'm trying to run an airline and looking for answers and these guys are looking for good ideas, Sheeesh!'

The Winner And Still Champion

From the downbeat of the thankfully now fading global COVID pandemic, as we review the past couple of years and the performance of all the top cargo bosses at the airlines, many of whom have packed it in or changed jobs during the crises, Jan Krems, President of United Cargo knew exactly what to do with his airline and he did it better than anybody else.
The way Jan structured his cargo product and offered it to the world not only became the template for how to cargo airline during the worst global pandemic in the past 100 years, but also can be recalled as perhaps the greatest save in the history of commercial flight.
Face-to-face, Jan comes across as a very broad thinker and a brilliant air cargo mind. But he also seems a very approachable guy who knows how to both motivate people and thinking, and have some fun as well.
All of this still probably makes Jan an unlikely person to have seized the day and eventually be the person to pick up the United flag at a time of crises and save the airline.
Born in the Netherlands, Jan worked his way into the air cargo industry starting at the bottom at KLM, and rising up the ladder to the point where just prior to arrival in the Willis Center Chicago, home of United Airlines, he headed up the fortunes of Air France-KLM Cargo USA, a $400 million plus dollar business.
"Cargo for me is very sexy," Jan told me right after he got the job.
"I worked 27 years at KLM Cargo and it's amazing but as fast as things change all around us, some basic truths about air cargo have not budged at all since the beginnings of the industry in the Post World War II modern era.
"You simply cannot mail it in.
"My first question speaking to customers is always: 'How is our quality doing?'
"While quality is our top priority, added value marks the road ahead for United Cargo holding great potential and promise for our offering. Our key essential remains our management of the processes up and down the line.
"We are developing and expanding capabilities in customer service that will deliver even more transparency to our service partners and ourselves as well moving forward," Jan Krems said.
No question that Jan Krems stands tall amongst the handful of top air cargo leaders in the world.
But we are happy to report that it is love of what he does that drives this guy to taking this opportunity that he describes as his 'best and last job in air cargo' to new heights.
"We have become an agile company," Jan declares.
"When the pandemic started, we were the first U.S. commercial airline to start freight-only flights. To date, we've flown more than 15,000 freight-only flights.
"When we knew the COVID vaccine was going to be transported all over the world, we started planning months in advance and received permission to fly with large amounts of dry ice.
"We've been working with governments, pharmaceutical companies, freight forwarders, and our customers to change our business model and work for the future.
"As passengers began flying again, we had to revert back to traditional models, but still keep an eye out for the future and how to deliver for our customers."
Now we are entering the era of Ocean to Air.
Here are Jan's thoughts:
"Ocean carriers have traditionally worked more directly with customers to move goods over one phase of the supply chain journey.
"The capital investment they make for their ships is high, but they can spread their costs over a huge amount of cargo.
"The purchase of aircraft, as well as freight forwarders is facilitating a shift in their business model that enables them to offer end-to-end solutions with a broader range of services, but this shift is still tied very directly to their core business–moving goods through the global supply chain.
"United Cargo is a part of a larger entity and moving goods is not the core business for that entity.
"Carrying passengers is the core business for United Airlines and moving goods is a niche business within the core business.
"Moving goods on passenger aircraft provides advantages over air freighters because passenger flights take off every day regardless of whether there is freight or not and we offer service to a much broader network of origins and destinations than can be offered by freighter carriers.
"We are a niche part of the supply chain that offers dependability and speed for the goods that are time critical.
"Interestingly enough, when COVID impacted passenger flying, we at United Cargo were able to prove that regardless of whether there were passengers or not, we could still take off with freight.
"A passenger airline has high fixed costs, and we had a choice at that time: park our assets and hope the lockdowns passed quickly or redeploy our aircraft to fly freight and defray some of the fixed costs.
"That meant that we had to cover the operating costs and we were fortunate that demand was strong while capacity was limited.
"Rates rose and we were able to cover those operational costs. We had the added bonus of keeping our widebody aircraft and our pilots flying.
"We worked closely with the passenger side to begin adding passengers back on what, at that time were cargo routes and the end result was that United Airlines was able to recover faster than any other passenger carrier.
"It was a great success and has strengthened the cooperation between Cargo and Passenger.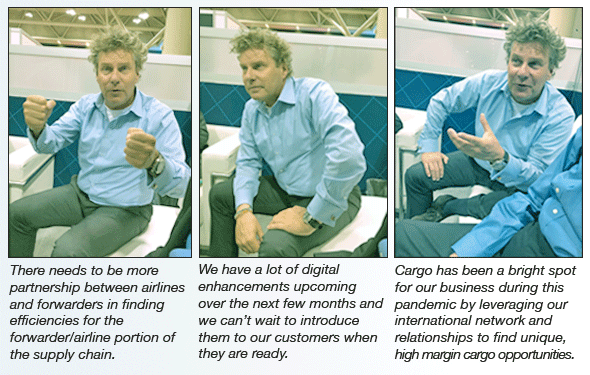 "There are lanes today where we even look at whether a full passenger load or an extra PMC in the belly is the better decision for the airline overall.
"That would have been very challenging, had we not gone through what we went through in the early days of COVID," Jan said, adding:
"Passenger airlines that carry large amounts of cargo as we do, are a niche part of the global logistics supply chain.
"That does not change with ocean carriers purchasing aircraft. We each have our own core business and we can coexist, and all be successful.
"Cargo has been a bright spot for our business during this pandemic, as we've leveraged our international network and relationships to find unique, high margin cargo opportunities.
"As passenger demand continues to improve, cargo revenue becomes a smaller portion of our business as there is less room in the belly of the aircraft.
"We expect to contribute to the enterprise above 2019 levels.
"While an economic slowdown may be coming, we expect our passenger business to moderate the broader slowdown.
"One of the things we are most excited about are our planned enhanced digital offerings.
"We will soon allow for customers to book shipments online.
"We are also looking at new pricing model to give customers real-time pricing to book their shipments with the click of a mouse.
"We have a lot of digital enhancements upcoming over the next few months and we can't wait to introduce them to our customers when they are ready.
"There needs to be more partnership between airlines and forwarders in finding efficiencies for the forwarder/airline portion of the supply chain.
"Focus today seems to be on optimizing individual roles of the process, cutting cost/rates or moving work from one party to the other (screening, buildup, storage, special handling, etc).
"Examples of where we could partner more are expanded use of the website for bookings and tracking, which is well documented and a current hot topic, but could also be expanded into operational aspects.
"Also, the scheduling of dock doors for tender and recovery of freight to minimize truck queuing/wait times and ULD tracking for empty pickup and return—have great opportunities for improvement."
Geoffrey