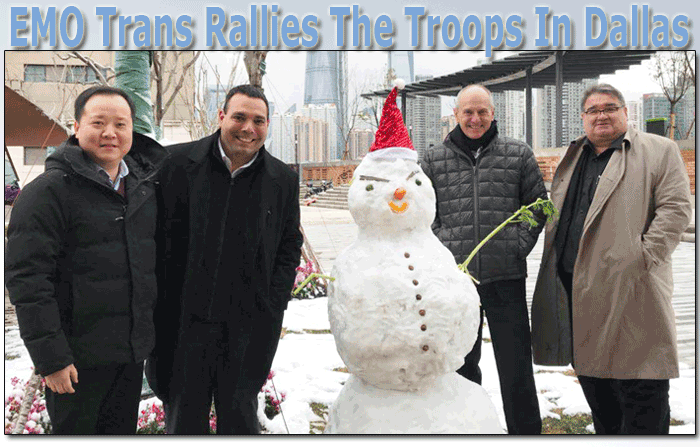 One More Tale of Winter 2018 . . . From left are Frank Sun, Managing Director Emo Trans China, Tom Bayes, Director of Route Development & Asia Development, Marco Rohrer, President & CEO and Bernhard Stock, Member of the Board of Directors. The drop-in, frozen-faced guest arrived as Shanghai welcomed its first snowfall in eight years.

China Rising

EMO Trans, with 250 offices worldwide, launched operations in China in 2015.
Today EMO China operates staffed offices at a growing list of locations including Beijing, Chengdu, Ningbo, Qingdao, Shenzhen, Tianjin, and Xiamen.
On January 26, EMO Trans China held its Annual Dinner in Tong li, a beautiful 1,000 year old village located on the eastern shore of Taihu Lake, about 90 minutes from Shanghai.

Town Hall Dallas

Even before IATA World Cargo Symposium arrived last week, Dallas Texas served as venue during February for EMO Trans, the fast growing logistics provider that conducted a "Town Hall" series of comprehensive meetings for its operations and department managers.
"It's about strengthening our teams," according to Marco Rohrer, EMO Trans USA President & CEO.
"We have a long history of success with strong, capable management," Marco declared.
"But there is always room for improvement," he added.
"These meetings are part of the strategy to build on our achievements, empower our teams, and preserve the future of the company," Mr. Rohrer said.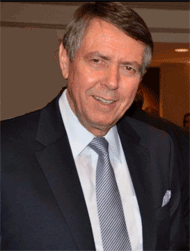 EMO Completely Secure

"Our Town Hall meetings are aimed at discussing employee questions on financial stability, opportunities for career advancement and training, global expansion, and the future outlook for EMO Trans," Jo Frigger, EMO Trans Chairman said.
"Our vision for the company is that success of EMO Trans is everyone's responsibility. "To continue to be successful, we must gain new business and keep our employees happy and productive while exceeding our customers' expectations!
"Good communication is the key, and we can't underestimate the power of professional dialogue assisted by technology," he said.
"We must maintain our strength and be prepared for the rapid progress in our industry.
"With our present structure, the future of the company as a privately-held enterprise is
completely secure," Jo Frigger concluded.
Geoffrey