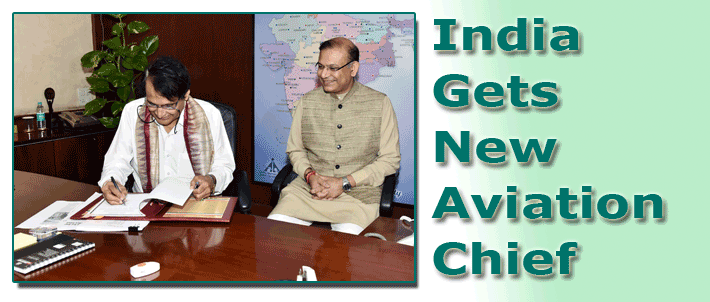 Suresh Prabhu, the Union Minister for Commerce & Industry, taking additional charge of the Ministry of Civil Aviation, in New Delhi on March 12, 2018. Jayant Sinha, the Minister of State for Civil Aviation looks on.
The recently named Minister for Civil Aviation of India Suresh Prabhu takes charge of the subcontinent's aviation portfolio as an add-on to his regular duties as Minister of Commerce and Industry. Prabhu, considered by many, the ultimate government professional assumed command of C&I after former chief Ashok Gajapathi Raju resigned for political reasons.

Air India

While the new minister has started off making the right noises, at least as far as air cargo is concerned, questions are being asked whether his outwardly ambitious plans will be feasible or not.
Also Prabhu has taken charge at a crucial juncture as the government is finalizing the modalities for the strategic disinvestment of Air India.

The Air Cargo Plan

First, however, Minister Prabhu's plans for air cargo.
Minister Prabhu has unveiled a draft plan to link aviation to agricultural hubs to boost farm exports.
Prabhu said that the draft policy has been circulated for inter-ministerial views.
"I have asked officers (of the civil aviation ministry) to prepare a plan to provide this support with a view to fast-tracking the movement of farm commodities," Prabhu declared.
The Minister also noted that the aviation sector is competing with other modes of transportation in the country and that would bring down the cost of logistics.

Working On The Railroad

Suresh Prabhu has had several different stints as Minister since 1998.
In fact, Prime Minister Modi chose him to be the Minister for Railways in 2014.
A Chartered Accountant by profession, Prabhu is known as an advocate for reforms. He is also a man of integrity: he quit as Railway Minister when three accidents happened within a span of 10 days in August last year.
There is also the lame duck factor.
With barely a year remaining for this government, it remains to be seen how much Prabhu can achieve.
What air cargo stakeholders are looking at is action on the ground – and that seems to be taking longer than usual.

Boost Exports Plan

It is, however, important to note that Prabhu as Commerce and Industry Minister has chalked out plans in some detail for India to boost exports.
This will primarily be accomplished by widening the country's export basket.
Prabhu said that he was keen to see India exporting new products and opening new markets.
The plan includes among other things, driving share of exports to 20 percent of the GDP.
According to Federation of Indian Export Organization (FIEO), the current share of exports in GDP is 18 to 19 percent.

New Logistics Performance Index

The Commerce Ministry has, meanwhile, come up with a Logistics Performance Index (LPI) that will rank states in terms of the logistical support they provide to promote trade.
The index will act as a signal to identify the problem areas.
For example, while Customs Department function smoothly in certain states, in other states, they do not and the index would help in finding out why this was happening.

Guarded Enthusiasm

While the Minister's words may have struck a responsive chord, it will take quite a while to set up the proper infrastructure, especially for the agricultural sector to boost exports.
Stay tuned.
Tirthankar Ghosh