Turkey's 458 member Association of International Forwarding and Logistics Service Providers (UTIKAD) has assumed global leadership in transportation unmatched by any other organization of freight forwarders.
"UTIKAD has become a signatory of United Nations Global Compact in 2015, said Emre Eldener, president.
The UN Global Compact Communication on Engagement Report for the period 2017- 2019 details in clear and transparent words and pictures both involvement and adoption of The United Nations Global Compact, a principle-based pact that is also the world's largest corporate sustainability initiative.
"This engagement report highlights the manner that the UN Global Compact is shaping our day-to-day activities," said Emre.
"As the primary non-governmental organization and point of reference for the logistics industry with its 458 members, non-profit UTIKAD accepts the importance of leaving a world worth living in to the next generations," Mr. Eldener declared.

A First In Turkey & The World

UTIKAD is the first non-governmental organization with the "Green Office" certificate in Turkey.
The motto of FIATA World Congress 2014, which was hosted by UTIKAD in Istanbul was 'Sustainable Growth in Logistics'.
UTIKAD set "sustainability" as the main agenda item during the Congress.
In this framework, the UTIKAD "Sustainable Logistics Certificate" prepared in cooperation with Bureau Veritas is the first of its kind in the world.
With that initiative, UTIKAD was recognized with the "Low Carbon Hero" 2018 Award at the Fifth Carbon Summit organized by Sustainable Production and Consumption Association (SÜT-D).
Mr. Eldener declares:
"As an organization UTIKAD is aware of our responsibility to the environment and, that our awareness should be transmitted from generation to generation.
"We also continue our efforts to integrate land, sea and air transportations to rail and combined transportation which are regarded as the "most ecological" modes of transport.



Women At Work

UTIKAD it should be noted is also the first non-governmental organization to be recognized with a Certificate Of Equality For Women At Work.
"That recognition was received in 2017," Mr. Eldener said.
"In 2019 moving forward, UTIKAD will continually endeavor to emphasize employment of women, draw attention to gender equality and increase our efforts as a pioneer toward equality in the logistics industry toward female employees."
Worth noting in a separate occurrence in 2018, UTIKAD was granted a "Jury Special Award" for its "efforts on increasing female employment" at last November's Logitrans Conference and TradeFair.

Why The Big Effort Now?

"In the globalizing world," Emre Eldener said, "it is not possible to be insensitive to risks that threaten human life such as poverty, unemployment, exclusion, human rights violations, and social risks that threaten social integrity such as civil wars and terrorism.
"In addition, producing and using energy resources that are not detrimental to the environment, and producing healthy food and ensuring that it is shared equally on a global scale are among the primary steps that we deem important as a non-governmental organization.
"At this point, UTIKAD believes that the Global Compact has a collective power that is capable of producing global solutions."

What Is Next?

"We will maintain our sensitivity to human rights, environment, working standards and anti-corruption struggle which we have declared to support, by signing the Global Compact.
"At the same time, it is our priority to promote these principles in Turkey through our wide member network.
"As UTIKAD, we will do what we are bound to do in order to maintain and promote these principles in the future," Emre Elder declared.

What Is UTIKAD?

Founded in the year 1986, the Association of the International Transportation and Logistics Services Providers (UTIKAD) is the umbrella organization of more than 450 companies that offer land, air, sea, rail, and combined transportation as well as warehousing services, express cargo and package transportation services, customs brokerage and logistics services in Turkey and abroad.
Long regarded, "The Voice of Turkish Logistics," UTIKAD not only represents the logistics companies and freight forwarders in numerous platforms at home, but also conducts certain activities revealing the power and dynamics of the sector.
UTIKAD also serves as the Turkish Representation of The International Federation of Freight Forwarders Association (FIATA), the largest NGO in the world serving the logistics sector.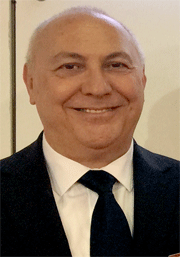 New regulations governing freight forwarding in Turkey are slated to take affect from July 1, reports Cavit Ugur, (left) UTIKAD General Manager
"The purpose of the regulations is to move from separate licenses depending on your mode of transport to a new regime "One License carries them all."
As of July 1, freight forwarders' operations in road, rail, maritime, air transport and combined transport will carry a single license," Cavit said.
For more information, FlyingTypers readers can contact UTIKAD.
utikad@utikad.org.tr