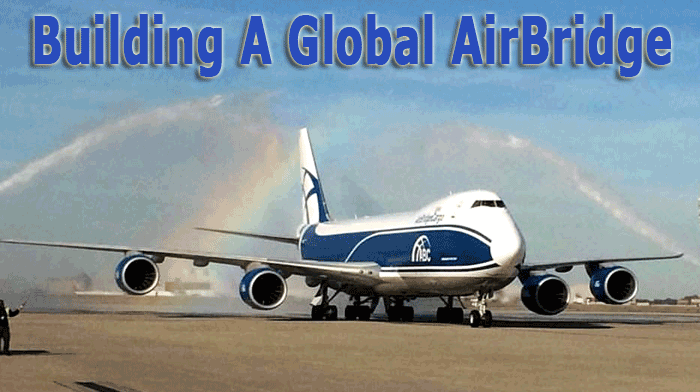 AirBridgeCargo Airlines (ABC) opens service at Rickenbacker International Airport (LCK) in Columbus, Ohio, today Thursday, April 5.
ABC employs a fleet of Boeing 747 freighters that provide up to 139 tons of capacity for all types of imports and exports.
ABC said that weekly scheduled flights will continue on Thursdays, carrying freight inbound from the airline's global hub in Moscow and returning to Moscow through Liege, Belgium.
With more than 13 years of steady growth, AirBridgeCargo (ABC) is the leading all-cargo carrier in Russia and among the top ten international cargo airlines worldwide.
Throughout ABC's development, the airline has achieved strong growth, reporting 17 percent compound average growth rate of tonnage in the last five years.
Currently, AirBridgeCargo''s fleet consists of eighteen Boeing 747 freighters.
The fleet is comprised of eleven of the latest generation Boeing 747-8Fs, four Boeing 747-400ERFs, and three B747-400Fs.
The new generation 747-8F freighter offers an increased payload capacity of 130 tons on a single flight and can accommodate cargoes of up to 45 meters in length.


Over To Vince

Vince Ryan wheeled into the room at last month's IATA WCS and got right down to business.
"Since AirBridgeCargo Airlines (ABC) launched its first route in the U.S. in 2011, we have consistently grown our network and volumes by listening to our customers and providing the level of capacity they need to and from major North American cargo gateways.
"We have a long-term commitment to being a major cargo partner to our customers in both North and South America, and with our growing fleet of Boeing 747 freighters we are leaving no stone unturned as we proactively look for new opportunities in both markets," declared the ABC Vice President, North and South America.

ABC: A to Z.

"Our focus," Vince Ryan said, lowering his gaze, "is staying close to our customer group whilst developing our offering that incudes the ability to carry anything anywhere, anytime, via our B747 freighters and other aircraft, plus access to the Volga Dnepr and CLA fleets.
"Business last year was very positive and continues as 2018 moves ahead.
"ABC experienced a 13 percent upsurge in total cargo carried in 2017, delivering more than 700,000 tons across our international network.
"Now for 2018, we are focused on top service delivery for our growing menu of niche products including pharma, perishable freight, heavy lift, and oversize shipments like aircraft engines and more."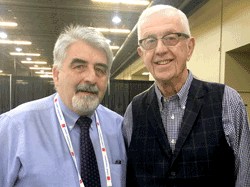 Likeable Veteran

Today it is fashionable to have a stable of technocrats operating things; Vince Ryan is a throwback to an earlier era in air cargo.
When you say that this industry is a "people business," what you're really talking about are people like Vince Ryan.
We have known and liked Vince ever since we met him 30 years ago at Ed Moritz's house when the British Airways U.S. cargo marketing veteran hosted a retirement part for Jack Veracoechea.


Proud Tradition

Once upon a time New York air cargo boasted the likes of Buz Whalen, Ed Chism, Fernando Tavera, John Grofik, Terry MacDonald, Maria Canino, Phil Bowell, Rudy Auslander, and some others, and the action, expertise and force for good in transportation taught the world how to fly air cargo.
Today, although that number has been reduced, there still is a spirit that drives the industry from the greatest city in the world, and excellent cargo people like John Ryan, (no relation), Brendan Furlong, Joe Badamo, and always, Vince Ryan.
Now approaching 34 years in air cargo, Vince has seen all sides.
He began his career with Flying Tigers, later worked with the Port Authority of New York & New Jersey, and then worked for British Airways World Cargo in 1989 as Manager, Cargo Development, and USA.
Vince went on to spend 10 years with Global Freight Exchange, ultimately as Vice President - Global Business Development, before joining Southern Air as Director of Marketing.
Tigers Beginning
"Actually, I got into air cargo straight out of Dowling College (Long Island, New York) quite by accident.
"I picked up the phone in my dorm room and took a call from Flying Tigers Cargo for my roommate who was out attending a class.
"The caller asked me if I was studying aviation, and a senior.
"When I answered yes to both questions, he asked if I was looking for a job.
"After he assured openings and opportunities at Tigers 'for everybody,' I took the interview, and the rest, as it is said, is history."

What Matters Now

Something Vince Ryan recalls from his first job at Flying Tigers comes echoing back as we sit inside a quiet otherwise empty room in Texas. Most of the people inside the giant IATA WCS host hotel are still asleep.
"Flying Tigers," Vince smiles, "was really sweet and special.
"You could come up with an idea and run with it.
"Every day was a new adventure, we were truly on the leading edge of global all cargo development."
What he says next writes the future for all of us.
"What matters now is what we bring to the table for our colleagues and business partners.
"You work day to day to gain trust by being up front, finding solutions to problems, and never forgetting how important the customer is, big or small.
"Air cargo is very slow to adapt to new technologies, that is just a simple fact.
"It's just a slog.
"Are we utilizing all the technologies at hand right now to the fullest benefit?
"It took us forever to migrate to bar-coding when you think about it.
"We should be able to speed up things and eventually, like bar coding, which was finally adopted industry wide, we will.
"In the meantime, staying close to the customer, being up front, honest, and carrying through as promised—these are values that are so important in air cargo and should never be lost."
You get the feeling that as long as this industry has people like Vince Ryan out there, amplified by thousands of others like him all around the world, this business we love will be OK.
Geoffrey