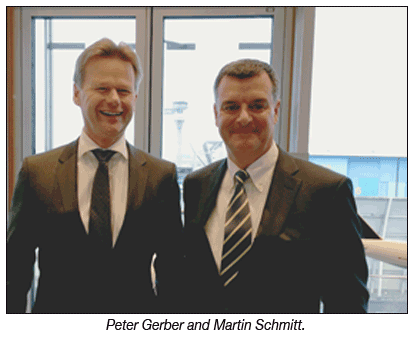 Cold has become decidedly cooler at Frankfurt cargo. Europe's largest airline hub for temperature-sensitive shipping has grown even more high, wide, and handsome, after a significant expansion and upgrade at The Lufthansa Cargo Cool Center (LCCC).
Hard on the heels of holding its annual press conference, where the expected announcement of a bounce back year in 2017 came through with flying colors, the LCCC has just completed an overhaul that includes a footprint expansion to over 8,000 square meters, almost doubling itself.
It is no surprise that LCCC was put on the half shell as part of an expanded press tour.
Lufthansa Cargo, in a sentence, is back and hitting many of the right notes that have traditionally made the cargo enterprise the class act and innovator of the air cargo world.
Numbers & A Cabin In The Sky
Thursday, March 23 was numbers day at Lufthansa Cargo, a time when the Frankfurt, Germany cargo carrier dares to fly a route that few other air companies travel, outing their yearly performance numbers to the working press, and then sticking their chins daring:
"Hit me with your best shot."
We are gathered in a gleaming metal room with a curved hangar like roof on the fifth floor of the Lufthansa Aviation Center at Frankfurt International Airport.
The venue, a cabin in the sky, features a floor to ceiling window wall that looks out on a ground control tower and the runway. The building is on a street named for Dr. Hugo Eckener, the legendary German visionary, manager of the Luftschiffbau Zeppelin during the inter-war years, and also the commander of the famous Graf Zeppelin.
Across the street aircraft are moving about, coming and going at the big airport; airplanes passing by, some from destinations that are familiar, to other places yet to be discovered.
Inside is a sanctuary with the passing scene as backdrop.
There is a touch and feel of welcome here in this bright room with its spiral staircase leading upward to another floor where the top executive of the entire airline, Carsten Spohr, has his office.

Change Is In The Air

Lufthansa is a changing airline.
In summer, this bright glorious room serves as play center for children that accompany their parents to work during their summer vacation.
There is something reassuring about transforming a space once given to graphs, powerpoints and big ideas into finger paints, balloons and nap time, perhaps even stories from Uncle Martin (Lufthansa Cargo CFO).
Last year as 2016 numbers came in and the red ink flowed, word up was that things might get worse before they got better.
Here in 2018, the message was completely reversed as the numbers delivered by Lufthansa Cargo were not only up, they fairly blew the roof off the top of the hangar.

Wrong Is All Right

An effusive Peter Gerber, CEO and Chairman of the Executive Board of Lufthansa Cargo AG opened his remarks proclaiming:
"I was wrong.
"In 2017 when we met at our yearly event I predicted a continued downtrend but that was completely turned around beginning last September."
Now with results in hand, Mr. Gerber beamed, that last year delivered, "one of the most successful years in the history of Lufthansa Cargo."


Number One In The World

"Today," Peter Gerber exclaimed, "Lufthansa Group yield is number one in the world.
"In 2017 sales of Lufthansa Cargo rose by 21.1%," Peter Gerber said.
"Our team is highly professional and passionate.
"We will continue to focus on our efficiency program, investing in our ground infrastructure, special business initiatives and digitization," he declared.


On Top Of The World

Dr. Martin Schmitt, Lufthansa Cargo CFO further underscored Mr. Gerber's words:
"We feel like we're back on top of the industry.
"Demand and utilization have significantly improved and raised our load factor whilst unit costs remained steady and revenue went from 16.7% to 19.6%.
"In 2017," Doc. Martin said, "our volume rose 6% while yields delivered at 14% uptick."
Peter Gerber adds, "We have worked top to bottom as a company to turn things around."

Taking Nothing For Granted

"I cannot say," Peter Gerber declared, "that without some luck and good timing we would be positioned as Lufthansa Cargo is today, but we are certainly not taking anything for granted.
"Lufthansa Cargo moving forward will deepen our partnerships, enhance customer connectivity, continue to automate our processes and develop new business models for the digital culture."
Mercedes Of Air Cargo
During a walkabout inside the colossus called Lufthansa Cargo Cool Center, one notices right away that this very busy, giant layout of container-filled rooms hums along, smooth and confident in a place loaded with high-tech cool chain solutions.
Today Lufthansa is the Mercedes of air cargo—powerful, confident, and filled with promise.


We spoke to Karin Krestan, Head of the Lufthansa Cargo Cool Center.
Karen is the energetic and engaging boss of all things temperature sensitive.
She is not a late arrival to the cool-chain party, but in fact has been a driving force shepherding the Lufthansa Cargo Cool Center since it opened in 2011.
Armed with a keen working knowledge of how the cool-chain must be handled, Karin oversees a 24/7 ballet—moving everything from the pharma and healthcare business through giant electric doors to aircraft waiting outside on the ramp.
After spending an hour with this most professional lady, we kept thinking about how Karin's expertise, balance, communication skills, and sense of humor fit perfectly into the age of the digitally driven, increasingly transparent cool chain.
For one thing, she keeps things simple.

Cool From The Ground Up
"Lufthansa has a vast menu of service offerings for pharmaceuticals, diagnostics, clinical trials, biotechnological material as well as temperature-sensitive, high-tech products, including temperature-controlled ground storage," Karin said.
"However, we are a ground-up cool-chain with appropriate cooling facilities, including our dedicated Cool Center operations here at our hub, Frankfurt, and also in other key locations around the world.
"We offer temperature ranges per compartment onboard the aircraft and on temperature-controlled reefer trucks for our road feeder services."
Lufthansa Driving Firsts
"We are the world's first cargo airline to offer their customers the "Road Feeder Service Cool" (RFS-Cool) booking option. The new service ensures that temperature-sensitive cargo is actively or passively cooled or warmed, not just on board aircraft, but also in road link connections where similarly equipped vehicles are set up.
"Customers can make through shipping arrangements within Europe on the new "Road Feeder Service Cool" for sensitive medication that has been flown into Frankfurt and ensure that the goods remain inside the specified temperature range on the intra-Europe segment of the journey.
Innovation Is Constant
"Our innovative cool-chain solutions include transit points at Lufthansa's hubs at Frankfurt, Munich, and Vienna with a variety of containers that offer specific services.
"The Lufthansa Cargo Cool Center is equipped with state-of-the-art cool storage rooms for four different temperature ranges, exclusive ramps for delivery and goods acceptance, an exclusive Competence Center Temperature Control (CCTC) supervision team on call 24/7.

Located Within Security Hub
"Another advantage is that our pharma-zone cool-chain solution at Frankfurt is located within the security hub and has direct access to the apron. This guarantees shortest distance transfer and minimizes cross-transfer between different facilities."

Pharma & Love Of A Nurse
Karin Krestan began her career at Lufthansa working on the passenger side, but before long her professional training as a medical nurse took hold and after reading about the Cool Competence Center in 2007, Karin was immediately fascinated at the possibilities of bringing her firsthand knowledge of pharma and vaccines, plasma etc. to work, building the Lufthansa offering while still located at PCF.
"I discovered right away that the pharmaceutical industry very much likes talking to someone who has working knowledge and understanding of the medical arts in matters, such as special sensitivity requirements of certain pharma products: for example, how to handle insulin."


Development Is Ongoing
"We are quite accomplished in our business here but are still at work improving our offering, including product development and continually refining features to better serve our customers.
"We also hold meetings that are conducted both internally amongst our team members and externally with our customers to develop the best systems and practices that interface via computer with shippers.
"But it is most important that we offer constancy—i.e., staying away from critical situations associated with any fluctuation in temperature for the goods we move through here.
"Keeping things on a steady beam requires constant monitoring, which we do at a special 24/7 desk that offers temperature monitoring and mapping.
"Customers can track much of the same information about their shipments including current conditions and delivery schedules.
"This two-way contact keeps everybody on the same page with complete transparency and no surprises.
"We are also quite proactive in getting the word to our customers at once if a delay or something else occurs."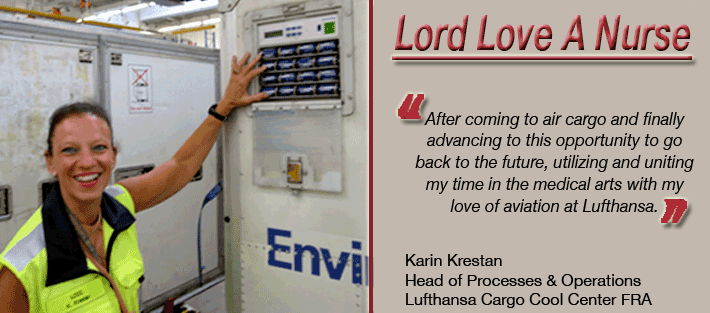 From Nurse to The Cool Center
We wonder about Karin's journey to become a nurse, recalling that at one time back in the early 1920s, all flight attendants serving aboard line aircraft in America were nurses.
This was at a time when the ride aboard, say, a Ford Tri-Motor could get rough enough to warrant medical attention.
"I worked in the local hospital in Darmstadt as a nurse's aide during my student years.
"I just got used to the work and liked the interaction with the patients, how the hospital operated, and I guess I never forgot that time.
"I spent three years working in the Emergency Room, where the real action is.
"Then a close friend was hired as a flight attendant at Lufthansa and I thought that working for this airline would be an interesting career.
Started On The Ramp

"But having just given birth to my first child, working aboard aircraft and travelling would not have worked, so I was hired here to work on the ramp.
"After a few years on the passenger side, I moved to the Lufthansa training center in Seeheim, where I then began teaching what I had learned."
Brave New World
"One of the more interesting aspects of teaching at Seeheim is the opportunity to attend any of the classes offered there, including training on how to be a station manager for Lufthansa anywhere in the world.
"From that training I was able to work as a replacement manager in some interesting stations, including Kenya and Russia, before finally making my move to Lufthansa Cargo as head of aircraft handling.
"After going to air cargo there was one more move to the passenger side before finally advancing to this opportunity to go back to the future, utilizing and uniting my time in the medical arts with my love of aviation at Lufthansa.
Looking Ahead

"So things have gone full circle, but I really love this job.
"What we are really doing here is creating a decent balance of the best and brightest, most dedicated people available.
"We have 26 women in the office and 45 men in the operations part of our cargo operation here. All of our people contribute and are very dedicated to their work building Lufthansa Cargo Cool Center," Karin Krestan said.
As we leave this most interesting part of the Lufthansa Cargo combine at Frankfurt Airport, a sticker that my Mother used to feature on the rear bumper of her VW Golf comes to mind:
"Lord Love A Nurse," it said.
Now that we know one, we understand why.
Geoffrey