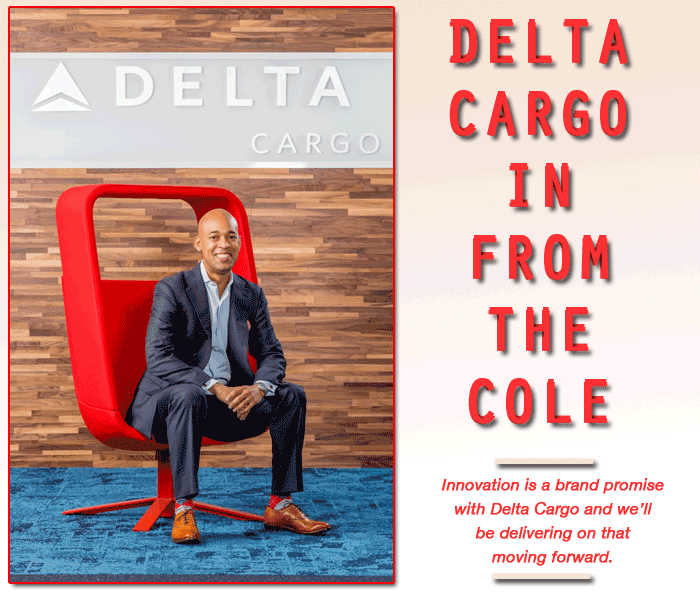 "In a market that is oversaturated with capacity, if we get this right, we have a better chance that customers will bring their business to us through value creation and not just price.
"Our goal is to be the Number 1 in on-time delivery of air freight."
"As an industry, air cargo can work to better meet the needs of our customers. Electronic airway bills, simplification and automation are key themes.
"We should continue discussing policies that impact the air cargo space to improve upon our ability to be easier to do business with.

Innovation Job One

"For Delta," says Shawn Cole, VP Cargo at Delta Air Lines, "2018 innovation means that we can develop, test and introduce products and services that better meet the needs of our key customers.
"This year will see a sustained focus on transforming Delta Cargo.
'We will continue to offer a range of differentiated products and services, with investment in technology. Last month saw the launch of Equation Critical for international, time sensitive products with GPS technology.
"We will also look to roll-out RFID technology utilizing the RFID framework from the passenger side of the business."


Solid Second Half Into New Year

"Delta Cargo has found that demand has been solid in the second half of 2017. "During December quarter and full year financial results (announced Jan 2018), we highlighted a revenue increase of 14.4 percent during the quarter driven by higher volumes in freight and mail, and yields.
"The demand environment is being fueled by general business confidence leading to growth in exports, particularly capital equipment and pharmaceuticals.
"Cross border e-commerce is also growing. "Delta's investment in new A350 aircraft, with large cargo capacity, will ensure we can support our customers in this strong demand environment.
"Looking ahead, there is general optimism in the industry and we expect this to continue based on economist reports and public information," Shawn Cole said.

Money Man Tops Cargo

Shawn Cole as Vice President of Delta Cargo appeared on the scene last June, but he had served Delta most notably in finance and corporate planning for a decade.

Looking For Ways To Improve

"Innovation is a brand promise with Delta Cargo and we'll be delivering on that moving forward.
"As Delta builds its global footprint, we will continue to look at ways we can be more closely aligned with our partners, including Aeromexico Cargo, Air France KLM Cargo and Virgin Atlantic Cargo.
"We will also be looking to bring these partners into the Cargo Control Center so we can be really integrated on the operational side.

A Thought Leader

"We are focused on building a business that is thoughtful and innovative and focused on the customer and their needs.
"Customers will have seen a substantial amount of progress in our ability to deliver for them reliably, every day, every week, and every month for the whole year.

Cargo Control Center

"In August last year, Delta opened the Cargo Control Center which has been a game changer.
"Now we have the ability to track all the freight we send, anywhere in the globe and allows us to pre-empt any operational issues such as weather that may impact a shipment.
"Delta Cargo added Dash Critical & Medical, the first fully GPS enabled, same day product offered by a U.S. freight carrier.
"We updated and revamped Deltacargo.com and also our 24/7 customer service and support.
In July, we announced we had obtained IATA's CEIV certification at our headquarters and cargo transfer facility in Atlanta.

New Airplanes Lifting Delta

"The introduction of the A350 aircraft is significant as it is providing additional capacity to trans-Pacific markets where the aircraft will operate.
"As example Detroit-Narita A350 services began on October 30 last year, and have now expanded to service from Detroit to Beijing, Shanghai, Seoul and also Detroit to Amsterdam later this month.
Geoffrey