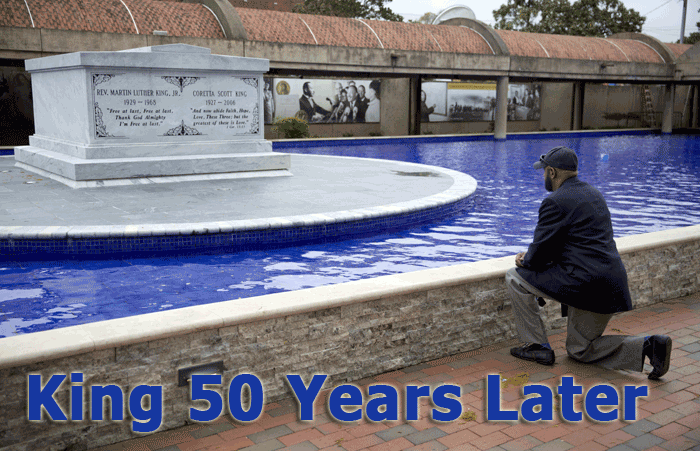 Jeremiah Bridgewater kneels at the gravesite of the Rev. Martin Luther King Jr., as the USA took a moment of reflection on the 50th anniversary of his assassination in Atlanta, Wednesday, April 4, 2018.
"It's heart wrenching.
"Fifty years ago most of us try to remember where we were and because of his sacrifices we can enjoy some of the pleasures we once weren't able to," said Bridgewater.
"We're still not where we ought to be but at least we're further down the road."
Hartsfield-Jackson Atlanta International Airport (ATL) honored Dr. Martin Luther King, Jr. Thursday as April 4 marked the 50th anniversary of his assassination.
The event featured performances by M.D. Roberts Middle School Fine Arts Magnet students; the Alpha Rho chapter of Alpha Phi Alpha Fraternity, Inc. from Morehouse College, King's alma mater; and a special performance of King's famous "I've Been to the Mountaintop" speech delivered in Memphis just twenty four hours before Rev. King was murdered by James Earl Ray.
"Well, I don't know what will happen now.
We've got some difficult days ahead. But it doesn't matter with me now. Because I've been to the mountaintop. And I don't mind.
Like any man, I would like to live a long life.
Longevity has its place.
But I'm not concerned about that now. I just want to do God's will. And He's allowed me to go up to the mountain. And I've looked over.
And I've seen the promised land.
I may not get there with you.
But I want you to know tonight, that we, as a people will get to the promised land. And I'm happy, tonight.
I'm not worried about anything.
I'm not fearing any man.
Mine eyes have seen the glory of the coming of the Lord."