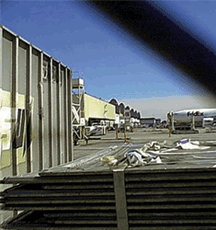 A ULD being loaded onto the main deck or slipped into the belly of a wide body passenger aircraft is the money shot in any air cargo message of late.
But what about the ULDs, aka "silent partners," of our air cargo enterprise?
Watching the daily ballet of ULDs being loaded and unloaded from aircraft at the airport, it is easy to step back a bit and wonder about the stories they might tell.
I recall just a couple years ago out at JFK Airport casting a long steady gaze at a somewhat dented can sitting alongside the old Lufthansa Building 260, the airport facility where the German carrier pioneered all-cargo main deck B747F service from Frankfurt to New York in 1972.
But this can had the words "Seaboard World" printed on it and that brought back even more memories to a time when SWA and LAAC operated competing B747Fs across the Atlantic from adjacent cargo facilities at JFK.

Not Alone In My Thoughts

When it comes to ULDs in 2018 and beyond, the "Go-To Guys" are Bob Rogers and Urs Wiesendanger.
Both have served over the years as lightening rods for a Canadian organization devoted to ULDs called ULD CARE.
ULD CARE is a not-for-profit corporation.
Having started life in the 70s as an IATA special interest group (then named the Interline ULD User Group-IULDUG) and subsequently split off to become an independent not-for-profit entity, ULD CARE retains a close link to IATA through an MOU.
ULD CARE also maintains a close contact with the Cargo Focus Group at the FAA.
Its membership is open to organizations whose scope encompasses any aircraft unit load device (ULD) activity.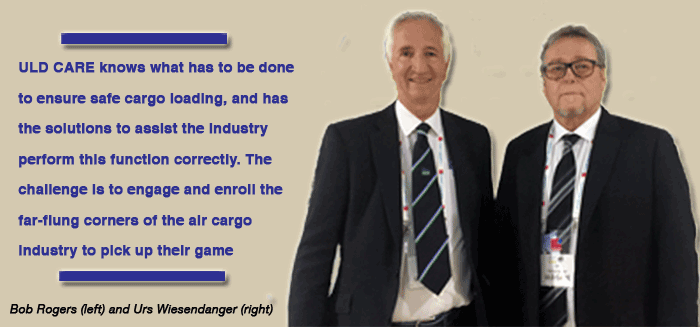 The Two & Only

How great to encounter the two most activist ULD spokesmen in the world, Urs Wiesendanger, President, ULD CARE, Air Canada (retired), and Bob Rogers, Vice President ULD CARE, Senior Advisor Nordisk, at the recent IATA World Cargo Symposium in Dallas, Texas.
The dynamic duo Urs & Bob make their case, pulling no punches, keeping it simple, laying it on the line.
"ULD CARE is at the forefront in advancing compliant, safe, and efficient ULD operations," Bob Rogers told FlyingTypers.
"Over the past 40 years, we have evolved from an interlining tracking system to a provider of comprehensive solutions that advance ULD handling for the air cargo industry."

ULDs Taken For Granted

"The global air cargo industry," Bob Rogers said, "faces many challenges and demands, and with a few exceptions ULD operations are taken for granted, expected to be available and useable when needed, but often put to use in conditions characterised by inadequate infrastructure and under trained personnel, totally unsuitable for what are essentially aircraft equipment that perform an essential flight safety function and are not just a piece of material handling equipment (MHE)."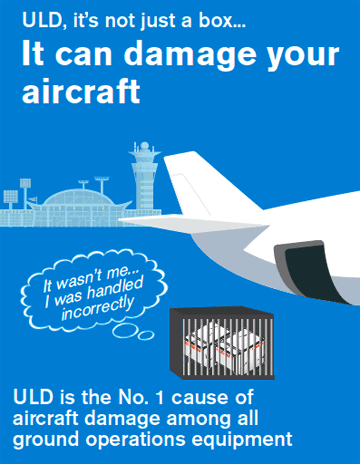 A Fatal Flaw

Major (fatal) crashes in 1997 (Fine Air 101) and 2013 (National Air Cargo), both attributable to non-complaint cargo restraint leading to cargo shift and loss of control of the aircraft, require a "sea change" in the approach to safety around cargo loading. All too often, the basics of weight and balance compliance and load restraint are overshadowed by DG and security.
"There is today a significant gap between what at least some national aviation authorities (NAAs) including the FAA expect from the airlines under their jurisdiction in terms of ULD operations, while on the other hand the unregulated ground handling, cargo terminal, and freight forwarding sectors places very limited attention on ensuring that only airworthy ULD loaded correctly are delivered to the aircraft and that handling infrastructure and activities minimize the damage to ULD, which are lightweight aircraft equipment, and not some piece of MHE to be hammered around the warehouse or ramp," Bob Rogers said.

ULD CARE Punches Above Its Weight

"In its ongoing evolution, ULD CARE's primary focus is to first create solutions that will support the correct use of ULDs and then promote these solutions using the limited resources of ULD CARE," said Urs.
"As a not-for-profit trade association, we rely very much on the efforts of volunteers to give their time and expertise, however we believe that with the portfolio we now bring to the industry, ULD CARE punches well above its weight."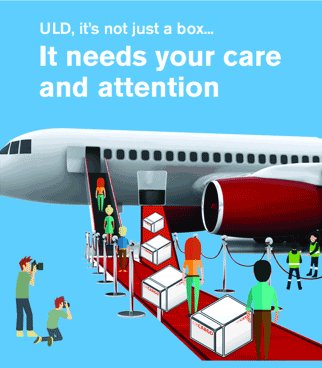 Time For Code Of Conduct

"2018 sees the launch of the ULD Code of Conduct, a first for this industry," Mr. Rogers declares.
"CofCs are widespread in many industries but are not common in aviation due to the highly regulated nature of aviation.
"However, ground handling, cargo terminal, and freight forwarder activities fall outside the aviation regulatory footprint, and with the airlines having outsourced these activities there exists a considerable vacuum when it comes to adequate ULD operations.
"Individual airlines may well have their own campaigns to promote quality in ULD operations, but against an overwhelming lack of awareness (interest?) across the various sectors of the industry, one airline will struggle to achieve anything significant," Bob Rogers added.

ULD Care Challenges Ahead

"Air Cargo is a multibillion 24/7 global operation and making changes is very challenging, all too often it takes major accident to trigger sufficient attention," Bob Rogers said.
"ULD CARE knows what has to be done to ensure safe cargo loading, and has the solutions to assist the industry perform this function correctly. The challenge is to engage and enroll the far-flung corners of the air cargo industry to pick up their game."

Why ULD Code Of Conduct Matters

"You cannot go a week without reading about some new facility for Pharma," Bob Rogers insists.
"Pharma is a very, very large part of air cargo and attracts a great deal of interest.
"Yet the treatment of the costly and complex Temperature Controlled Containers that are a foundation of this activity falls far short of what is needed, increasing both operating costs and operational failures.
"Similarly, Fire Containment Covers and Fire Resistant Containers can provide a vital layer of protection against Lithium Battery fires, a major risk on some trade lanes.
"But these items are both costly and require proper handling, so often are not present in day to day operations."
"ULD CARE's primary vehicle for change," Urs Wiesendanger declares, "is the ULD Code of Conduct."
"The ULD CARE Code of Conduct," Bob Rogers insists, "introduces an appropriate element of quality into ULD operations, distilling down into a simple, easy to comprehend statement of intent the core principles applicable to flight safe ULD operations and handling.
"Based on and complimenting the IATA ULD Regulations, which can be considered to be the 'bible' for all ULD operations, it is the intention that the code become the basis for ULD operational standards in organisations regardless of size and scale," he said.

Rally Around The Banner

"ULD CARE," Bob and Urs point up, "remains the only body dedicated specifically to the promulgation of ULD practices.
"With around 65 airline members and about 25 related members such as ULD manufacturers, ULD CARE is in a unique position to drive ULD specific initiatives.
"In terms of cooperations, we look to similar trade associations such as ASA, industry publications, freight forwarder associations, and anyone with a vested interest in improving ULD operating standards to assist in driving our message outward."
When Is The Mission Accomplished?
"Easy answer," is the word in chorus.
"ULD CARE strives for 100 percent safe ULDs on aircraft, supported by ground operations that use adequate facilities and infrastructure and staffed with adequately trained personnel who know the difference between right and wrong when it comes to ULD!
"Perhaps such an ambition wont happen overnight, and no doubt adoption will take time.
"But every bit is a step in the right direction.
"Ideally if a number of the larger entities take the Code of Conduct on board, we will gain momentum."
https://www.uldcare.com/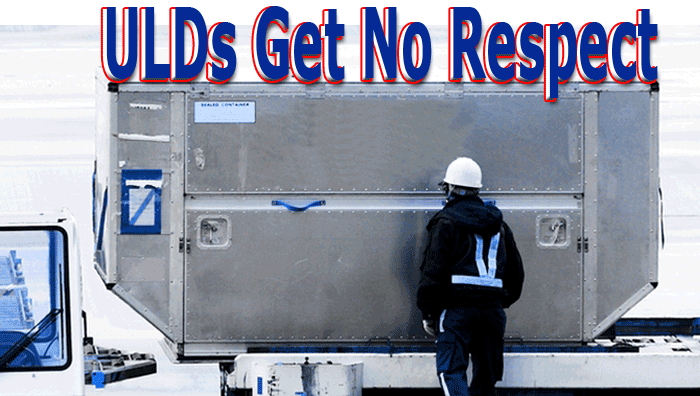 A common saying goes, "you can't see the forest for the trees."
This also seems to be true for the ULD (or Unit Load Device).
Most everyone in the air cargo business can identify the common types of ULDs and has seen them in all-day use for the purpose of carrying cargo, mail, and baggage.
Few people, however, are familiar with the latest developments around ULDs, the requirements applicable to their use, and the regulatory background edicts for their usage.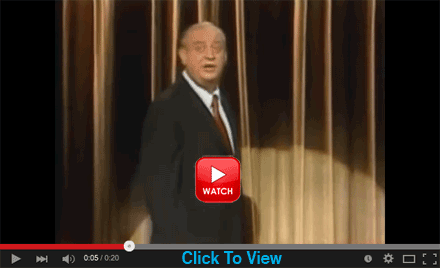 Thinking about ULDs and their common perception in our business, we are reminded of the great American comedian Rodney Dangerfield who used to tell his audience about his woes and travails:
"You see, I get no respect," Rodney would say, and that phrase usually brought down the house.
Legally speaking, ULDs are part of the aircraft's equipment and thus subject to stringent airworthiness requirements.
In other words: A surplus of missing rivets, damaged doors or locks, bent edges, broken base plates as well as improper repairs, the wrong tiedown equipment, and overload or unevenly distributed load will cause the ULD to be used out of its specifications and thus not be in compliance with applicable FAA, EASA, and IATA rules.
Aircraft manufacturers including Airbus and Boeing as well as ULD manufacturers have developed stringent guidelines which, apart from airline-internal guidance such as the COM (Cargo Operations Manual) or the ASM (Airport Services Manual) can most easily be viewed in the IATA AHM (Airport Handling Manual) in its current 38th Edition and the IATA ULD Regulations in its current 6th edition (the IATA ULD regulations have replaced the IATA UTM, the ULD Technical Manual, about three years ago, when the manual was revamped and substantially updated).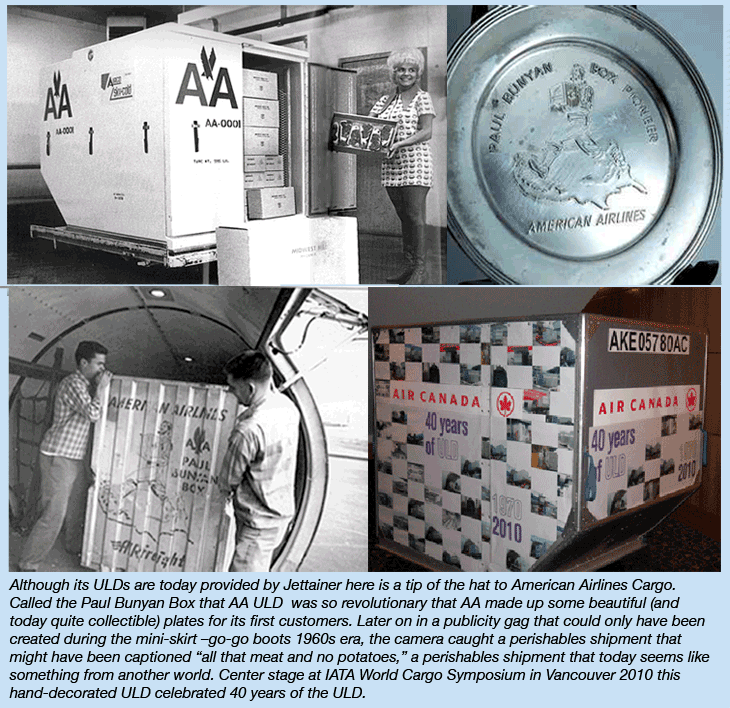 Geoffrey