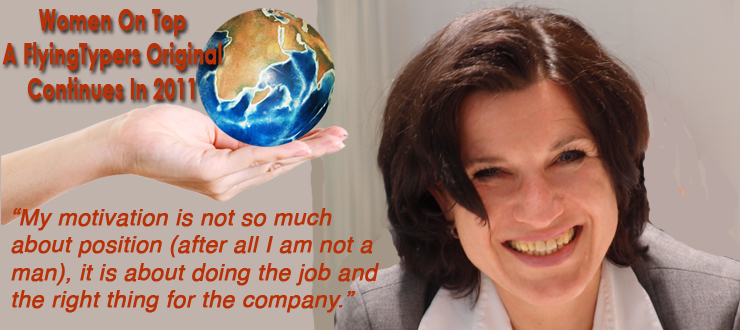 Martina Vollbrecht, Director Product Management Express and Standard at Lufthansa Cargo, is smart, beautiful and right in the groove as both a highly specialized business professional and a dedicated wife and mother.
At Lufthansa Cargo, Martina handles product management for half of the carrier's varied products including express product (td.Flash), as well as responsibilities for dangerous goods and perishables product development which translates into monitoring the financial and qualitative performance and initiation of corrective actions and evolving new product features and sharpening the existing ones.
Martina also gets involved in marketing, so it can be said that her responsibility in a highly specialized world is inventive and entrepreneurial.
Martina is an absolute original.
Her stock and trade is to have a better idea, and apparently she delivers, which is a vital achievement in air cargo.
In fact, in 2012 Martina will celebrate her 25th year at Lufthansa. She can look back on a career that included her early posting to marketing and has continued since Lufthansa Cargo Group was formed in 1995.
But if you ask this fiercely bright lady what she considers to be her hallmark at Lufthansa, she says right away:
"I am proud to be one of seven female managers at Lufthansa Cargo and one out of two that have children."
When asked what drives her life between home and work (a question, by the way, only asked of women for some reason), Martina declares:
"My motivation is not so much about position (after all I am not a man), it is about doing the job and the right thing for the company.
"I am also developing some good kids, Leon and Jannick, who are living and performing well and so far not missing their mother at home too much."
"The time that I spend with my two boys, aged almost seven and four and a half, is always quality time—dedicated to them exclusively.
"My husband, Dominic who is a full time manager, also shares the parenting, otherwise it would not work.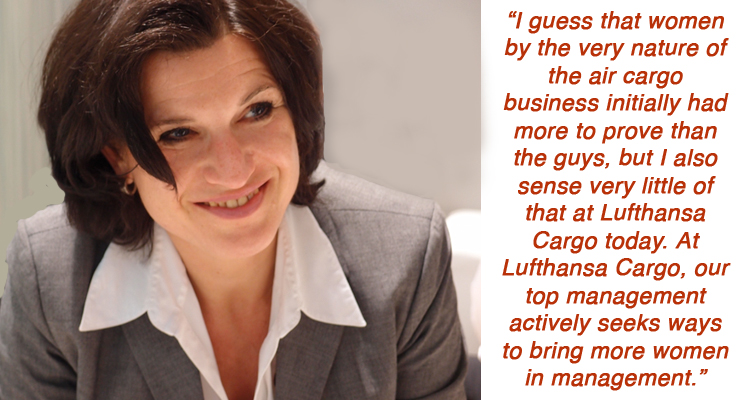 "Things have changed dramatically in the workplace for women.
"When I began and was in sales, the room was usually filled with sincere, well-meaning (albeit) members of 'the old boys club.'
"I was vaguely aware of the odds, but later some of my customers said:
"'When you started we wondered what was Lufthansa doing sending out such a young girl?'
"'Afterwards, we realized that you really know what you are doing and we appreciate that you are our sales person.'
"I guess that women by the very nature of the air cargo business initially had more to prove than the guys, but I also sense very little of that at Lufthansa Cargo today. At Lufthansa Cargo, our top management actively seeks ways to bring more women in management.
"Although the numbers still very definitely favor men in positions of power and influence, it is definitely about how well you do the job—that is the first priority above all.
"So there is much hope and much more merit-based opportunities for women coming into the air cargo business these days.
"My view would be to encourage all young women who would want a career in air cargo to go for it."
Asked about her legacy to air cargo, Martina laughed:
"I hope my career is not ending just yet," she said:
"In terms of what is ahead, I would like to forward as much pride of who we are into what we do so that everyone in and outside of our company understands that Lufthansa Cargo is the best in the world.
"We have a better idea and work everyday to advance every aspect of our air cargo enterprise."
"While we move technology forward we never forget how important people are.
"Lufthansa Cargo combines advanced systems and human experience, creating overall efficiencies in the selling, routing and delivery of air cargo."
Asked about what she does when not at work in the big Lufthansa Cargo complex at Frankfurt International Airport, Martina said:
"I love to read. I am quite old fashioned in that sense, devouring magazines and newspapers and an occasional book.
"I love my job and overall my experiences at Lufthansa Cargo, but given the opportunity to begin my career all over again, would like to have had more of a background in engineering, thinking the combination of engineering and business studies would have been ideal."
When you meet a person who has accomplished all that Martina has and they say their one wish would be to have been able to offer more, despite the vastness of what they have already offered, it is easy to see that they are the real deal.
Geoffrey/Flossie