Here as 2018 continues," FlyingTypers takes a deeper look at new market entrants creating a buzz in the create rate/analytical marketplaces for air freight.
For curious industry folks, here is one example of a number of ways new entrants are disrupting the status quo.
A Bite Of New Reality
Suggesting that the air freight sector has been slow to embrace new technologies to improve supply chain efficiency and customer experience is unlikely to provoke dissent—although some may counter that describing the industry as 'slow' represents an unwarranted degree of flattery.
Take e-AWB, for example. The project has received the full backing of the industry's leading associations, but damningly only recently passed the 50 percent adoption mark globally, leaving the entire project years behind schedule and close to obsolescence.
Shippers and logistics procurement managers new to air freight are generally, and genuinely, surprised when they realize that a sector which charges a premium for speed often reacts with glacial haste when encouraged to modernize and innovate in ways that can tangibly reduce costs and speed shipments.
These sectorial failures and the fragmented nature of air cargo supply chains also explains why most analysts—not to mention investors in start-ups—see disruption of air cargo markets as inevitable, and expect the process to be highly profitable for those who succeed in securing a chunk of the pie from incumbents.
Disruption for forwarding and transport markets comes in many forms. Outside of new entrants with pockets deep enough to invest in chartering their own air capacity (Amazon, its Asian e-commerce rivals, and Flexport, an ambitious digital forwarder which has attracted major investors) most innovators entering air cargo markets are looking to carve out niches by using technology to streamline supply chains, reducing costs and improving processes vis-à-vis equivalent products available from more traditional service suppliers.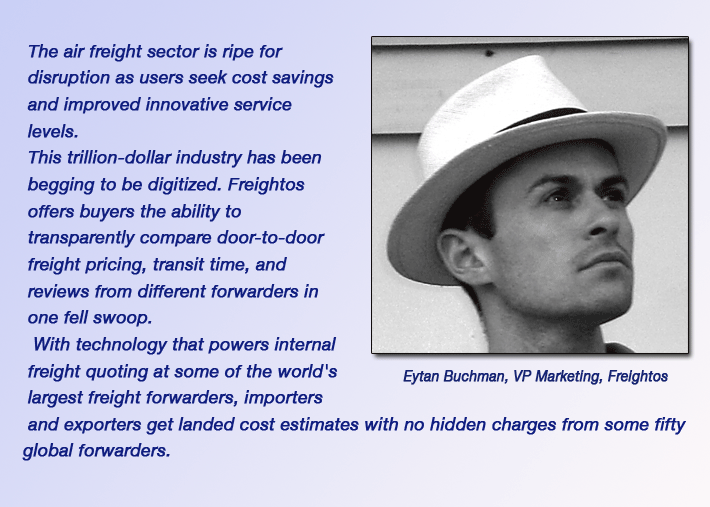 Freightos Drives Change

FlyingTypers spoke to two leading new entrants now offering marketplace services to understand how they plan to digitize the air freight business, as well as how they believe their products supplement the services already available to air cargo stakeholders.
Freightos has been around for a number of years and is now firmly established as an international online-freight marketplace that links cargo service providers direct to shippers. Eytan Buchman, VP for marketing, told FlyingTypers his company was able to offer instant, current, and transparent door-to-door air freight rates, enabling importers to select the shipping method that made most sense for their supply chain based on variables such as price, speed, and/or carbon footprint.

FIFI Goes Weekly 2018

"This information is made available on the Freightos Marketplace, which launched in July 2016," he explained.
"In early 2018 we launched weekly air freight rate updates in our Freightos International Freight Index (FIFI), a weekly update on changes and trends in freight rates, also available to any and all who request it.
"This information is intended to help shippers and forwarders alike understand the trends shaping global trade."


Target Audience New FAK

Freightos' customers target freight of all kinds and range from small-scale importers to freight forwarders including CEVA, Nippon, and Hellmann, as well as supply chain companies including Sysco Foods and Marks & Spencer.
"By offering the most current and accurate freight pricing—air, land, and sea—we are bringing transparency to freight pricing for the first time," claimed Buchman.


Got To Go Digital, Baby

He believes that the air freight sector is ripe for disruption as users seek cost savings and improved innovative service levels.
"This trillion-dollar industry has been begging to be digitized," he added. "Freightos offers buyers the ability to transparently compare door-to-door freight pricing, transit time, and reviews from different forwarders in one fell swoop.
"With technology that powers internal freight quoting at some of the world's largest freight forwarders, importers and exporters get landed cost estimates with no hidden charges from some fifty global forwarders.
"Shipment management also becomes far easier, with a one-stop shop for shipment management, complete with document management, in-platform messages with forwarders, payment processing, and round-the-clock support.
"It's freight shipping that's easier, more competitive, and capable of supporting modern day supply chains."


By The Thousands

Buchman claims "thousands" of companies are already active on the Freightos Marketplace, while "over 1,000" logistics providers, including "dozens of top 50 freight companies" now utilize the company's suite of freight rate management and quoting tools.


New Horizons

Freightos also has plans to further expand its air freight portfolio.
"Freightos WebCargo constantly pushes the envelope of technology to optimize air freight pricing and booking," he said. "We're currently working on some incredibly exciting technology in both the dynamic pricing space as well as live integrations across carriers, forwarders, and shippers.
"Stay tuned in 2018 to see exactly what we mean."


Xeneta-Xeneta Oh So Oslo

Another exciting new entrant into the air freight business is Xeneta, which like Freightos first made its mark in the ocean freight business.
The Oslo-based firm has been supplying real-time and on-demand ocean freight rate benchmarking and market intelligence via its proprietary platform since 2012, but in December the company announced plans to expand into the air freight business.


Ocean Morphs Into Air

In essence, the program replicates its ocean analytics model for air freight.
For shipping, Xeneta gathers the latest global shipping data from a community of over 700 leading businesses, covering more than 160,000 port-to-port pairings and over 35 million contracted rates.
This allows users to track trends and stay on top of market developments, thereby securing suitable rates for their assets.


Xeneta Rates Benchmarks

Xeneta for air freight is broadly similar.
It will provide customers with air freight rate benchmarks based on contracted rates on the spot and long-term markets. "Customers can use the data to prepare RFQs [Request For Quotation], monitor and/or report on market movements to make sure they have real-time visibility into the procurement of air freight," said Katherine Barrios, chief marketing officer.
"The intelligence customers gather from Xeneta can give them the upper hand when negotiating rates with their supplier as they get full transparency into the current state of market.
"The data provides intelligence on rates and transit time for various weight brackets based on origin-destination."



Why Xeneta?

"Xeneta for air is able to tell users which of their contracted rates are on average, above, or below average per origin-destination. They are not quoted rates, which gives an accurate representation of what the market/peers have contracted.
"This gives true transparency as it enables them to know which connections they can be getting better rates on—cost savings—and/or improve on transit times or both."
She also claimed the system enables stakeholders to identify which contract type they should be pursuing—spot or tender market—based on historical rate info and market intelligence trends identified by Xeneta.


See Rates Clearly Now

"Air transport is as volatile as the ocean freight market, where getting a clear and accurate representation of cargo rate movements is not readily available via a neutral data source," she added.
"Most stakeholders are transporting on both air and ocean, which makes their supply chain even more complex.
"Getting visibility and accurate market rate intelligence for both modes during procurement opens up for a world of efficiency and cost savings for sourcing teams."
SkyKing